Here Are the Biggest Design Trends for 2016
New year, new room? Get the inside scoop on 2016's hottest interior design trends.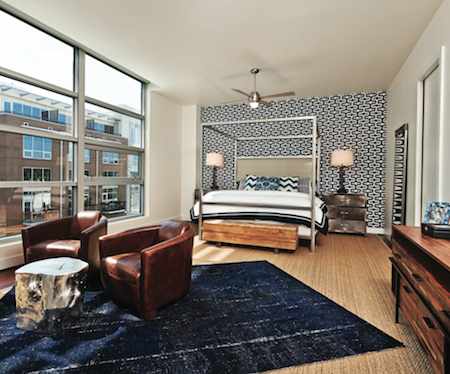 When a new year rolls around, many of us pencil to-do's in our fresh-paged calendars and set a list of (somewhat attainable) goals. For many homeowners, this list of goals often includes some serious interior reimagining. Pinterest boards crawl with design ideas – from shabby chic to contemporary cool – but these ideas are nothing without real direction.
If you're looking to redo a room, consider casting your eyes towards the newest trends before they hit everyone else's inspiration boards. Thanks to Tom Holley, Owner of Crazy Jane's design firm and showroom in South End, we got the inside scoop on what interior design trends will be big in 2016.
Geometric and modern design. Think clean lines, sharp shapes, and airy spaces. Holley notes, "Even when homes are more traditional, we're seeing very modern, clean, open kitchens used for multi-purpose gatherings."
Gold and bronze. Resurfacing from antique memories, warm gold and bronze tones bring a new dimension to fixtures and accent pieces. A fresh twist? Holley says the colors can be mixed with their cooler cousins, silver and grey.
Marble and mineral stones. Carrying their popularity from 2015, these earthy stones are still a go-to for design experts and homeowners when it comes to countertops. Especially trendy are white marble and quartz, which saw a surge last year.
Wood accents and natural elements. With modernism on the rise, you can keep your space cozy with reclaimed wood and other natural elements. Holley says these accents will bring warmth to a room.