Here's What "the Unicorn of the Fitness World" Workout Class Was Really Like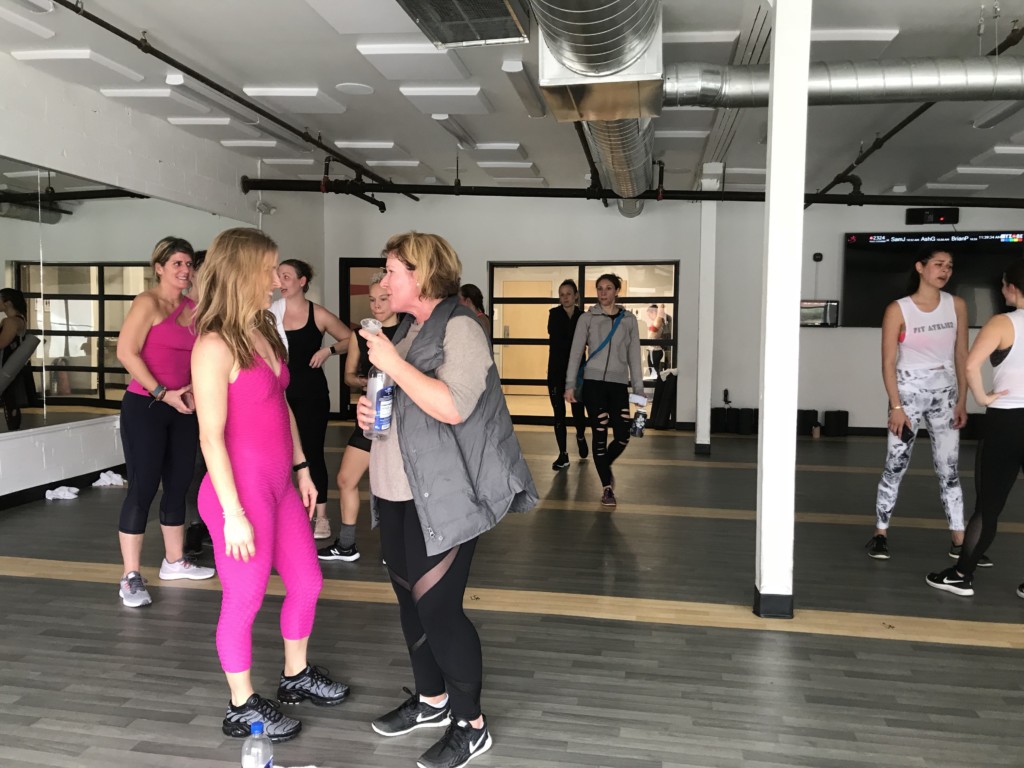 I shouldn't have eaten that bacon this morning.
Those eight words kept sliding through my mind like a marquee as I held myself in a plank, punching my left leg in a backward diagonal to the beat of the music. I'm about 20 minutes into the celebrity trainer class hosted by Dilworth's Fit Atelier (pronounced like the French term for "workshop": at-el-ee-ay), and I'm really regretting my breakfast choice. I didn't expect this class to be so… well… hard.
Chalk it up to my inflated sense of athleticism or my past experiences with fitness classes that involve dancing, but I had a preconceived notion about how my Saturday morning would go. And that notion certainly did not include the possibility of tasting my bacon for a second time. And a third. And a sixth.
The fourth of Fit Atelier's monthly celebrity trainer series ($30 per class), the class I attended is dubbed "the unicorn of the fitness world," which I assumed was a marketing magnet. It was developed by a trainer out of New York City named Nicole Winhoffer, and is therefore called the Nicole Winhoffer Method—a method reportedly adored by celebs such as fitness-fashion entrepreneur Kate Hudson, pop icon Madonna, and all-around babe Molly Sims. I guess it was fitting I chose to wear Hudson's line of activewear, Fabletics, since we have so much in common now.
I was almost late to the 10:30 a.m. class because I was so nervous about what I should wear. Stressing over workout attire isn't exactly common, but if you've been following Fit Atelier on Instagram, you know that their clients are ridiculously chic. These women are like the fitness elite of Charlotte. Of course, it makes sense: Fit Atelier sells high-end, modern activewear and sells these products in-store at 310 East Boulevard, online, and at the celebrity trainer classes.
Meanwhile, I'm used to sweating it out in baggy college t-shirts.
I slipped into some inconspicuous, all-black Fabletics attire I didn't buy for myself and assembled my hair into a loose ponytail. My dirty Nikes completed the outfit, and while I briefly contemplated washing them before attending the class full of fashionable fitties, I had no time to dilly-dally. I was two minutes from being late.
Upon arriving to Jamie Scott Fitness, the boutique studio on Tremont Avenue hosting this particular class, my heart was racing. I'm not a trendy fitness gal. From the outside looking in, I assume that, although I'm a millennial, I'm just a little too lame for these types of things. I go to the YMCA, not boutique studios that shine on social media. I attend Pilates, not "the unicorn of the fitness world." My heart was probably also racing from the coffee I paired with my bacon, but whatever. I was nervous, OK?
Since I got there just short of fashionably late, at 10:28 a.m., the studio was rightfully buzzing with action. I felt lost only for a second, until Brit Turner, Fit Atelier's 33-year-old CEO, welcomes me with a hug. She's energetic, kind, and makes you feel like you belong. Her sister and the boutique's co-founder, Melanie Morton, was just as sweet. Phew. I sign my life away on some waivers, receive a mat, and I am escorted to the workout area by JSF Manager Rob Pinka, another friendly face. He shows me the cubby area for my items and hands me a white gym towel: "You're probably going to need it."
I find a spot among the 30ish women lined up in front of the mirror. At first I'm not in front of the mirror, but a nice neighbor makes room for me to squeeze into view. I notice we have the same Nikes, and, by the grace of God, hers are dirtier than mine. Maybe my fellow millennials aren't as exclusive as I thought they'd be.
My eyes dart around, hoping to find solace in others' nerves, but everyone looks pretty at ease. They must all be regulars, I tell myself, but before I can stress anymore, the trainers crank up the music.
The NW Method describes itself as combining science, dance, art, fitness, and music to free the mind and transform the body. Perhaps reading that description before stepping into the studio is what made me so nervous.
I. Am. Not. A. Dancer.
I like to dance, and, like most people, I think I do an exceptionally decent job when I'm knee-deep in rum-and-Cokes. But I've heard drinking before a fitness class is frowned upon, so I had to sack up and prepare my body for the awkward, uncoordinated movements that would ensue, sober as a Sunday morning.
The class wasn't taught by Nicole Winhoffer—two of her trainers from New York traveled to Charlotte to lead. The pair of vibrant dancers commanded the room as we all dove into a mysterious workout that literally kept us on our toes.
We started with sweeping arm movements, all set to 16-counts and popular music, and before I could object, we ended up doing serious butt toning exercises. It was all so fluid and so, so hard. When we got to the plank leg series, I was tasting my bacon and blotting my face with that white workout towel that now seemed all too small. I needed a blanket to soak up my sweat. Lead Trainer Emily Diers tells us to put all our might into our kicks, to kick whatever it is we're going through, to kick those worries away. I kicked pretty damn hard.
As with most difficult workouts, I was constantly wondering when it'd be over. I wanted the pain to end. Pilates did not prepare me for this physical torment, not even the abs series. But I kept looking around the room, watching these well-dressed women power through the workout. If they could do it, I had to do it.
At some point, we're all doing high knees in a circle around the room, and I admittedly get a little dizzy. But it's fun, circling this studio, with these women of all shapes and sizes, and I don't taste my bacon anymore. It's so hot in here that the mirrors begin to fog.
Finally, after about 50 minutes, Diers tells us it's time to dance. She and Trainer Tilly Evans-Krueger (a professional modern dancer) proceed to teach us quick choreography to a dance that feels part-sexy and part-impossible. My body doesn't respond well to choreography, but I try anyway. Sweat is parading down my face like an escapee headed for American soil, and I can't help but feel like I've been through some major, life-altering experience with these 30 women in the room.
We learn quite a few moves, and then it's time to put them to the test. The room is divided into two groups, and Group 1 and Group 2 each have their moments to show off their dance skills. What seemed like would be a humiliating experience actually turned out fine. The goal of the NW Method is to loosen everyone up during the workout so that when it's time to dance, we're all a lot more comfortable. It worked. I flailed my way through the routine with my thorny limbs and Group 2 gals, and Group 1 watched and cheered us on.
Nobody judged. And when the whirlwind class finally came to a close, we all laughed together. Mine was a laugh of nervous relief, but I don't think anyone could tell. People hugged, took photos together, and lingered, chatting for at least 10 minutes more. The class certainly pushed me and many others out of our comfort zones this Saturday morning, and yet as I'm sitting here reflecting, I'm feeling a little addicted.
Although I'm uneasy about videos of me dancing circulating the web, I'd still surrender my body to this truly unique workout session many more times. We'll see how sore I am tomorrow.