Hey, Smokers! You Cost Too Much
Employers are saving cash by upping the ante on employee health insurance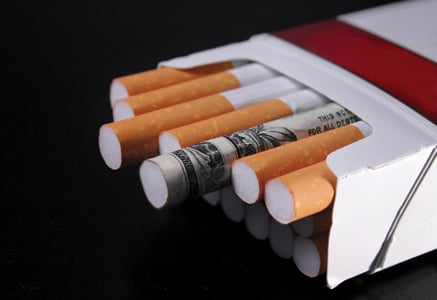 Long gone is the Don Draper era, when employees could burn through a pack of cigarettes while typing up their expense reports. Jane*, who works for Carolinas Healthcare System, knows this all too well. She spent years planning meetings around her smoke breaks and spritzing herself with body spray to cover the smell. "When I wasn't smoking, I was thinking about it," she says. She remembers passing up rides to an off-site meeting so she could sneak a few puffs in her own car.
Nobody ever won an Employee of the Month award for taking regular fifteen-minute smoke breaks, but according to a recent study released by the American Lung Association, what employers ought to be worried about is the financial cost of having a smoker on their team.
A smoker costs his or her employer around $4,330 in productivity losses per year. That's before you take into account direct medical expenditures absorbed.
According to the ALA, in 2009, North Carolina's workplace productivity losses totaled $2.2 billion, which stems from "absenteeism due to fifteen-minute smoke breaks or sick days," explains Melva Fager Okun, director of NC Prevention Partners, an organization that creates and manages public programs designed to reduce health problems caused by tobacco, poor nutrition, and physical inactivity. "Ultimately, between a third and one half of smokers will go on to die from diseases that hit in their fifties and sixties, like heart failure, lung cancer, diabetes, or vascular diseases. It sounds cynical, but employers have to think about replacement costs."
All told, a smoker costs his or her employer around $4,330 in productivity losses per year. That's before you take into account direct medical expenditures absorbed.
So while some employees light up, it turns out they're also incinerating company budgets—and many companies are finding ways to nix the expensive habit. While Carolinas Medical Center went smoke free in 2006, it wasn't until the start of 2011 that Medcost, its health insurance provider, raised its premiums by 30 percent for smokers or employees whose spouses smoke. CMC has seen increased interest in its honor-based Quit Smart program, which combines counseling and nicotine replacement therapy treatments like the patch. "When we first started in 2009, we would have only two or three people in a class," says Kelly Roberts, a Wellness Specialist with LiveWELL Carolinas!, the health and wellness department for Carolinas Healthcare System. "Now, we're getting fifteen people signing up for a class."
Both NASCAR and Wells Fargo also have insurance providers that offer healthcare cost incentives to quit smoking; Bank of America's insurance provider offers a program called Healthy Lifestyle Coaching to help its employees quit. The North Carolina State Health Plan, used by teachers and state employees, allows nonsmokers to qualify for a plan that costs between $200 and $400 less per year than the one available to smokers.
Roberts thinks this is just the beginning, too. "You're going to see more and more of it. The Mayo Clinic has already gone the route of not hiring people if they smoke."
The medical data on smoking makes it tough to find an excuse for not quitting, but suggestions that it could tarnish your workplace rep just might push even diehard smokers to make life- and job-saving changes.
*Not her real name.