High-Stakes Dessert
Ballantyne chef Keli Fayard talks about competing on the Food Network and spending $5,000 to design a cake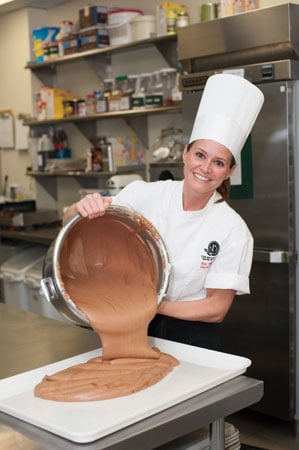 Pastry chefs are known for their exacting standards, and Keli Fayard is no exception. She graduated from the Culinary Institute of America, honed her craft in New York, Las Vegas, and Atlanta, and cofounded a gourmet French pastry shop in Chicago. Now she's the executive pastry chef at the Ballantyne Hotel & Lodge, where her signature dessert is an almond croissant.
But Fayard was a foodie star before she brought her talents to Charlotte. In June 2011, she appeared on Food Network Challenge. The reality show recruits four bakers to compete for a $10,000 prize by sculpting massive cakes on a designated theme. It's a contest where elaborate decorations—rather than baking technique—take center stage. For her "romance novel" competition, Fayard's 300-pound masterpiece of cake, chocolate, gum paste, and fondant featured a knight in shining armor. But she lost to repeat champion Bronwen Weber of Dallas, Texas, who sculpted a winsome-looking woman in revolutionary War garb.
Fayard shares some insider tips about the bright lights and high drama of a nationally televised cake battle.
How did you come to appear on Food Network Challenge?
I had been creating custom [cakes] and wedding cakes at my pastry shop in Chicago for ten years. The food Network contacted me to see if I was interested in appearing on an episode. My employees used to talk about the show constantly, but I had never even watched Challenge before.
What was the most difficult thing about the competition?
Making the time commitment to practice. I practiced sculpting my cake twice, which cost more than $5,000 [including 600 pounds of cake, mold materials, and shipping]. It pushed our creativity, pushed us to learn new techniques and to work under pressure. We created a minute-by-minute timeline to follow. By the time competition day rolled around, we couldn't wait to start.
Give us the inside scoop.
I think we had to be at the stage at 5 a.m. on competition day and didn't leave until 10 p.m. or later. The stage was roomy but got quite warm after all of the stage lighting was on. Each team had their own cameraman, director, and a runner who could wash our utensils for us. Yes—a runner! I used ours to bring me endless amounts of coffee.
Any more food competition shows in your future, maybe Top Chef: Just Desserts?
No. I competed to prove to myself that I could do that specific competition and could train my partner for it. We achieved what we set out to do. My focus is on my pastry team at the Ballantyne Hotel and my home life with my children. But, I've been competing since I was four years old, so that flicker of light in me will never expire.