Holiday Drink Recipe: Mulled Wine
Toast to the holidays with this warm mulled wine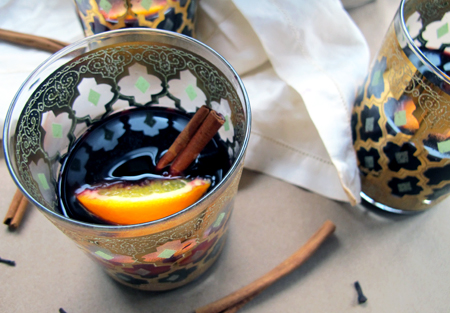 My husband lived in Germany for several years, and he always spoke fondly of walking around with a hot cup of glühwein, a spiced wine. This recipe may not be an exact replica, but it combines my favorite holiday flavors in a warm cup. It's simple to make, and perfect for your next holiday party or family gathering.
Holiday Mulled Wine
Modified recipe from Food Network
Serves 6-8
Ingredients
2 cups apple cider
1 bottle red wine I used Cabernet Sauvignon
1/4 cup sugar
2 cinnamon sticks, plus additional for garnish
1 orange, juiced
10 whole cloves
2 oranges, sliced for garnish
Directions
Combine wine, cider, sugar, cinnamon sticks, orange juice, and cloves in a large saucepan. Bring to a boil stirring occasionally, lower heat to a simmer and heat for 10 minutes. Pour into mugs and serve warm with orange and cinnamon sticks for garnish.