Holiday Spirits: How to Stock Your Home Bar for Parties
Mix your way to holiday cheer with these mixologist-mandated home bar must-haves.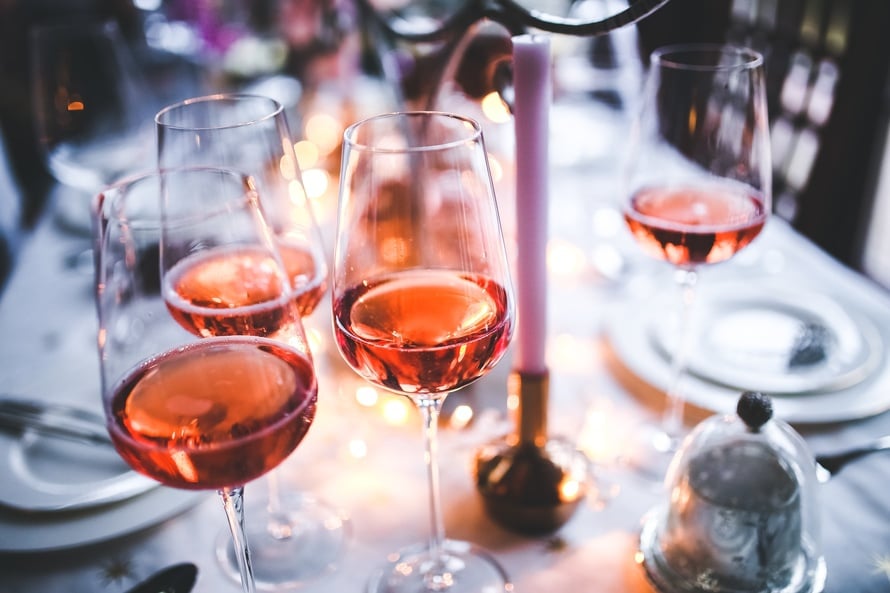 Shaken or stirred?
Well, when it comes to an elegant holiday soiree, mixologist Bob Peters says stirred cocktails are the ticket to making guests feel extra special. Peters is a creative cocktail connoisseur staking his place behind the bar at The Punch Room in The Ritz-Carlton. He recently won the 2015 Global Bartender of the Year award from The Ritz-Carlton Corporation, so it's safe to say the man knows a thing or two about innovating tasty libations.
We asked Peters all the important questions when it comes to stocking a home bar, especially for holiday parties. Though everyone's guests have their own poison-of-choice, there are still common home bar parameters to follow to ensure your holiday party doesn't miss the mark. In fact, with these tips, you'll go down in holiday get-together history. Ready to get your home bar up to par?
The Must-Haves
First, let's begin with the basics. The key is to have at least one alcohol option for each of your guests.
Peters says, "A well-stocked bar is all about options… I find it best to have a little bit of everything ready for all the crazies at your home bar for a successful holiday get-together."
Who are these "crazies" Peters refers to? Oh, you know. The friend that only drinks beer, Peters describes, and "your cousin that only drinks white wine, your neighbor that only drinks red, and your dad, who only drinks gin martinis on the rocks with a cocktail onion." Those crazies.
To navigate the crazies' preferences, it's a safe bet to have the basic alcoholic beverages on-hand: vodka, gin, bourbon, rum, tequila, and sometimes scotch, depending on your attendees. Peters says to buy mid-range booze so that you don't have to force your aunt to slurp down cheap college rubbing alcohol. You also won't be wasting your most expensive tequila on people who will never put the bottle down, because have you ever met a bottle of pricey tequila you didn't like?
Mid-priced alcohol is something Peters says is generally agreeable when providing the drinks at a party.
The In-Betweens
Not everyone drinks alcohol. And more often than not, hosts overbuy on the beer. Peters says, "Most of the time, guests consume about half of the beer I buy. For some reason, people go a little more for the hard stuff around the holidays, especially at my house. To balance out that consumption, I stock a ton of nonalcoholic options as well."
Choices like bottles of water, sodas, juices, and kombucha are great sipping alternatives to provide, and they don't go bad even if they are leftover after the last song. Plus, Peters notes, having nonalcoholic options is just plain responsible.
The VIP Experience
So, this isn't your first holiday hoedown. Rodeo? Party. Let's stick with party. So, this isn't your first holiday party.
You know which alcohols to have stocked in the bar. You know how much gin your brother is going to drink. You know that the vodka goes pretty quickly. But now it's time to kick things up a notch. Since you're a holiday party veteran, your guests are expecting the same ol' from you. Which is fine, if you want to be mediocre.
If you're ready to give guests a get-together that's hard to forget, Peters says you can affordably elevate your cocktail station by incorporating three pieces of barware: a mixing glass, julep strainer, and a mixing spoon. "Stirring a cocktail is a very elegant and delicious yet simple way to kick things up. As opposed to shaking, stirring a cocktail add less dilution of water from the ice… The final product has a beautiful texture and refined color which delivers an elevated experience to your guest."
Forget about what James Bond said, and serve cocktails stirred, not shaken. What does Bond really know, anyway?
Preparation is Key
Lastly, as the days leading up to your holiday shindig begin to dwindle, don't sit back and think your work is done. Peters says his favorite piece of advice to those throwing parties is to prepare as much as possible before the event. Preparation could mean making a punch or well-loved cocktail and pre-pouring a few pitchers worth. This way, you're not working the bar during the party and you can actually enjoy the company of your family and friends. After all, having a good time is one of the tenets to being the hostess with the mostess.
Bonus Hot Buttered Bourbon Recipe
To help you get the creative holiday party juices flowing, Peters provided a tasty cocktail recipe for you to try: Hot Buttered Bourbon.
Ingredients:
2 ounces of Old Scout Bourbon
3 ounces of boiling hot water
1 small ice cream scoop of spiced butter
Cinnamon stick
Spiced Butter Ingredients
1 pound of unsalted butter
1 cup brown sugar
1 cup sugar
Instructions
1. Bring water to a boil.
2. While the water comes to temperature, make the spiced butter by combining all three ingredients in a bowl.
3. In a coffee cup, add the Old Scout Bourbon, 3 ounces of boiling hot water, and a scoop of the spiced butter creation.
4. Stir until completely melted.
5. Garnish with a cinnamon stick.