Holly Hollingsworth Phillips on Her Style
The Charlotte interior designer on her fashion rules and must-haves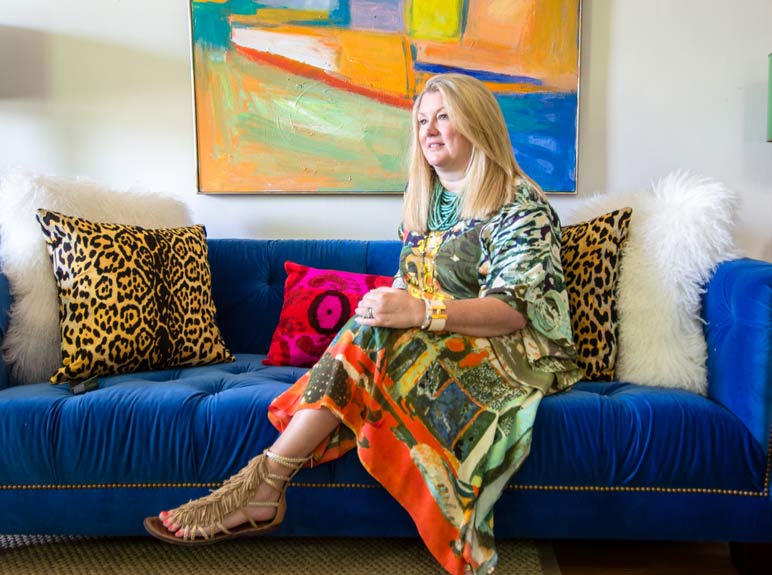 Erica Hanks: How would you describe your style?
Holly Hollingsworth Phillips: I abide by Iris Apfel's "More is More" principal …always have.
As a child Cruella de Vil was my idol for her killer wardrobe. I gravitate toward any embellishments, embroidery, fur, or leather. The adage of remove one thing before you leave does not work for me. I add 3 more typically.
I love the idea of under-dressed and over-jeweled.
EH: Do you have an everyday piece you love to wear?
HP: I always have on a Hermes "H" bracelet. They are kind of my Wonder Woman cuffs. I dress unintentionally methodically. My summer wardrobe is cool caftans, or embroidered puebla blouses, sandals, and loads of jewels. Winter is often black leather pants, silk blouse, patterned scarf, and a fun fur or embellished vest with loads of accessories and armfuls of bracelets.
EH: What stores in Charlotte work best for your style?
HP: I shop everywhere from J. Crew, Anthropologie, Neimans to Poole Shop. Having a teen daughter gets me to the mall often. I LOVE our local jewelry designers: Addison Weeks, Melvin, and Twine and Twig. I do shop online often or when I travel.
EH: What is something on your wish list for summer?
HP: Dying for the Calypso Tenaja bustle-back, silk printed skirt I saw in Charleston last week, a Figue embellished army jacket, and Tibi Ophelie mules…the list goes on. I feature my "Weekend Wants" on my blog each Saturday. I already have my eye on many fall items.
EH: What wardrobe items can you not get enough of?
HP: Accessories and shoes are my weakness. I seriously need another closet to house my jewelry and shoes wardrobe. And the selections are diverse from fun Sophia Webster stilettos to Stubbs and Wooten irreverent embroidered smoking slippers. I have a weakness for cowboy boots, turquoise jewelry, and squash blossom necklaces.
EH: Could you tell us what you're wearing in the above photo?
HP: Silk Caftan by Figue; Gladiator Fringe Sandals by San Edelman for Saks; Necklaces by India Hicks Charms; Shark tooth chain necklace by Nest; turquoise coconut shell by Monies. The ring is Murano Glass from Venice; earrings are Gold Shela Fajl Matte Gold 2" hoops – a staple. I lose them constantly so I buy these inexpensive ones over and over.