Home Coming: Culina Modern Comfort Food
Fusing global and Southern cuisines in Rock Hill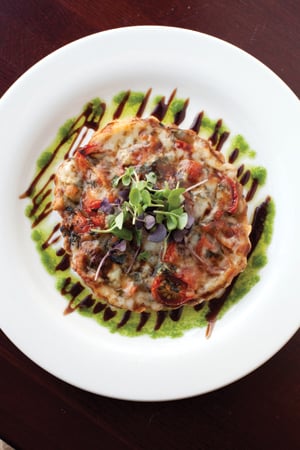 From the outside, Culina Modern Comfort Food doesn't look like much. Tucked into a corner of a strip mall in Rock Hill, inside it has a modern-bistro feel, with high exposed ceilings, dark wood booths and high-top tables, and a sleek, concrete bar.
But the décor wasn't the primary focus for executive chef and owner J. Michael Melton. After spending six years working in kitchens in Denver restaurants, Melton returned to his native South Carolina to launch Culina in November with a few family members. "My cousin called me to consult on a space," says Melton, who learned about cooking while helping out with his family's catering business in Gaffney, S.C. "I came and looked at it and ended up pulling money from a project [in Denver]. I really fell in love with it."
The restaurant's name, Culina, is the Latin word for "kitchen." The premise: elevated comfort food. "Latin is the basis for most modern languages," says Melton. "We want to be the basis for comfort food."
Melton draws inspiration from across the globe when planning his small but eclectic menu, which he plans to change twice a year. Asian, Italian, and American cuisines are currently represented, from tender, savory chicken buns ($5), made with house-made steamed buns, house-smoked chicken, and pickled daikon, to ginger beer mussels (12), bathed in a ginger beer sauce with garlic, shallots, and fresh thyme. "I really dig that I can pick an area of the world and kind of research it and focus on it," says Melton of his melting pot menu.
The South is also well represented, including a dainty but easily shareable tomato pie ($7), plump, deep-fried frog's legs ($10) served with a spicy brown honey mustard, smoked crawfish mac and cheese ($9), and Cheerwine fried chicken ($14), a crispy fried chicken breast drizzled with a light Cheerwine reduction sauce and served with pickled slaw.
Each dish—including small plates and entrées—is meant to be easily shared. Prices are reasonable enough to order multiple dishes for the table, and portion sizes are accordingly conservative but filling. Culina is open for dinner Tuesday through Saturday and on Sundays for brunch, but Melton hopes to launch lunch service beginning in April—along with a new dinner menu.