Home Makeover: Young Charlotte Couple Gets a Glam Living Room
Read their story and see the before and after photos.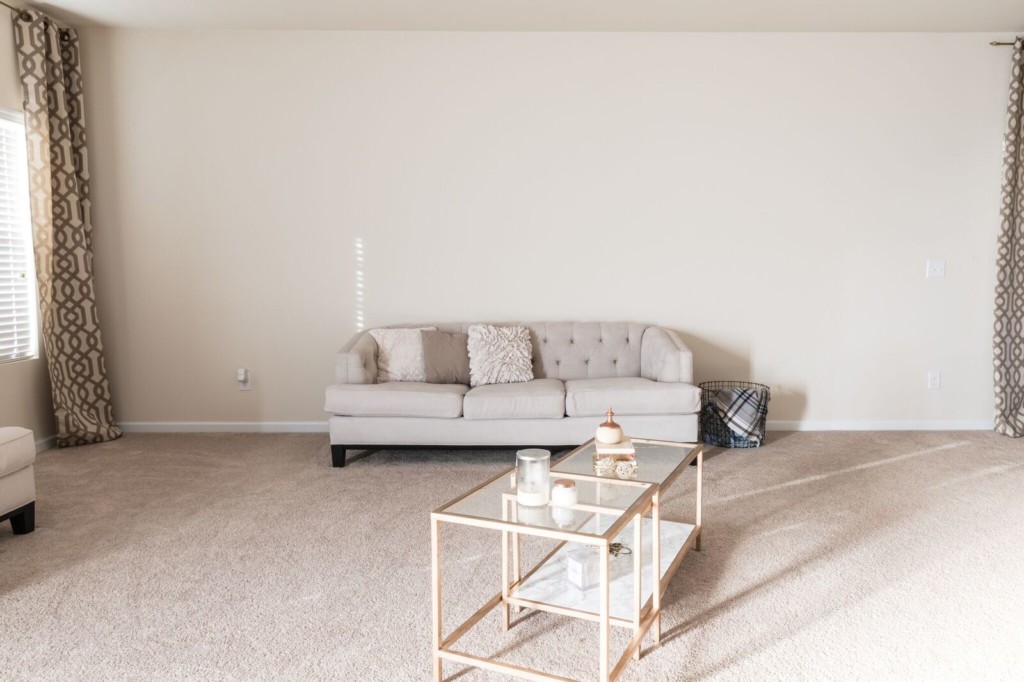 Aleks and Marina Druzhkov first met about five years ago at a Christian youth conference in Virginia, and within 2 years they were married. The first six months of the Druzhkovs' marriage were rough. Aleks was laid off from work and the two had no choice but to move in with Marina's parents in Pennsylvania, which was hardly an ideal situation for a newlywed couple.
But then, their luck changed.
Aleks landed his dream job. He would become an aircraft mechanic in Charlotte, leading the couple to relocate to the Queen City in February 2015. Soon after, they found a home in the University area—Marina, age 21, is a student pursuing marketing—and were able to become first-time homeowners thanks to some irresistible incentives.
Since they moved in, the house has stayed pretty builder-grade, Marina mentions. They hadn't done much decor-wise, and quite frankly, they were a little nervous to try. Marina says, "I was mostly scared and didn't know what I wanted to do."
Marina had been watching "The Weekender" on the Lowe's YouTube channel since the first season of the video series began last year. Now in its second season (it began airing February 16), "The Weekender" features DIY blogger, Monica Mangin, who helps homeowners transform their problem spaces within just one weekend. Marina stumbled upon the application one day while watching, and she decided to enter.
Well, she was chosen.
"The Weekender" team asked her to put together a Pinterest board of inspiration for the living room, the space that would be transformed. Marina ended up gravitating towards more glam styles, knowing almost nothing about design and simply choosing what caught her eye.
Next thing she knew, "The Weekender" film crew and Mangin were at her and Aleks's home the weekend before Valentine's Day, ready to get to work. Mangin took Marina's fabulous ideas to a whole new level.
"It was a little different than I expected, but it was way better than I thought it would be," Marina describes excitedly, "I mean, my fireplace is pink now!"
She's not mad about it, though.
The living room was transformed into a glamorous area, complete with Marina's new favorite features of the room, the elegant moldings added to the walls.
Reminiscent of "a fancy hotel or something," as Marina describes, these moldings were actually quite simple to install. She says they just used a nail-gun to place them. "It was such a simple thing to do," she says, "but they make the room feel bigger and more custom. It makes it totally different."
Marina also says they got to be pretty hands-on with the renovation. She learned how to use power tools and realized that some of the tasks weren't so hard for the average homeowner. Now, she feels ready to tackle the rest of the house. "The Weekender" was just the boost this young couple needed to be confident in designing the home on their own.
You can catch Marina and Aleks's episode on March 30 when it premieres. It's the seventh of 14 in this season, so you can also watch other inspiring renovation stories as they air on Lowe's YouTube channel.