Home Transformation: A 1929 Farmhouse in Foxcroft
Matt and Emily Bramwell couldn't resist buying this home—or, within a year, renovating and selling it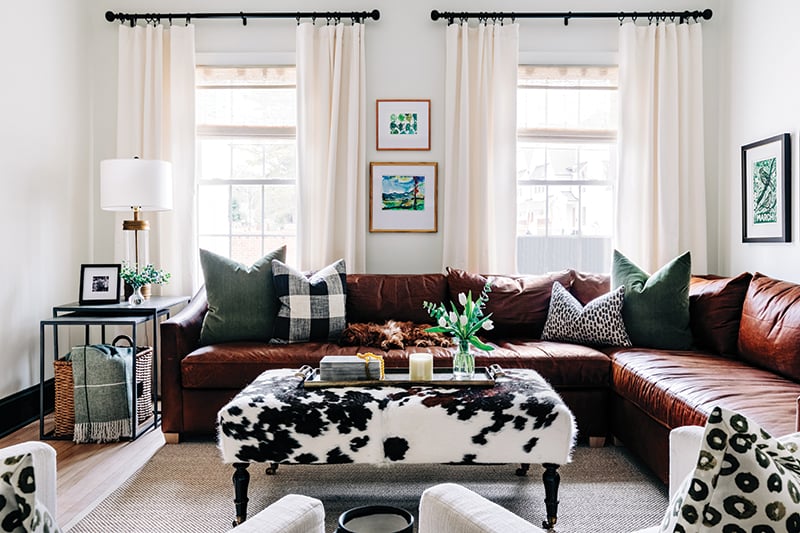 Emily Bramwell is accustomed to moving every two years. After she flips a home, she and her husband, Matt, and their three children move on to their next project. It's an extension of her full-time job as principal designer and owner of Greentree Homes, a design consultancy that's behind custom homes throughout Charlotte.
Four years ago, the Bramwells lived near an old farmhouse on Providence Road in the Foxcroft neighborhood. Every time they passed it, Emily would renovate it in her head. It sat on the market for almost a year, so they finally decided to go look. "When the price dropped, we put an offer in," Emily says. "It was so charming and different from all the new construction around, and it was solidly built, so we knew it wouldn't have to be completely torn apart."
The 3,200-square-foot red brick home had soaring white columns and an ornate pediment door surround. Inside, they found a grand staircase, arched doorways, three wood-burning fireplaces, and original hardwood floors. After a bit of research, they learned the home had been moved to its current location in the 1970s, so they knew its bones were strong.
"As we opened it up, we found old house problems, … plumbing, electrical, and floor joists that never would have passed by today's standards," Emily says. "Nothing catastrophic—but everything behind the walls is new."
They stripped the hardwood floors and sanded them down to give them a "Nordic feel" and filled in the places where they'd ripped out old tile. "The back den had mahogany-stained panels that weren't our taste, but when we removed the paneling, we realized they don't make wood like this anymore," Emily says. Instead of scrapping it, they used it to build a paneled wall at the top of the stairs and an accent wall in the office. "There was also a cute little niche at the top of the stairs with an arched opening and a window that overlooks the backyard, and that had to stay."
Upstairs, they reconfigured the small bathrooms and updated them with new vanities, toilets, tile, and lighting. The kitchen, with its dated tile floor and rickety cabinets, also got an overhaul. They installed GE Monogram appliances that included a 42-inch fridge and a 48-inch range, semicustom gray cabinetry, black pendant lights from Rejuvenation, and an oversized island with seating for five.
Next to the kitchen is an old porch they converted to a mudroom that houses two sets of black Electrolux washers and dryers. They kept the exposed brick wall and used the original front door from the house to create a Dutch door that opens to the kitchen. An under-the-counter, pull-out trash can contains dog food, and a water dispenser lets the kids fill their water bottles on the go.
With the exception of Emily's sitting room, which she painted in Farrow & Ball's Green Smoke, the entire main floor got a coat of Sherwin Williams' Alabaster. They painted all baseboards, trim, and interior doors black and installed crystal knobs on the doors for a traditional, antique touch.
Outside, they put in a new driveway, covered back porch, brick walkway in front, two automatic gates, and a wood fence in the backyard. The home's facade got a revamp, too. "The scale was all wrong," Emily says. "(The front door) was too short and the columns were too narrow, so it didn't feel stately enough." They added limewash—a thin layer of paint that leaves part of the surface exposed—to lend a rustic look to the red brick.
The Bramwells moved into their modern farmhouse in June 2019 and lived there for the next nine months. Then a realtor friend had a young couple that was ready to buy. They'd always planned to sell it, of course, but this was a quick flip, even for them. "It was hard to part with … it's a great house," Emily says. "It's pretty and stately and different from any new construction going up. It's just perfectly imperfect with its old, imperfect charm."
TAYLOR BOWLER is lifestyle editor of this magazine.