Homemade Applesauce Recipe
Make Applesauce in a Crockpot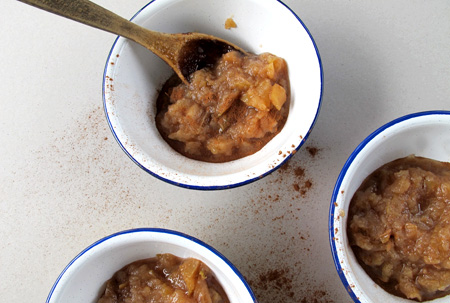 Have you made homemade applesauce? It is simple! The secret to good quality applesauce is starting with great tasting apples.
For this recipe I used several large honeycrisp apples: a crisp, slightly tart apple that developed in Minnesota. You can also blend a variety of apples, mixing sweet with tart. Golden Delicious, McIntosh and Galas are mild, sweet and juicy. Braeburn and Cortlands are tart and sweet.
Cinnamon Applesauce
Eight 1-cup servings
8 cups chopped apples
1/4 cup of water
1/3 cup of sugar
1 teaspoon lemon juice
1/2 teaspoon cinnamon
Slice 5-6 large apples into chunks. Add to crockpot and stir in water, sugar, lemon juice, and cinnamon. Cook in crockpot for 4 hours on high.
Mash for a chunky style applesauce, or puree for a smooth sauce. Refrigerate until ready to serve.