Honey-Peach Ice Cream Sundae
Celebrate National Ice Cream Month and peach season in one dish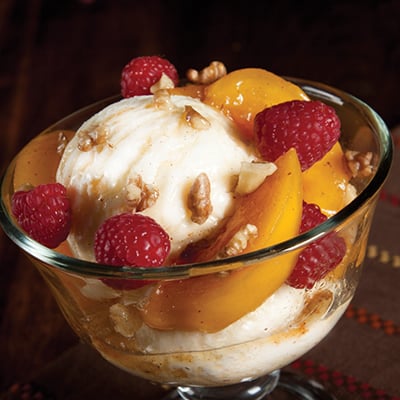 If you don't have peaches on your farmers market list for Saturday morning, add them now.
Matthews Community Farmers' Market has a peach fund-raiser going on, and this week's variety is Windblow. This free-stone variety, developed in North Carolina, is a favorite of cooks because of its flavor and how easily the fruit comes away from the stone.
Not only are we in the middle of peach season, but July is also National Ice Cream Month. Blue Bunny is celebrating by providing summer recipes to take ice cream to the next level.
Conveniently for Carolinians, this one involves fresh, ripe peaches.
Honey-Peach Vanilla Ice Cream Sundaes
Prep Tim: 15 minutes; Yield: 4 servings
1/3 cup walnut halves
2 medium peaches, peeled and sliced
1/4 cup honey (You can find this at the market, too.)
1/4 teaspoon ground cinnamon
Pinch ground cloves
4 scoops (1/2 cup each) Blue Bunny vanilla ice cream, divided into four dishes
2/3 cup fresh raspberries (Or blueberries, which are prominent at the local markets now, too.)
In a medium skillet over medium heat, cook walnuts until toasted, about 5 minutes, stirring constantly. Cool. When cool enough to handle, chop coarsely. Set aside.
In same skillet over medium heat, combine peaches, honey, cinnamon, and cloves. Cook and stir until peaches soften. Cool several minutes before spooning over four cups of ice cream. Top with nuts and berries.
For more ice cream recipes, click here.