Honey, the Baby Shrunk Our World
I thought I knew Charlotte, and then I had a kid here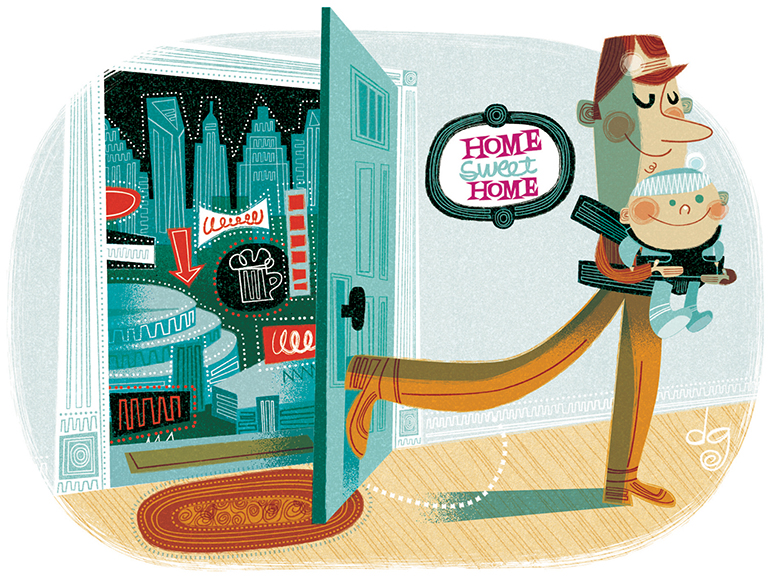 I THINK IT HIT ME when my wife was 12 weeks pregnant and we went on a tour of a day care. I'd been to day cares before. One of the odd things about being a reporter is that you end up in a lot of places without doing the things that people actually go there to do. I went to the Olde Mecklenburg Brewery's grand opening this summer and didn't have a beer. Instead, I interviewed people, gawked, and went home for dinner. I've been to the new ballpark in uptown to talk economics, but I haven't seen a ball game there. I've gone to road races in street clothes. Being a reporter is like being Practical Dad, who buys tickets to a football game but leaves early to beat the traffic.
I was six months away from becoming Actual Dad, so there I stood, awkwardly, next to several other young couples who all wondered how they'd wound up in a place they'd never had much, or any, use for in the past. My wife and I had recently come to the sobering conclusion that we both would have to keep working after our baby was born. So we started setting up tours. The first one, at a church, consisted of a woman showing us around, telling us how often kids eat, play, go outside, and get serenaded by a woman with a gentle voice and a guitar.
Before this, day cares had barely existed in my Charlotte. My Charlotte was here mainly for my entertainment—a collection of restaurants and greenways and basketball games. I spent a long time becoming a regular. Bars have regulars. Stores have regulars. And if you live in a city long enough, you become a regular. People asked me for advice. What should I do tonight? Where should I live? Can you get me Panthers tickets?
But after nine years here, the Charlotte I'd spent so much time getting to know—first uptown with its long lines, then Plaza Midwood with its slacker charm, then NoDa with its confused identity, then University City with its unbridled sameness, then South End with its old newness, then SouthPark with its yoga-pant formality—is gone. The geography of this town has changed. I suddenly find myself worrying about such things as shifting school boundaries and the closest Buy Buy Baby.
It's been a few months since my son, Charlie, was born, and my Charlotte is now much smaller. It's made up of the blanket-covered floor of my living room; the grocery store; the stroller-friendly loop around our neighborhood that runs under oaks, magnolias, and silver maples; the restaurants where we're least likely to get stares when asking for high chairs; and the grocery stores where the beer aisle is closest to the diaper aisle. We skipped the day care and hired a nanny. We now see Baby Bjorns and strollers everywhere, in much the same way you suddenly notice everyone on the road is driving the same car you just bought. Everybody's got a Citi Mini, man.
It's weird to start from scratch after being here for so long. This Charlotte, the family-friendly Charlotte that exists to help you raise a child instead of raising a glass, is still new to me. A 298-square-mile city used to be my domain. Now it's a 2,100-square-foot house with a 13-pound infant, a stack of children's books, and frighteningly hypnotic Baby Genius videos. I've spent years getting to know this town. Now, every day, I'm working hard at becoming a regular at home.