Hot Off The Press
ABCs of invitation printing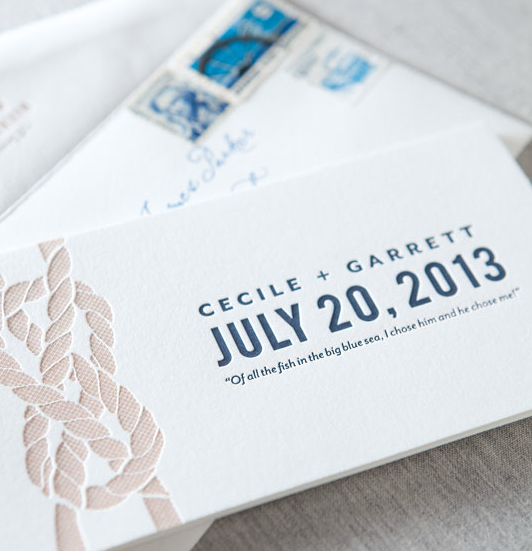 Save-the-dates and invitations give guests a first impression of your wedding long before the last "I do" details have been planned. These send-outs set the tone for the event, so it's important that the style you choose matches the style of your nuptials. For the non-design inclined, this is where a local stationer comes into play. Chat location, decor details and budget and work out an aesthetic that's in keeping with your unique event. Once you've chosen a rough design, you'll need to think about printing options. This is where budget comes into play. But don't discount techniques simply on account of cost. If your heart is set on a certain method of print, simplifying your word count or accompanying images can offset the cost. Here are the basics of printing when it comes to wedding invitations…
Letterpress
The Specs: Relief printing using a metal plate which is hand set and pressed into thick paper.
The Look: Deeply indented letters, soft texture.
Price Tag: $$$-$$$$
Printing 411: Limited to thick paper–think cotton fiber or bamboo paper. Likewise, the ink is thin so stick to light or white paper and dark inks.
Engraving
The Specs: A copper plate is placed under paper and pressure raises the letters.
The Look: Raised letters create a very classic, formal look.
Price Tag: $$$-$$$$
Printing 411: Because of the pressure and weight of the copper plate, you're limited to thick paper, as the thinner papers will tear during the printing process. This is a lovely choice for those wanting colored paper. Since the ink is thick, you may also use light ink on dark paper. Allow 4-6 weeks for turnaround time.
Digital
The Specs: Digital image is printed via inkjet printer flat onto paper. Best for a casual affair.
The Look: Flat appearance (much like that printed from home, but higher resolution and sans smudges).
Price Tag: $
Printing 411: You'll be limited to thinner papers for this technique–they must be able to pass through the printer. Color possibilities are endless for ink. This is also the cheapest method and has the fastest turnaround time.
Thermography
The Specs: Uses powder resin which is then heated and fused with ink to form raised letters.
The Look: Very similar to the look of engraving, but with a slight sheen and no indentation of the letters on the paper's backside.
Price Tag: $$-$$$
Printing 411: Thick paper works best for this printing technique. Also avoid shimmery paper, as the text will already have a sheen.
Offset
The Specs: An etched plate transfers text to paper using a stamp-like method.
The Look: Similar to digital, but with a higher resolution. Thus it's a bit more expensive. Best for a casual affair.
Price Tag: $-$$
Printing 411: Unlike digital, you're not limited to thin paper. Feel free to use thicker cotton fiber papers with this technique. You may also use darker paper with light ink.
Foil Stamping
The Specs: Colored foil is placed on a film-backed material which is fused to paper with a heated die.
The Look: A metallic finish creates a luxe, elegant look. This technique is best for the black tie affair.
Price Tag: $$-$$$
Printing 411: Think less is more for this technique. Stick to large text and images only, as small foil text is difficult to read. Light foil on dark paper works best. Allow 10 business days for those who do it in-house and 6-8 weeks for those who outsource.
Embossing
The Specs: Etched metal die are placed on either side of paper to create a relief print.
The Look: Letters are raised and colorless.
Price Tag: $$$-$$$$
Printing 411: Thick paper is a must for embossing. Turnaround time is about 3-5 weeks.
{Letterpress and foil invitations above: Salutations Ballantyne}