House of Nomad Transforms a Lake Norman Home
Interior design studio brings taste and texture with minimal color to a space at The Peninsula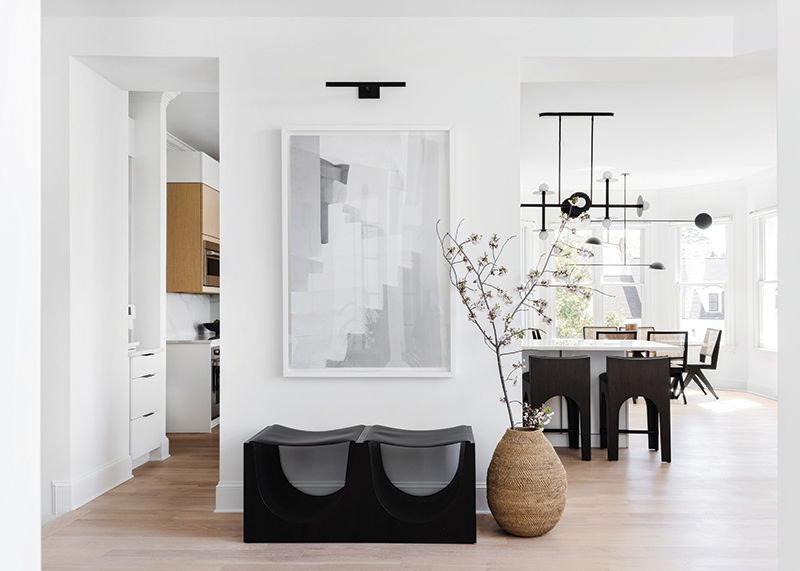 Black and white might look like a simple design theme, but it's not easy to pull off. Done well, it looks clean, modern, and inviting. When it's not, a black-and-white interior can seem sterile or flat.
To make this high-contrast combination work for a longtime client's lakefront home, Berkeley Minkhorst and Kelley Lentini used natural elements like wood, leather, and organic textiles for a warm, multi-dimensional space. That global-inspired aesthetic has become a signature look for the design duo, who launched House of Nomad five years ago.
As part of an ongoing renovation, their clients wanted to update the first floor of their 5,600-square-foot home in The Peninsula, a waterfront community in Cornelius. "These clients have been in our lives since we started the business," Minkhorst says. "We've taken it floor by floor, room by room. Each space gets easier and easier because we know them that much better."
"And we get to treat ourselves to a visit to Hello, Sailor after," Lentini adds. "It's always nice to have clients who live at the lake."
MAKE WAVES
"Architecturally, this is a stunning space," Minkhorst says. "That two-story entry is grand, so we accentuated it by doing the tile installation on the fireplace, which draws your eyes up." They chose three-dimensional ceramic wall tiles from Walker Zanger to mimic the movement of the water. At the base of the fireplace, they created a floating bench with the same quartz they used for the kitchen countertops. The Kelly Wearstler wall sconce beside the fireplace complements the geometric node chandelier above the island.
LET LIGHT IN
The designers wanted the lake view to be another focal point. They removed non-load-bearing walls to allow more sunlight to flood the main floor, widened the opening between the kitchen and living area, and replaced the sliding doors and crescent window on the back of the house with iron-framed versions that complement the front door. "They love to host people and entertain," Minkhorst says, "so we rearranged this space in a way that makes sense."
WARM IT UP
The secret to keeping a neutral backdrop from looking too one-dimensional, Lentini says, is incorporating warmer textures like rattan, bamboo, and grass cloth. They chose a grainy wood console with a brass accent for the foyer and added patterned Moroccan rugs for visual interest. In the kitchen, they installed two-tone cabinets with natural wood uppers to keep the space from becoming a sea of white. To reflect the homeowners' love of travel, they dotted the interior with baskets, throws, and pillows, which House of Nomad sourced from all over the globe.
PLAY WITH PATTERNS
They livened up the powder room with a black-and-white, maze-patterned wallpaper from Juju Papers; in the living room, they made an accent wall beside the TV with House of Nomad's Jet Lag patterned wallpaper. On the wall opposite the fireplace, they displayed a handmade piece by an artisan they work with in Mexico. "It's all made from recycled material," Lentini says. "That wall hanging is similar to the shape of the tile, so there's a repetition of pattern happening."
FINISH WITH A POP OF COLOR
When they lead with black and white, Minkhorst and Lentini still like to incorporate pockets of color. They added greenery throughout the space with a floor planter in the powder room and tabletop planters in the foyer, living room, and kitchen. A mix of accent pillows in the living room adds blue tones without detracting from the black-and-white theme. "It's a very clean aesthetic," Minkhorst says. "When you do it right, it looks light, bright, and modern."
TAYLOR BOWLER is the lifestyle editor.