'Houses Are Not Going to Get Cheaper': A 2023 Look at Charlotte's Real Estate Market
For potential homebuyers, some good news: The market has started to calm down. Some bad news: It's settling in an expensive place.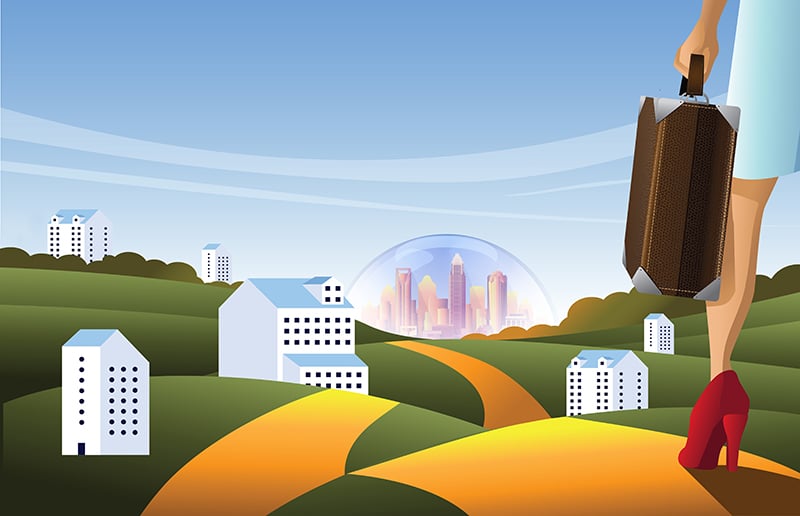 If you're thinking about buying a home in Charlotte, you're stepping into a confusing and sometimes contradictory landscape. Here are some basics.
The market has stabilized—some—since the mad rush of 2020 through 2022, when sellers could practically name their prices and listings disappeared within minutes. Buyers can again set at least a few terms of the deal.
Demand has eased in part because the Federal Reserve hiked interest rates throughout 2022 as a tool to curb inflation. That's discouraged potential homebuyers in Charlotte and everywhere else from applying for mortgage loans.
Lower demand, though, does not mean low demand. In January, Zillow identified the Charlotte area as the hottest housing market in the country for 2023. Homebuilding has generally rebounded since a dip at the peak of COVID but still struggles to keep pace.
As of January, economists were still undecided on the likelihood of a national recession, which could—but doesn't always—drive down housing prices. But even if a recession depresses them in other parts of the country, it's unlikely to do the same here. Even in a calmer market, too many people want to buy too few homes.
All of those factors inform a single issue that hangs over Charlotte real estate, as it's defined much of life in this city for a decade: Increasingly, only the affluent can afford to buy homes here. That problem continues to worsen.
In November, the Childress Klein Center for Real Estate, a wing of the Belk College of Business at UNC Charlotte, hosted a State of Housing Summit that sought to assess the housing market in Mecklenburg County and the seven counties—five in North Carolina, two in South Carolina—that border it. The lack of affordable housing, especially in Charlotte, has been a problem for at least a decade. But the center's 2022 analysis revealed a housing market that's more expensive than ever. Among its findings:
Home prices have skyrocketed—from a median of $273,500 in January 2020 to $420,000 in September 2022, an increase of 54%.
Less than 4% of homes sold are under $150,000, and only one in four sold for less than $300,000.
In 2012, a household that earned less than $50,000 per year could afford a median-priced home in the Charlotte region. To afford the same in 2022, a household needed to earn at least $136,750. Four of every five households cannot afford a median-priced home in the region.
"If that's not a wake-up call concerning affordability," says Rob Nanfelt, executive director of the Real Estate and Building Industry Coalition, "I don't know what is."
City officials and others have taken some steps, including a larger Housing Trust Fund, to try to make housing more affordable. But the region's continued growth and demand for homes has overpowered them, and more comprehensive efforts—primarily the city's new Unified Development Ordinance, which champions denser housing—will take years, perhaps decades, to stop or reverse the trend.
Planners and economists have warned for years that the city's economy, especially in the urban core, depended in part on service-industry labor, and that labor force could wither if workers can't afford to live near their jobs. "We don't want to lose our waiters," then-city Planning Director Taiwo Jaiyeoba said in January 2020. Now, housing prices threaten to price out even the waiters' managers—well-paid employees who nonetheless have trouble finding a decent home they can afford, even well outside the city. It doesn't bode well for the years to come.
During the housing summit, the Klein Center's director, Yongqiang Chu, took questions about his alarming main presentation. City Council member Ed Driggs, seated near the front, seemed to hesitate as he grasped the implications: If housing prices continue to rise, he asked, won't companies and the professionals they employ just start looking elsewhere?
"That is exactly my concern," Chu said. "At some point, this will happen, right? People will just stop moving to this city."
***
In the meantime, buyers approach Charlotte-area real estate agents with requests they often can't fulfill. "There's 110 people moving here a day, that demand just keeps on, and you can't build fast enough," says Lee Allen, a veteran broker at RE/MAX Executive and the 2022 president of Canopy, the Charlotte region's main Realtors' association. "How do we help a fireman and a schoolteacher living together who want to live somewhere off of Eastway? How do I help them do that? And can I even find something for them? That's a real problem."
Even if people can afford to buy, the landscape is more confusing than it was at the beginning of 2022 thanks to rising mortgage interest rates. In general, rates plummeted after the 2008 financial crisis, and as recently as March 2022, buyers could secure 30-year, fixed-rate mortgages at less than 4% interest. In high-demand markets like Charlotte, that meant a bounty for sellers.
Tiffany Johannes, a RE/MAX Executive regional broker-in-charge and Allen's successor as Canopy president, says out-of-town buyers often asked her for listings that matched their preferences in size, cost, and other criteria. "And you say, 'Well, here are the two. I haven't narrowed it down. You said you wanted to be in this school district, or you had these criteria. I put it in. This is what it is. And of these two, actually, one's gone now.'" For a time, especially the two years of COVID, Johannes regularly scheduled video tours and told clients they needed to put in offers on the spot. By the time buyers scheduled a visit, she says, the home would be sold.
That's no longer the case. The same mortgages now typically carry rates between 6% and 7%—close to the pre-2008 standard but far higher than what buyers have grown accustomed to. So many are holding off on buying homes. Home sales in the 16-county Charlotte region fell 15% in 2022 compared to 2021, and listings dropped 10%. By the end of 2022, the region's housing inventory—a measure of how long it would take for available homes to sell if no new homes were built—had risen to a little more than two months' worth. Early in the year, the supply had dropped to a "really insane" level of 11 or 12 days.
"I call it 'nobody's land,'" Allen says. "Sellers are all of a sudden going, Dude, I thought I could sell my house in three hours. No, that's changed. And buyers thought, What happened to the 3% interest rate? Uh, we went back to normal. You're like, Wait a minute. This don't feel right. It didn't feel right for anyone … because we got used to two years of crazy."
Of course, if rates drop again, the market may return to crazy. It depends on monetary policy, demand, the perception of demand, the desirability of the Charlotte region, and a series of other factors that, as of January, were difficult to pinpoint. "Everyone is working on, 'What is our new normal? Where is that level?'" Johannes says. "And it takes a little bit of time to bump along to get to where you're going to be."
***
Builders are trying to adjust to complications of their own. The COVID lockdowns of 2020 brought construction to a virtual halt, and even though the overall pace has resumed, the recent easing of demand has begun to tap the brakes again. Mecklenburg County issued 1,340 building permits for one- and two-family homes in January 2023—a 6% drop from January 2022, county data show.
Plus, Nanfelt says, the effects of the 2020 shutdown have "rippled" to the present, which means builders have been playing catch-up ever since. And even with work picking up again, continued supply chain issues force builders to wait far longer than normal to complete projects, even if they can do most of them quickly. "Garage doors, windows, things like that," he says. "Some of the anecdotal things I hear from builders are, like, 'Where it used to take me two weeks to get a garage door, now it's taking me six months.' Not six weeks—six months."
And those are the hassles of people affluent enough to find homes to buy. Builders, who might be expected to cheer higher home prices, don't want them to rise high enough to slow or kill growth. So organizations like REBIC are working with city Planning Department officials, who shepherded the new development ordinance through the City Council last year, to try to streamline the city's regulatory processes. They hope those can allow developers to build more quickly and cheaply, and Nanfelt says they'll continue to talk about changes even after the new ordinance takes effect June 1.
But even those changes, along with the UDO itself, will chip away at an affordability problem that's outstripping anyone's attempts to corral it. Solutions exist, but market forces tend to outpace them.
"The problem is, it's not one silver bullet. It'd be easy if we could all point at one thing," Allen says. "It is a confluence of 7% inflation, 7% interest rates, and then the amount of—I'm gonna call it 'sales cycle to build new construction.' … A great definition of inflation is, 'Too much money seeking too few goods.' We had an inflation of the housing market over the last two years. We had too many buyers with really cheap money seeking too few homes."
For the foreseeable future, he says, that's what the Charlotte home market will be. There's no telling how long that will last.
"I think the job of a Realtor now is to help (buyers) make sense of all the minutiae, all the stuff they have to look at. The demand is going to stay here, because jobs are still coming," Allen says. "The houses are not going to get cheaper. I grew up in southwest Randolph County, and there's an old phrase in the South: That cow has left the barn."
GREG LACOUR is the editor.