How a Charlotte Designer Transformed a Land Ark RV's Interior
Jennifer Felts designs a tiny home for flexibility and fun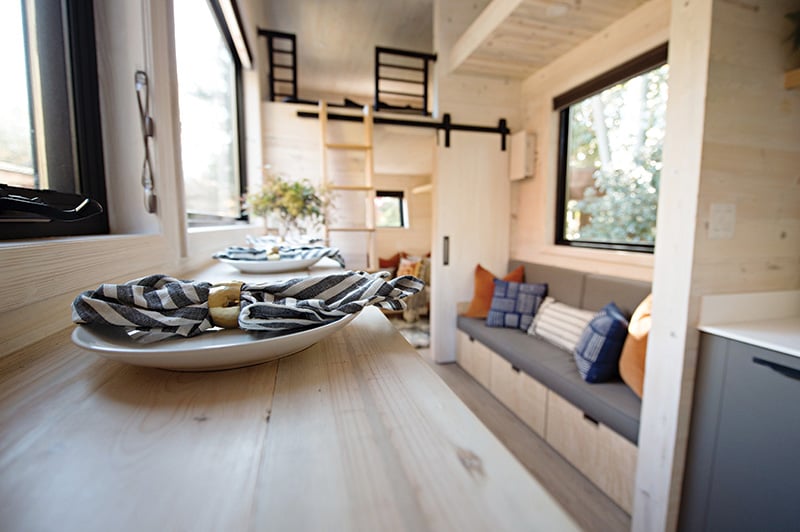 As owner of Habitude Interiors, Jennifer Felts handles home construction and renovation throughout the city. But she'd never worked on a tiny home until three years ago, when a client purchased a Land Ark RV and hired her to design the 357-square-foot interior. "He's the type of person who sees something, loves it, and has to buy it," Felts says. "A tiny house was just something he was fascinated by."
The homeowners, whom she'd worked with previously on their midcentury modern home in Charlotte, were empty nesters who were ready to sell their house and move to their farm in South Carolina. They wanted to travel in the RV and rent it out through Airbnb when it was parked on the farm.
The Drake model came equipped with a washer and dryer, shower and tub, refrigerator and freezer, gas oven, three-burner cooktop, and a tankless water heater. With two lofts, a day bed, and a built-in bench, it could sleep up to six. A 10-foot bar top doubled as a dining area and workstation, and an under-counter TV connection had a tubing system that hid all cords inside the wall. The ceiling fan and LED can lights were already in place, and the whitewashed pine walls and waterproof vinyl plank flooring gave Felts a natural, earthy backdrop.
"We were lucky to start with a really great shell," she says. "They gave us carte blanche to furnish it. They just wanted it to feel like the furnishings fit the exterior of the home." In addition to furniture, Felts ordered and installed mattresses, bedding, rugs, towels, dishes, and decorative accents. "They started with zero," she says. "Things you wouldn't even think of, like a shower curtain."
The exterior, with black corrugated metal siding, was sleek and modern, so Felts created a minimalist, Scandinavian-inspired interior. "They wanted to bring in some color, but with a space that small, you can only do so much or else everything will start to feel too crazy," she says. She used a palette of navy blue, rusty orange, and soft gray to complement the natural wood wall panels and incorporated assorted patterns and textures with the throw pillows and rugs.
"The light wood gave us room to play with darker details like the black matte sink faucet and drawer pulls," Felts says. "I love the contrast of the wood paneling with the dark metals in the kitchen." The built-in sofa came with gray Sunbrella indoor-outdoor cushions, so she added some greenery "to bring more of the outdoors in."
Every accent Felts chose had to be compact and multifunctional. The glossy black barstools could be tucked away under the kitchen counter. A white side table doubled as an extra seat. The built-in shelving concealed the AV equipment. "You can't have anything that doesn't have a purpose," she says. "I just love the smartness of how it's designed, and it's architecturally interesting for something so tiny."
Felts began the project in late 2018 and completed it in less than two months because the homeowners wanted to start renting it out. They sold their house in Charlotte in December 2019 and moved to the farm in South Carolina. The tiny house became a retreat during COVID and, later, an added source of income through Airbnb.
"They were ahead of the game," Felts says. "Tiny homes give you ultimate freedom, which is particularly appealing during COVID times. You can take it to Colorado and work somewhere different. You have no big house payment, and you can rent it out if you're not using it. It's all about flexibility and adventure."
TAYLOR BOWLER is lifestyle editor of this magazine.