How a Panthers Superfan Discovered Tailgating Is 'Not a Thing' in London
And how he plans to work around that hard truth this Sunday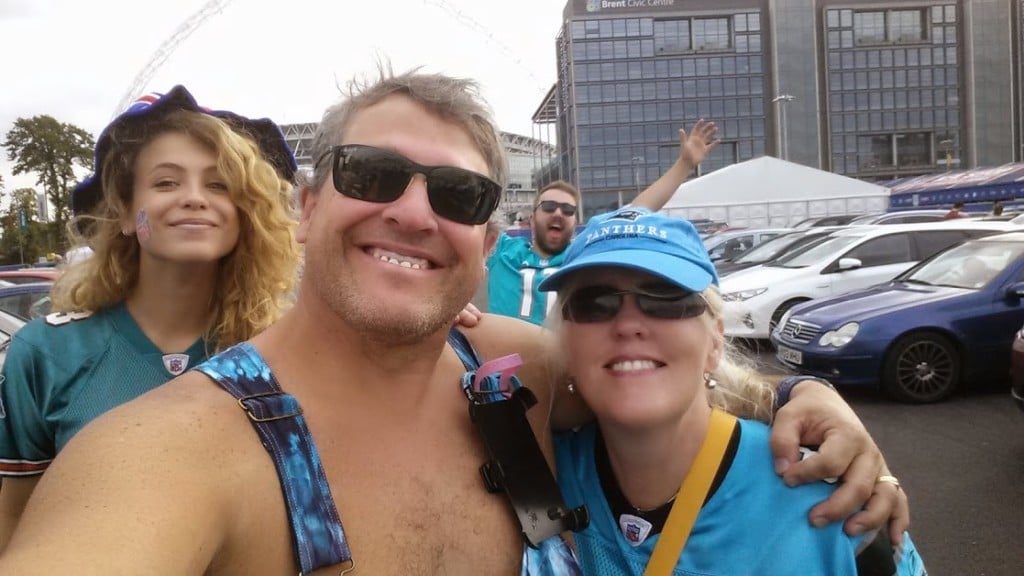 Diehard Panthers fan B.C. Ferrell remembers the first time he tailgated in London at a football game. It was 2014, and he and his wife, Brenda, were visiting British friends.
The Raiders were playing the Dolphins, and Ferrell's friends said they'd take care of all the tailgate preparations. They'd bring the beer, biscuits, and other snacks.
But by the time Ferrell arrived at the parking lot outside Wembley Stadium, he realized the gathering wasn't at all like the tailgates he hosts in Charlotte off Morehead Street from the back of his pickup. First, there was no cooler, and the Coors Light his friends served was warm. The British don't chill most of their beer. Second, the biscuits he was expecting bore no resemblance to Bojangles' – in British English, "biscuits" are cookies.
Then the policeman approached. He assumed they were selling food without a permit, and he told them to pack it up. Drinking their warm Coors Lights and eating their cookies, they explained, no, they were tailgating – a term the policeman didn't understand. Finally, he got it: "Oh, you are having a picnic in a car park!" he told them.
Some cultural differences are apparently too big to bridge. "If you say we're 'having a picnic in a car park,' it sounds so, I don't know, not football," Ferrell says.
As hundreds of Panthers fans head to London to take in the team's first international game on Sunday, one of the rituals that will be missing is the traditional tailgate. That means no corn hole, no elaborate TV set-ups, no throwing footballs, no smoke from grilled meat wafting through the parking lot. Sure, you can move the game to London. But you can't move the entire game experience.
There are plenty of reasons why. The British have more of a pub culture. They often take public transportation to the stadiums and don't drive as many trucks and SUVs. And rival soccer hooligans can't be trusted to drink and mingle peaceably before games.
"It's just not a thing over here," explains Joe Baucom, who heads Roaring Riot UK, a chapter of a Panthers fan club that gathers weekly in London to watch games. "Fans here all traditionally go to the pub for pints before the game."
Roaring Riot, which holds tailgates and plans trips to away Panthers games, is holding a pre-game party at an Irish community center near Tottenham Hotspur Stadium. It's directing people who aren't on its travel package to a nearby pub and beer garden called The Beehive, though it's referring to the get-together as a "tailgate."
As for Ferrell, he's making plans, too. On Sunday, he will wear his usual black-and-blue tie-dyed overalls. The day before, he'll break out a Panthers-colored tie-dyed kilt while taking tea on a cruise on the River Thames.
For Sunday's pre-game gathering at a house he's renting, Ferrell accepts that it will have to be more like a house party with a couple dozen friends than the open-air feasts he usually holds in Charlotte. He'll still serve his traditional "Panthers juice," a concoction made of rum, blue curacao, and piña colada mix. He'll lead a toast to a Panthers victory over the Bucs. And this time, he says, he'll personally make sure the beer is ice-cold. ("I will not make the same mistake twice.")
Ferrell, a 58-year-old tech worker who lives at Lake Wylie, is such a big Panthers fan that he's known as "Big Cat." He says the time with friends before the game is the highlight of his day – even better than the football itself.
"I love going to the games," he says. "But I can enjoy the football games on TV. With the tailgating, you get to connect with the folks you enjoy spending time with. That's why we do it."
Tony Mecia is editor of the Charlotte Ledger, an e-newsletter on Charlotte business news.