How Babe & Butcher Became a Go-To for Charcuterie Boards in Charlotte
New York transplants Rob Henricks and Lindsay Anvik turn custom charcuterie boards into a second career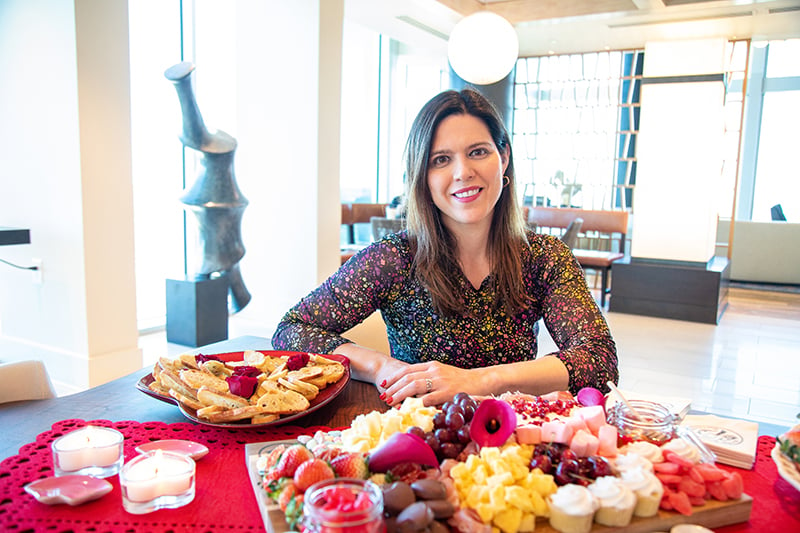 HUSBAND-AND-WIFE DUO Rob Henricks and Lindsay Anvik moved from New York City to Charlotte last year, looking for a good place to raise a family. She was a professional development coach doing leadership training around the world, and he was a restaurant consultant with mad knife skills. They'd planned to keep their day jobs, but that all changed after they hosted a party in their home for Charlotte's 24 Foundation, which raises money to fight cancer. The duo served a charcuterie board and wowed guests with what they thought of as just a fun hobby.
"I'd been bringing them to friends' homes, and they would always ask me to make them," Anvik says, "but this was the first time strangers were asking who catered it and how they could order one." The couple brainstormed names for their company, found a commercial kitchen to work in, and officially launched Babe & Butcher in fall 2019.
"We both were driving two-seater convertibles at the time," Anvil says. "We thought it would take a year for it to really take off, but after I had to rent an SUV three times in one week just to deliver the boards, we realized we probably needed a bigger car."
The couple could see that charcuterie boards were having a moment. But Babe & Butcher boards are more than just meat, cheese, and crackers. Theirs include soft and hard cheeses, cured meats, fresh baked crostini, and flowers. They also create fruit boards and dessert boards with more than two pounds of chocolate, meringues, and cookies. Each order comes on a cutting board, monogrammed with their rose and butcher knife logo, that customers can either keep or return for 10 percent off their next order.
For larger groups, Babe & Butcher offers 20-to-30-foot grazing tables, a buffet-style spread piled high with charcuterie accoutrements. When a customer requested a breakfast board, Anvik and Henricks created a spread of mini maple scones, fresh fruit, and maple spice candied bacon. It was such a hit, they made it a regular offering.
When the 24 Foundation hired them again to cater a party to thank their volunteers, Anvik and Henricks built a board around an orange bicycle wheel (the nonprofit's logo) with orange jelly beans mixed with white mini cupcakes, coconut rolls, white macaroons, lemon cookies, and dried oranges. For a party at Wing Haven, they decorated a board with roses and herbs from the garden. And for a client's Halloween party, they "buried" a skeleton in candy.
Henricks continues to work as a restaurant consultant while assisting with Babe & Butcher, which Anvik now does full time. They're planning to roll out a high-end board with Russian caviar on a marble cutting board, and they have a new board with truffles that Anvik orders from France. She also builds boards with cookies her best friend sends from Japan and cheese she orders from Holland. She looks to local dairies for cheese and buys honey in Charlotte whenever she can.
"Food has always been a part of my life," she says. "I'm Italian, so I was in the kitchen in the womb with my mom and grandmother. Rob has always been around restaurants. So when we moved to Charlotte and realized what a foodie town this was, Babe & Butcher just happened. The strength of the boards comes from the two of us, and it's just been great."
---
Tips For Making Your Own Board:
» Use what you love
» Think beyond cheese and crackers—include chocolate, fruits, and nuts
» Make sure to play to your audience
» Use what you already have in your fridge, pantry, or even your garden. Fresh-cut flowers can
add color and fill in some of the blank spots
» Mix it up with something spicy like salami or pepper jelly, something sweet like honey, and something acidic like pickles
» Choose a theme to help guide your choices