How Bombshelves Expanded Out of Vintage Furniture
Amanda Moody, the local artist behind a mural at CLT, finds peace in the process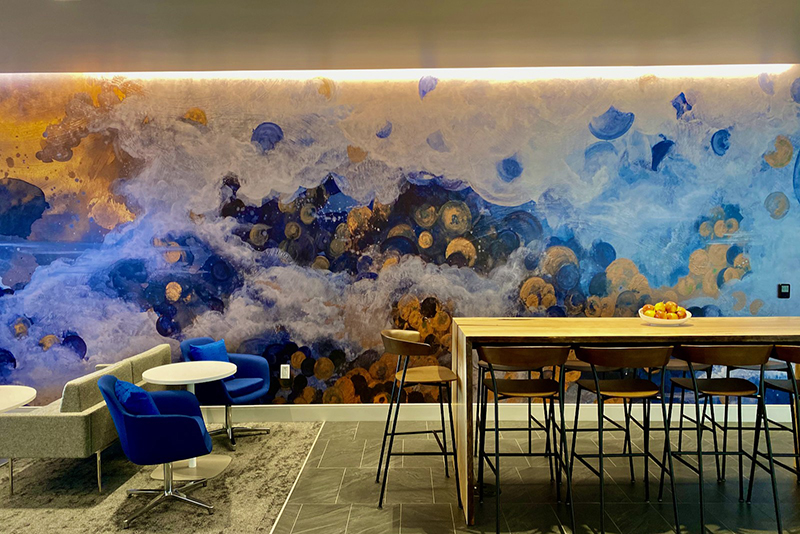 In 2014, when her daughter was 5, Amanda Moody and her husband hit a rough patch in their marriage. They separated for three years, and she turned to painting as therapy. "It is my saving grace," she says. "The mediums being so fluid and uncontrollable. It's taught me that you have to let go and just go with the flow."
Today, the 45-year-old works out of her home studio in Weddington, where she runs Bombshelves, a fine art and surface design business that fashions wallpaper murals, pillows, window treatments, bedding, and more. She and her husband also reconciled. They just celebrated their 15th wedding anniversary.
Bombshelves started as a vintage furniture business. Moody and a friend refinished old pieces with high-gloss lacquer and funky metallics for local antique emporiums like Sleepy Poet and Metrolina Expo. "I started painting to outfit the booth, and people started noticing," Moody recalls. She got a few commissions from that work but credits social media for her visibility: American Express found her on Instagram.
In 2019, the credit giant commissioned her to paint a mural in the Centurion Lounge between the D and E concourses at Charlotte Douglas International Airport. Fanciful swirls of dark blue and smoky white, reminiscent of clouds in the night sky, dance throughout the floor-to-ceiling painting. "They wanted something that was nature-inspired," she says, "something that would be peaceful to calm travelers."
Like nature, her work is dynamic and full of color and dimension. Her pieces have appeared at the Mint Museum for a Safe Alliance benefit and Shain Gallery in Myers Park, among others. She also takes commissions for homes and offices, and before the pandemic, she was in talks with a California hospital to paint different murals for each patient room. Moody hopes she can still work on this project.
She usually paints horizontals on a two-dimensional platform, and she incorporates layered epoxy resin with different archival paints and pigments, gold or silver leaf, and diamond dust or fine glitter. "As the layers build up, there's an aha! moment," she says. "That's one of my favorite parts of the process—when it all clicks."
She has to treat each layer with a heat gun and cure it for 24 hours before she can work on the next layer. It requires patience. "There's only so much we can control, and the unknown is where the beauty is," she says. "We're not supposed to know everything. The power of now—that's where life is."
Moody never consults a color wheel; for her, it's more intuitive. That could be an atypical trio of lavender, yellow, and peach, or hot pink with lime green, blue, and purple, like a rainbow. Rock music inspires her, too. "I always have music blaring in my studio," she says. Bands on her playlist include The Avett Brothers, The Killers, Kings of Leon, and Deer Tick, and she often turns to song lyrics to name her works.
Some projects take Moody two weeks to complete, while others take a month or two. She usually paints multiple pieces at a time, and not every painting works out. When that happens, she's learned to find peace in the process. "I'll put that painting in 'time out,'" she says. "And almost always, right after that, something amazing comes out. But you have to hit that bottom sometimes to bounce upward again."