How Charlotte's Embracing the Impossible Burger
A tasty plant-based patty injects a meatless burger into the mainstream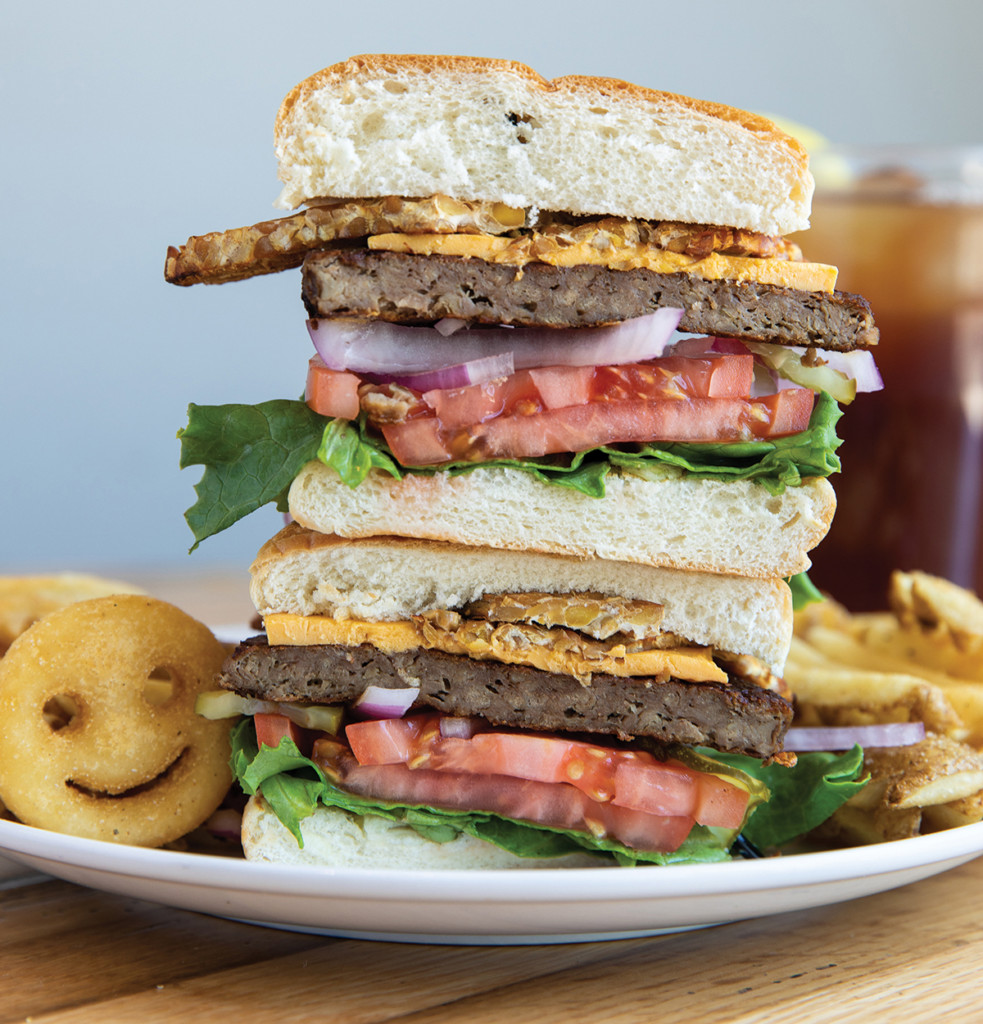 WHEN CHEF GENE BRIGGS decided to put the Impossible Burger on the menu at SouthPark's Legion Brewing, he wasn't thinking of climate change or factory farms—he was thinking about flavor.
"It's the first veggie burger I've eaten in my life," says Briggs, who has had the burger on the restaurant's menu since opening day last September. "I'm a serious carnivore. I eat lots of meat. But I ate that burger, and it tasted like a hamburger."
The burger, which first started appearing in restaurants in 2016, is as high-tech as a hamburger comes. Introduced to the market with the provocative tagline "The veggie burger that bleeds," the Impossible Burger is a plant-based patty that actually sizzles and appears to have blood inside when it's cooking.
This unusual effect comes from an ingredient called heme, a molecule that's found in both animals and plants. Pat Brown, the biochemist whose company, Impossible Foods, created the burger, discovered that this protein could give the patty both its meaty flavor and the look and smell of real beef, while other key ingredients like wheat, potato protein, and coconut oil create a beefy texture.
Since its launch, vegetarians and meat-eaters alike have taken notice. "We have people calling up to find out if it's on the menu," Briggs says. "And people often substitute it for other items, like asking for it instead of the pork belly on our gyro or instead of the meat in the carne asada tacos."
But Briggs' customers aren't the only ones who have fallen hard for the meatless offering. Impossible Foods, Brown's San Francisco-based start-up, has become a Silicon Valley darling. Investors from Bill Gates to Jay-Z have jumped onboard, touting the company's desire to shift meat-eaters into a more plant-based diet as a crucial step in helping the environment.
"Our target audience has always been the meat-eater," says Esther Cohn, Impossible Foods' spokesperson, who notes that 91 percent of the company's consumers are, in fact, meat-eaters. "Impossible's mission is to completely replace animals in the food production system, and to do that, it's imperative that we provide a product that meat-lovers enjoy."
At the International Consumer Elec­tronics Show in Las Vegas in January, the company debuted what it calls Impossible Burger 2.0, a newer version with more iron and protein and no gluten, cholesterol, animal hormones, or antibiotics. While its growth had been fast from the start—more than 5,000 restaurants carry Impossible Foods products—it has rapidly increased since January's release. You can find Impossible Burgers in major national chains like Qdoba, Red Robin, and even Burger King (Impossible Whopper, anyone?).
"Our mission is to satisfy the world's demand for products with meat, fish, and dairy made from plants, and we intend to sell our products everywhere that animal products are sold today," Cohn says. She points out that places like North Carolina, where barbecue reigns, are especially important to their mission: "We love supplying restaurants in areas like the South that are traditionally known for their meaty cuisine, as that's the exact audience we're trying to reach."
Ronnie Tsunami, who cofounded Charlotte's Plant-Based Society and was the keynote speaker at last year's Charlotte VegFest, agrees that Charlotte is the perfect place for a product like the Impossible Burger. "Pulled pork is like the state dish here," he says. "The whole Southern culture is full of heavy meat. I think what really makes the Impossible Burger such a big deal is that, in addition to people eating it, now they're choosing where they eat specifically to try it, and they're exploring other plant-based options."
The popular local chain Duckworth's Kitchen and Taphouse added it to the menu at its Park Road location in April 2018, after renovations and reopening. "It's an item people come to us specifically for now," says owner Rob Duckworth. [Editor's note: This location closed after we went to press.]
But the spike in the Impossible Burger's popularity created a different kind of problem: "demand greatly outstripping supply," as Cohn puts it. Impossible Foods announced a shortage in the spring and hurried to increase production. Local spots like Duckworth's felt the sting. "We've rolled it out everywhere, and people got used to coming to us for it," he says, adding that several locations had to remove the burger from the menu. "I hope they get the quirks worked out soon, because we're opening new locations and want to make sure it's on the menu."
Even with the Impossible Burger drought, Tsunami notes, Charlotte diners can fall back on several other local vegan offerings that weren't available until recently. "You can find vegan food at Fern, Bean, Living Kitchen, and even Pinky's," he says. "But I think it's alternatives like the Impossible Burger that are elevating the conversation around a plant-based diet."
It's undeniably trendy. Singer Katy Perry, an Impossible Foods investor, showed up for a Met Gala after-party dressed as an Impossible Burger. Celebrities like The Daily Show's Trevor Noah and tennis star Serena Williams also dot the investors' roster.
The company has claimed its social media space, too, with more than 179,000 Instagram followers.
"When people post on social media, showing that they're eating a burger that no animals were killed for, has half the cholesterol of a regular burger, and helps the future of the planet—you can't stop that wave," Tsunami says. "These days, the question isn't whether or not you're going to try a plant-based burger, but when you will try it."
Sarah Crosland is the author of the book 100 Things to Do in Charlotte Before You Die.
---
FIND THE IMPOSSIBLE
Get the Impossible Burger at these local restaurants
The People's Market
1315 East Blvd.
Big View Diner
16637 Lancaster Hwy.
JackBeagle's​
3213 N. Davidson St.
Burger 21
14825 Ballantyne Village Way, Ste. 160
Trade and Lore
933 Louise Ave., Ste. 301
Legion Brewing
5610 Carnegie Blvd.