How Do We Solve Charlotte's Social Distrust Problem?
Plus, changes in the way police operate since Keith Scott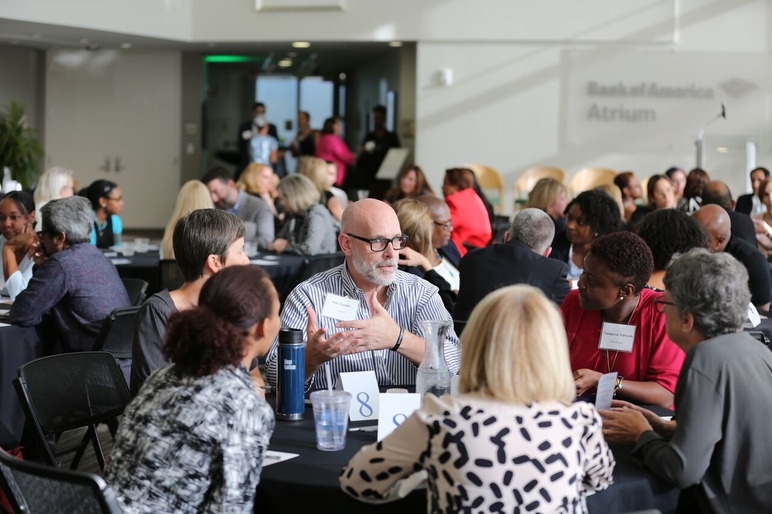 A few loosely connected items:
Do join us Thursday at Lenny Boy Brewing Co. for our latest #discussCLT event and discussion, "Navigating Nonprofits," which will take a hard look at Charlotte's nonprofit sphere. We'll have a couple of big questions in mind: Does this city have too many nonprofits trying to do the same work? What can we do to make sure donors and organizations do as much good as they can? We have an excellent panel assembled for this one. It's a free event, but you have to register. Come on out.
I've already written about a tense conversation Thursday between Charlotte-Mecklenburg police and members of Charlotte's Latino community. CMPD had convened the meeting to discuss the police shooting death of 29-year-old Rueben Galindo on September 6. Galindo made a confusing 911 call that evening, indicating that he had a gun; police arrived, saw him holding something—they say a gun—ordered him to drop it, then shot him dead when he didn't. Galindo's partner, Azucena Zamorano Aleman, directly confronted Police Chief Kerr Putney about why officers felt the need to shoot him.
It was the evening's most dramatic exchange. But another important back-and-forth got lost in its shadow. Released police body camera video shows Galindo raising his hands above his head just before officers shoot him. In a Charlotte Observer story about the video release, Putney was quoted as saying, "I'm not going to second-guess how (officers) perceive a lethal threat"—leading activists and some experts the paper contacted to question how a chief of police could say such a thing; if he can't judge his officers' actions, why is he in charge?
During the event Thursday, Oliver Merino, a Latino activist who works for the Carolina Center for Legal Advocacy, asked Putney to explain or clarify the quote. "Love to," the chief said. He was merely talking about process. When his officers use deadly force, Putney has to determine if they acted with malice or reckless disregard for human life. Then he turns the case over to the District Attorney's Office, which can charge the officers involved. That decision rests on whether the officers reasonably perceived an imminent threat—and it's up to the D.A., not the police chief, to make that call.
As he explained this, Putney observed that he used to withhold evidence such as body camera video from police use-of-force incidents until the D.A.'s Office finished investigating, but "that's insufficient now" to satisfy the public hunger for information. He was talking, of course, about the police shooting of Keith Lamont Scott last year. The department's hesitancy to release body and dashboard camera video helped fuel the demonstrations that led to a man's death. Putney was saying he and his department understand now that police can't expect the public to wait patiently over weeks or months for the facts to come out—a major change for CMPD, and an indication of how profoundly the Scott shooting altered the way officials in Charlotte operate.
Charlotte law firm Moore & Van Allen held another kind of discussion last week at UNC Charlotte's uptown campus, on the subject of "Social Distrust." Alumni of Leadership Charlotte attended, as did several attorneys and businesspeople, City Council member Julie Eiselt, and other professional folks.
Education researcher Amy Hawn Nelson presented some background information on the effects of social distrust. That included the staggering statistic that 36 percent of black children and 39 percent of Hispanic children in Charlotte live in poverty, compared to—"wait for it," Nelson said—five percent of white children. Then the crowd of about 120 broke into small groups for deeper discussion about the root causes of the distrust and possible solutions. All fine, civic-minded dialogue.
Yet as I sat there at my small group table and took part in the conversation, I found myself growing a little impatient. Too often, these kinds of discussions veer into metaphysics, and participants take a stroll through the clouds without talking about any tangible, achievable goal. There was a lot of talk, for example, about disrupting dominant narratives and creating spaces where unacknowledged voices can be heard and validated, but none about how unskilled workers might be trained in evolving technologies, and how and where and when that might be done, and how those workers might be able to pay for it.
Then it hit me: People in Charlotte and around the country are essentially trying to use resources from private entities—businesses and nonprofits—to fill gaps in government services, such as education, housing, and anti-poverty programs, in a nation that's all but given up on the idea. In most cities and states, tax increases to pay for community needs amount to political suicide; the current administration is hostile to the concept of taxpayer-funded schools; health care is treated as a commodity rather than a right. The basic social contract seems to have broken down, and the discussions we've been having in Charlotte since the Scott shooting seem to center on how to rebuild it here with a public sector that's crumbling.
Maybe I'm overstating—it's been that kind of year—but the theory to me helps explain why solutions to problems like "social distrust" are so elusive, and why people have to labor to even get a clear picture of what that is. "Rarely do we create solutions. More often, we create more questions," Elizabeth McKee, Leadership Charlotte's executive director, said at the beginning of the program. "This is messy, chaotic work, and the reason for that is that we're human." The work will continue. It'll have to.