How Hot is Too Hot?
A spicy drink at Soul puts me in my place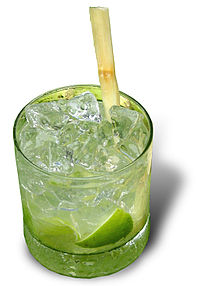 Those who know me know I'm a glutton for punishment when it comes to spicy foods. I am a proud member of the Hot Sauce of the Month Club (yes, it's a thing), and am not happy with a salsa unless my eyes are tearing and my nose is running. Bloody Marys have to be on the spicy side, and every pasta dish I make gets a healthy pinch of red pepper flakes.
However, a girls weekend in the Queen City and a late-night trip to Soul GastroLounge left me a little unsure of my affinity for all things fiery. To wash down our feast of tapas (which included Dirty South Nachos, Warm Crab Salad, a cheese plate, and Pork Belly Tacos), I ordered a caipirinha laced with habanero pepper– pretty standard on the spice-scale as far as I was concerned and nothing I couldn't handle.
My partner in crime, Alyssa, ordered a milder mixture that brought together lemon and jalapenos with a sweet finish.
Alyssa's concoction was smooth, sweet, and refreshing with just a hint of spice that hit the back of your throat with just enough intensity. My drink, however, left my mouth of fire. Don't get me wrong — the mixture definitely worked. All of the flavors came together beautifully. However, the spice factor was a little much for something meant to wash down my meal. I could see the drink being a star attraction at a fiesta with Mexican food or as an apertif, but as something to sip on? I'm a little unsure.
Regardless, like all of the meals I've had at Soul, the experience itself was fantastic. I just may be a bit more wary when ordering a spice-infused drink. Have you had a food-based experience that was a little too hot to handle?