How #instabeerupCLT became the can't-miss monthly event in Charlotte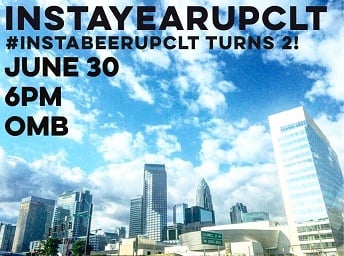 It began – as many great ideas do – over a beer.
Friends Amy Herman and Corri Smith had been to yet another "sad and stuffy" networking event, as they called it. As they were drinking beers at Heist Brewery, they wondered aloud, "Why can't we just tell people where to go and meet up to have fun and drink beer?"
Adds Smith, "Worst-case scenario, it would be the two of us sitting somewhere drinking beer and we'd be no worse off than we were at those events."
Thus, the first #instabeerupCLT was born. Since then, the monthly event has skyrocketed in popularity – to the point where unfortunately some establishments are too small to hold the hundreds of people who are meeting up, whether for personal or professional reasons, and sharing beers alike.
"It's so necessary to make that social connection in doing business, that we wanted to bring the two together," says Herman, who owns Vintage Charlotte. "We had to figure out how that would be a successful model where it was both about the social and the business – and beer. We decided that the beer was the bridging connection."
As #instabeerupCLT is set to celebrate its two-year anniversary, or #instayearupCLT, this Thursday at 6 p.m. at Olde Mecklenburg Brewery, Herman and Smith say it's amazing to see how far this event has come, especially considering the fact that this was all done through natural growth.
Corri Smith (left) and Amy Herman (right), the founders of #instabeerupCLT
The idea for #instabeerupCLT is pretty simple. Go to a brewery (or craft beer bar/bottle shop), pick up a name tag and then talk to people (not necessarily a requirement, but it helps). There's no pressure to make friends or buy anything or hear a sales pitch; it's simply a place to gather and make the event however you want it to be.
"The thing is, we both feel that Charlotte is a really cool place and we want to make a mark in supporting its growth, creative community and entrepreneurial community, and this is something that contributes to that," says Smith, founder and owner of Black Wednesday Social Co. "It's our passion project. And it's not about us; it's about Charlotte and the community and creating this platform for other people to grow, meet people and connect."
When Herman and Smith began plotting out the first #instabeerupCLT, they didn't know what to expect. It also was put together in just a weeks' time, with VBGB chosen as the inaugural spot for a couple of reasons. It was convenient, Smith says with a laugh, because she had tickets for the Jack White concert at the neighboring Fillmore that same night. Herman added they also knew that meant there would be a lot of people at the bar.
"We knew some of our friends would be around but also thought, 'Maybe someone will show up who we don't know – and they did," Herman adds.
Herman and Smith took more time to plan out next month's event at Pint Central, and that's when they knew they were on to something.
"The crowd doubled in size … and there were a lot of people who I've never met," Herman says. "I thought, 'Wow, these are people I'm not Facebook friends with or follow on Instagram,' so it wasn't just our friends (coming). By the time we had it at Craft (#instabeerupCLT No. 6), you literally couldn't move."
There have been a total of 20 #instabeerupCLTs since it began in 2014. On average, the events draw from 175 to 200 people a month, with upward of 300 attending on some occasions (look for at least this number for the two-year anniversary at OMB). The events have also given a chance to show off Charlotte's breweries and craft beer establishments to some who may not have been before.
"We both love beer and supporting local," Smith says. "And a lot of our business interactions are over a beer and I think we'd both say that if you can have a beer with someone, you can probably do business with them. It's easier to start a conversation over 'What are you drinking?' rather than 'What do you do?'"
A list of all 20 #instabeerupCLT events since it began in 2014.
Of course, as the #instabeerupCLT popularity grew, so did interest from outside groups. Seeking opportunity to cash in on something organic is nothing new in today's day and age, but Herman and Smith (who don't make a penny from hosting any of these) held firm to their beliefs when they started the event.
"Pretty soon, a lot of businesses wanted to get involved," Smith says. "They contacted us because they either wanted to host, or set up a booth to showcase their product. But we had to say no.
"We have to protect the integrity of the event because if we don't, it wouldn't be the event that it is. Getting the wrong people involved or letting people over-market to this agenda-free atmosphere would ruin the event itself. It was really hard to get businesses to understand where we were coming from because they were like, 'Well, you know, we target millennials so this is a perfect fit' and in reality it's not, because we're not trying to target anyone."
Indeed, when you go to an #instabeerupCLT event, you'll see a diverse and mixed crowd – young and old, from those in ties to those in tattoos. As Smith states, "we want to provide a free space to anyone who wants to come where no one is marketing to them."
Adds Herman, "I think the main thing we've learned from this is the second it becomes a moneymaker is the second it's ruined forever. We feel bad telling these businesses who want to give us money and products no, but we just can't do it. It wouldn't be right."
After #instayearupCLT this month, Herman and Smith have mapped out the next few events (follow the hashtag on social media for announcements). There are no plans to stop hosting anytime soon, as the two said they'll know when it's the right time.
"When no one comes anymore and it's just Corri and I drinking a beer, I guess maybe that's the last one," says Herman, laughing.
In their words: Amy Herman and Corri Smith talk all things #instabeerupCLT
Their favorite #instabeerupCLT event so far
Smith: "Honestly, I think I would say my favorite was Wooden Robot because it was around Halloween and everyone dressed up, and two people dressed up like me which I thought was hilarious. And then we had a whole crew dressed up like The Wizard of Oz."
Herman: "I have two favorites. The first one was Good Bottle, which was the third one ever. To me, the energy there was really high and we really realized that we were doing something that was going to take off. And then my second favorite one was Midwood Country Club, because it's my favorite bar and it's the closest bar to my house. So it was one of only two instabeerupCLTs I've been able to walk home from (Legion was the other)."
Advice for those who have never been to an #instabeerupCLT event
Herman: "Just come. It's so easy. There's no expectation; there's no barrier. You put on the name tag and everyone's the same, whether it's Corri and I as the event hosts or anyone else who's there. We're all there for the same reason, which is to have a beer and talk to people."
Smith: "All you have to do is show up and say hello. You'll see that everyone is so welcoming. And the people who have come forever will give the new people the lay of the land, which is really cool."