How Pizza Made Two Northerners Feel at Home in Charlotte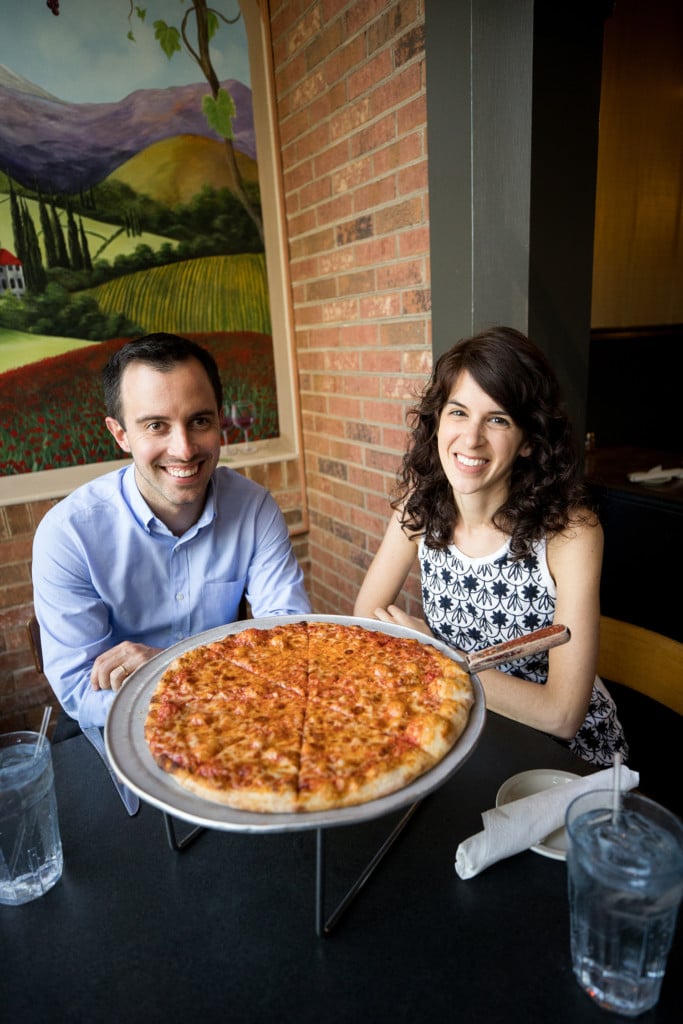 SITTING AROUND the kitchen island at my in-laws' house in New Jersey on an early fall evening, my husband Joe and I are tense with news we're about to share.
"So, I've decided to take that job offer in Charlotte," Joe says. I take a big gulp of my wine as I await the response.
"Well, that's great!" my father-in-law responds. Relieved, I reach for a piece of cheese. "You know, though, you probably won't be able to find any good pizza down there." Joe lets out a laugh, but his dad insists: "No, you'll see—it's mostly just Domino's and Papa John's; nothing like what you get up here." I chuckle, too. Yep, it's a cliché, but pizza really is a religion in Jersey, and Joe's entire Italian-American family wholeheartedly subscribes to it.
I didn't understand this until I met Joe. I grew up in Massachusetts, and while we definitely had decent pizza joints, I took them as cheap spots for an easy dinner. I quickly realized I knew nothing about pizza after I moved to New York City for college, then back and forth to Italy. In both places, my eagerness to learn about cultures through food had me discovering the best spots and eating some incredible pizzas. Even then, though, it was still just something to eat.
Joe proclaimed his love of pizza on our third date, and on our fourth date, I took him to my favorite spot, a little Neapolitan place in the East Village of Manhattan. I think that's when he knew we could be very happy together. His eyes lit up with enthusiasm over the pies we ordered, and he quickly had a zealous opinion about everything—the thickness of the crust, the toppings, even the sweetness of the sauce.
In the years that followed, pizza became our thing. Joe schooled me on the varied styles that dotted the Tri-State. He'd pull me on the subway to venture to spots deep in Brooklyn, take detours to New Haven, Connecticut, as we drove to visit my family in Massachusetts, and find any spare moment during weekends at his parents' home in northern Jersey to eat at his favorite local joints. I showed him what I knew about the pizza in Italy, taking him to classic Neapolitan and super-thin-crust Roman spots. Soon, we bought a pizza stone and started experimenting at home, nailing down a go-to crust and turning it into a weekly routine. We even ended up serving pizza at the welcome party for our wedding—slung from a truck retrofitted with a wood-fired oven.
When we made the decision to move to Charlotte, pizza wasn't the first thing on our minds. The Northeast was the setting for our entire time as a couple, and the foundation of our relationship, and we were nervous about leaving it. And while I laughed when my father-in-law made his assertive declaration, there was a little part of me that panicked. We'd need to prove him wrong or seriously amp up our pizza-making game in our future apartment.
***
FOUR MONTHS IN, we're at Pure Pizza on a Friday night—and it feels just like that fourth date years back. With half the pie already polished off and Joe greedily going in for another slice, we both look at each other and know, without saying a word, that we and Charlotte have the potential to be very happy together. We've discovered places that not only feel like home but taste pretty darn close to it. As silly as it might sound, it's been exactly the kind of comfort we've needed as we've made this big life change. Among the unfamiliarity and the exhaustion of a place that's all shiny and new, these cheesy slices put us at ease.
Pure Pizza is the place where we first knew we'd be more than OK here. The little house in Plaza Midwood felt instantly warming on a chilly winter night the week we arrived in Charlotte—a time when we were living out of suitcases in an Airbnb. The pie we ordered, dotted with roasted garlic and country ham, reminded us of the prosciutto pies we frequently make ourselves. The paper plates took us straight to the unpretentiousness of the spots up North we had deemed our favorites, and the simple, inexpensive Italian wine went down easily.
Once we settled into our apartment, we ventured to nearby Inizio, a family-friendly spot in Dilworth. If we had closed our eyes and taken a bite from a slice, it would have brought us straight back to that little Neapolitan place in New York City we went to so many times. A few more bites, with eyes closed, and I think we even could have been whisked away to Italy. Critics in New York City would be enthralled with the textbook margherita pie and the just-quirky-enough pistachio pesto pie. Oh, and the cannoli? I firmly believe I've never had better in the States.
Then there's Zio in Myers Park. Images online of a small, dimly lit space with leather booths and a mural of Italy were all Joe needed to prove this was going to be as close to home as we were going to find. We even canceled our plans that Friday night to investigate. Though Zio isn't strictly a pizza spot, it had simple, unadulterated, New York-style pizza that we quickly fell for. Sure, the place is owned by New Yorkers, and the atmosphere resonates that, but it was the quality of the pie itself that made us feel at home. We polished off a pizza in next to no time. The woman sitting next to us at the bar commented on how impressed she was that we didn't leave even one slice uneaten. I couldn't help but smile to myself—when something is that comforting, how could you leave any behind?
With our bellies full, feeling a little drunk off that magical combination of bread, sauce, and cheese, we signed the bill, stepped out into the cool night air, and immediately called Joe's parents. "Dad, we're settling into the Queen City just fine."
Sheela Prakash Fiorenzo is a food and wine writer in Charlotte. Reach her at sheelafiorenzo@gmail.com.