How Saeed's Bar & Grill Became the Spot Where NASCAR Goes to Decelerate
Dim, dingy Saeed's in Cornelius lets drivers and crew toss aside the wrench and grab the mic.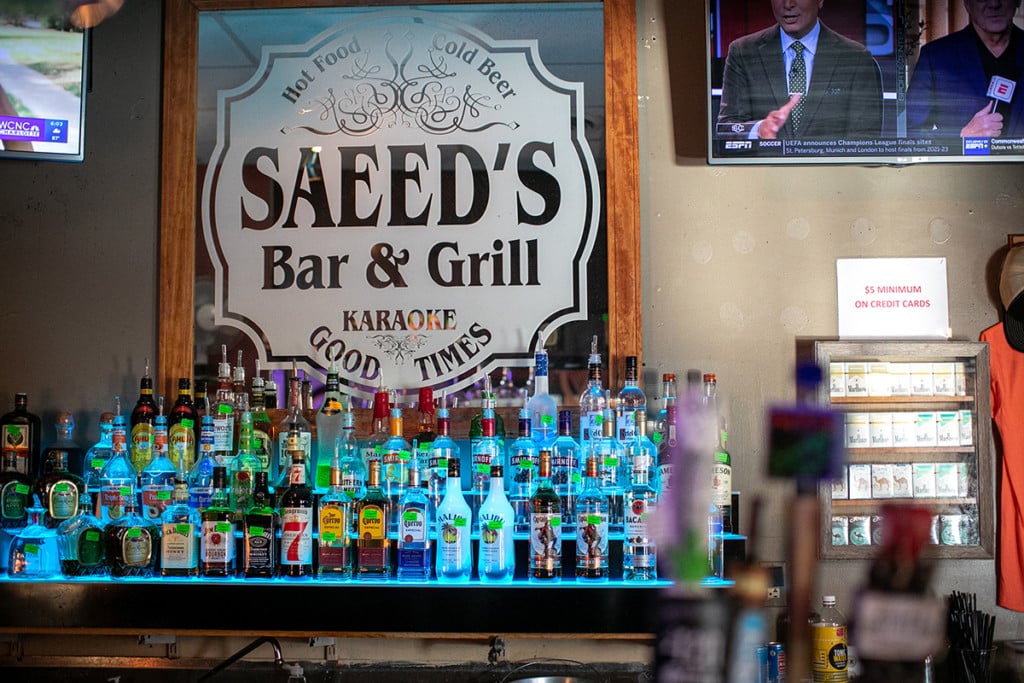 Saeed Safaie thinks it was some 15 years ago—not long after he opened Saeed's Bar & Grill in Cornelius—when Dale Earnhardt Jr. showed up at his bar for the first time. Dale Jr. liked the unassuming, dark, dingy room hidden behind a gas station, and he kept coming back. He brought friends. He started hosting guest-list only parties, where only those whose names appeared on a slip of paper could enter.
Of course, they had to find the place first.
Behind the former gas station (now a snow cone shop) and past a wooden fence is the cavernous bar where some of the country's biggest racing stars go to relax and croon into a sticky microphone. Earnhardt is married and has a young daughter now, so he's no longer a frequent visitor. But the legend of Saeed's has passed through the NASCAR ranks to younger generations, and it's now the unofficial hangout for motorsports stars and anyone associated with racing in the Charlotte area.
They love to come for karaoke, which Safaie boasts is available seven nights a week. They like how they can blend in with regulars. They especially like that it's difficult to find, with only a small sign along Catawba Avenue signaling that the building even exists.
"You never know who's going to walk in the door, who's going to come with who," says a bartender.
Erik Jones, the young winner at Darlington Raceway this season, loves country music and can carry a tune pretty well. Cole Custer, an up-and-coming star who won several Xfinity Series races this year, warbles songs from all genres and is surprisingly adept at rap. Sometimes, Cup Series heartthrob Ryan Blaney can be found sitting quietly in a corner just taking it all in.
Crew members, Hall of Famers, current and past drivers have all been known to pop in for karaoke or beverages.
"It's awesome," driver Kyle Larson once gushed on NBCSN's NASCAR America.
Safaie worked hard to make it that way. The bar's owner emigrated from Iran in 1976 and began working in the bar and restaurant business as a way to fund his college education soon after he moved to Charlotte. When he graduated from UNC Charlotte in 1985 and couldn't find a job using his mechanical engineering degree, he decided to turn his years of experience working in the service industry into his own business.
Safaie opened the original Saeed's near UNCC and turned it into a popular college hangout. When the city implored him to move for construction of the light rail, Safaie searched for a new location and found the dark bar behind the gas station in Cornelius. The price was right, and he opened the doors in 1998.
At first, he worried about the inconspicuous location. "People say they drive by here so many times, but because it's behind a gas station, they don't know what kind of place it is," he says. "They don't know if they should come in or not."
People found it, especially the many NASCAR folks who live in the Lake Norman area. They come mostly Mondays through Wednesdays during the season, when hardly anyone else is there and NASCAR drivers aren't traveling for out-of-town races.
"We try to keep it low-key and be nice to everybody," Safaie says. "We are not a big franchise. That's all we can do."
Larson, the sociable young star, became a karaoke regular soon after moving to town. Xfinity Series regular Michael Annett has held his annual Halloween party there the last two years. Ricky Stenhouse Jr. hosted his second victory party in the bar's backyard after winning at Talladega in 2017. He thinks he was there after his first win at Talladega earlier that season, too, but the details are fuzzy. "We generally always stopped there," Stenhouse Jr. says.
A year ago, Larson even brought his wedding party to Saeed's after his rehearsal dinner. The bar had been such a staple in his life—he stops by less often now after his second child was born last year—that he wanted to include it in the festivities.
"It used to be kind of a low-key place," Stenhouse Jr. says. "A lot of crew guys went before we ever got there. … Then they've cleaned it up, got volleyball courts and everything, so now it's a lot nicer than I think it used to be."
Saaed's added the sand volleyball courts about six years ago, and the tiny hideout is packed now on league nights.
But on quiet, mid-week nights, the lights are still dim, the floors still slightly sticky, and the tables still fairly empty. The microphone is on and waiting for anyone who wants to belt out some karaoke without a full spotlight in the small bar hidden from the crowds.
JODIE VALADE is a freelance journalist based in Charlotte who does not do karaoke. Reach her at jovalade@gmail.com or follow on Twitter @JodieValade.