How-To: Create Your Own Gallery Wall
Two local designers give us pointers on how to hang the perfect gallery wall.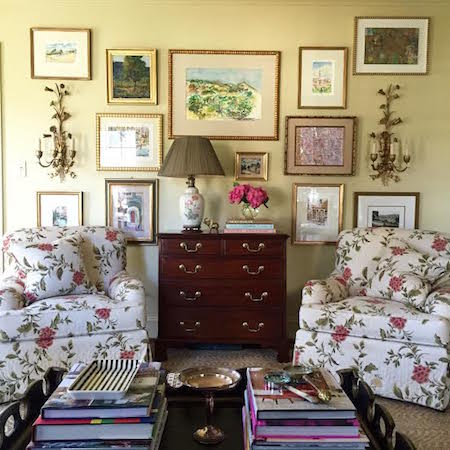 Often find yourself lusting over the beautifully spaced gallery walls found in only the chicest of homes? Have you considered hanging your own, only to sigh with defeat before you even begin?
Stress no more.
For the ambitious yet apprehensive home decorator that wants a stylish space but doesn't know the first place to start – your gallery wall how-to has arrived.
Gallery walls are strategic wall hangings mostly comprised of art, three-dimensional structures, and frames – all concentrated within one major focal point. Hanging your own gallery wall can be difficult without direction, so we spoke to two Charlotte designers to snag the best tips.
Weighing in on the subject is Cathy Austin, owner of self-titled design studio, Catherine M. Austin Interior Design. She is also a design blogger at Bespoke Banter.
Our other expert is Caroline Brackett, owner and principal designer at CBB Interiors, a design firm serving Charlotte and Greenville.
How to create the perfect gallery wall:
Don't rush it. Many people think they need all the pieces before even beginning. Brackett says this isn't necessary: "Start small and grow it over time, as you find pieces you love."
Map it out. A unique tip from Brackett: "Cut templates out of newspaper matching the size of each piece in your collection. Tape them up on the wall in the layout you want, then nail over the paper and pull it off when finished."
Find your focus. Both experts say to start with one larger piece for a focal point. Then, Brackett suggests, "work, asymmetrically, out from there."
Space accordingly. Once you have your focal point and begin placing pieces around it, Austin says she spaces them "2 to 3 inches apart, depending on the size of the wall."
Use variety. Both Brackett and Austin recommend that you use many different mediums. Austin selects "a variety of sizes and mediums for interest," and Brackett says to keep consistency, it helps to choose mats with similar colors. Items such as mirrors, brackets, and 3-D art are fair game.
Have fun. Last but not least, Austin says not to take it too seriously: "Have fun with the arrangement and don't try to make it perfect. The odd shapes and negative space often make the arrangement more interesting."