How to Get Your Skin Holiday Ready
In Partnership With Charlotte Plastic Surgery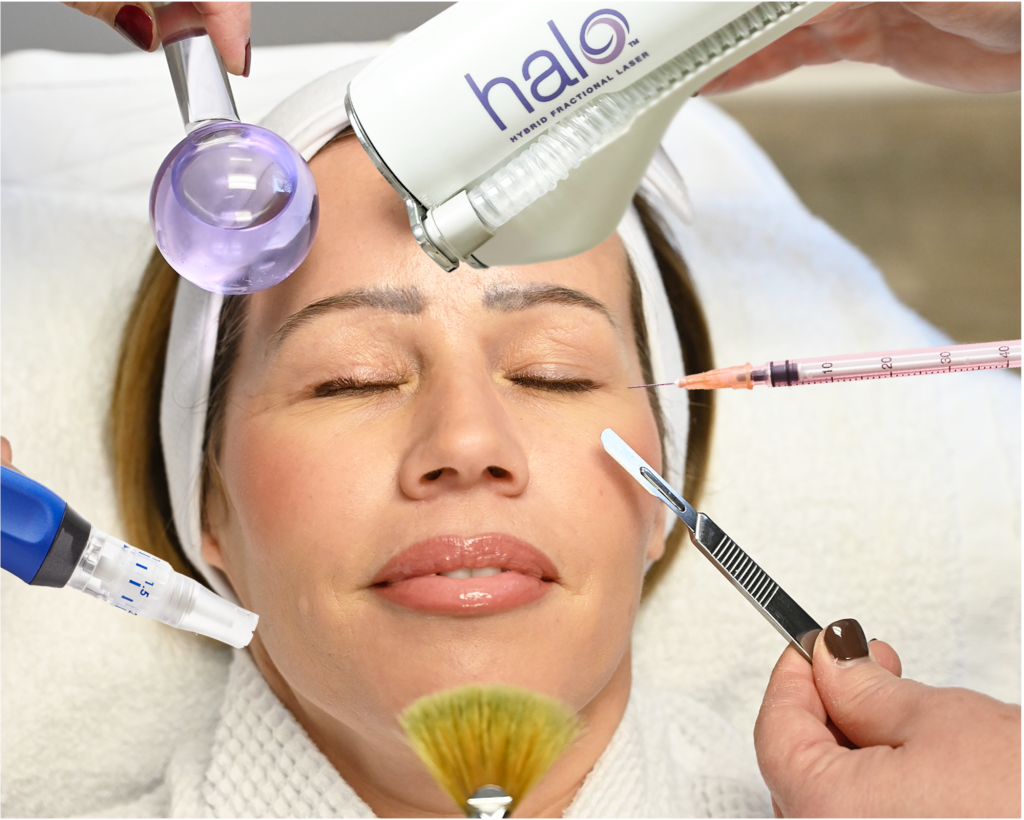 It's that time of year again! Outshine the lights this holiday season by giving your skin some tender love and care! Here at The Skin Center, we offer an extensive selection of non-surgical procedures that will have your skin healthy, radiant and glowing just in time for the holiday season! As a Charlotte magazine BOB Winner for "Best Plastic Surgery Practice" seven years in a row, Charlotte Plastic Surgery is the place your friends and neighbors rely on to achieve their cosmetic goals. It's never been this convenient to look and feel like your very best self, here are some great ways the physicians at Charlotte Plastic Surgery recommend getting your skin ready for the holiday season!
Here Are A Few of Our Favorite Procedures for Quick Fixes During the Holidays!
BOTOX®
Who is a good candidate for Botox®?
Anyone who wants to soften the wrinkles around the mouth or crow's feet, and take years off their appearance and appear rested – just like you've been on vacation!
What does Botox® do?
Botox relaxes muscles in small doses, so it reduces skin wrinkles and makes them disappear!
Benefits of Botox®:
Treatment takes a few minutes
Treat several areas in just one session
Or you can do a single area of the face
Discomfort & Recovery time is minimal
No anesthesia required
Skin Health Products to Pair with Botox®:
SkinMedica®

TNS Essential Serum

Alastin®

Restorative Eye Treatment
---
FILLER
One of the best options for non-invasive facial rejuvenation at Charlotte Plastic Surgery is dermal fillers. During the holidays this is a great procedure for getting ideal results on short notice!
Who is a good candidate for Filler?
Anyone who has lost facial volume due to aging, or those who want to create a prominent chin, firmer jawline or fuller lips.
What does Filler do?
Fillers are a great option for facial rejuvenation. They can be used for everything from simply filling in fine lines and wrinkles to augmenting and shaping the lips and nose. Dermal fillers are also excellent for restoring subtle lost volume in the face that contributes to an aged appearance.
---
MICRONEEDLING
For patients looking for a practical, non-invasive way to reverse the visible effects of aging, an increasingly popular option is microneedling. Microneedling is used to tighten, lift, and rejuvenate the skin, producing an overall more youthful appearance.
Who is a good candidate for Microneedling?
Microneedling works for all skin types, and many of our patients have seen great results from it. Patients looking to transform fine lines, wrinkles, acne scars, hyper pigmentation, and many other concerns associated with aging skin, are good candidates for this procedure.
Microneedling can be used for several concerns, including:
Large pores
Fine lines and wrinkles
Acne scars
Stretch marks
Age spots, hyperpigmentation, and melasma
Crepey or rough skin texture
What does Microneedling do?
This procedure is done in a series of 3-5 treatments spaced four to six weeks apart. A handheld needling device (also known as SkinPen®) is used to make tiny punctures in the skin, creating a micro-injury that encourages the body's healing ability to produce new, healthy skin.
Skin Health Products to Pair with Microneedling:
SkinMedica®

HA5 Rejuvenating Hydrator

SkinMedica®

TNS Advanced Plus Serum
---
Do you want to learn more about these amazing non-surgical treatments that will get you ready for the holidays? Schedule a no-obligation, free consultation by calling The Skin Center by CPS at 704-486-5108, or visit online to sign up for monthly emails, look for upcoming events and promotions (such as the Holiday Card going out in December!), learn about new treatments and technology, see real procedure demonstrations, shop the online store, or get to know why they're the experts in non-surgical aesthetics in Charlotte.