How to Help Those Affected by Hurricane Florence
Where to donate food and money to help Hurricane Florence victims.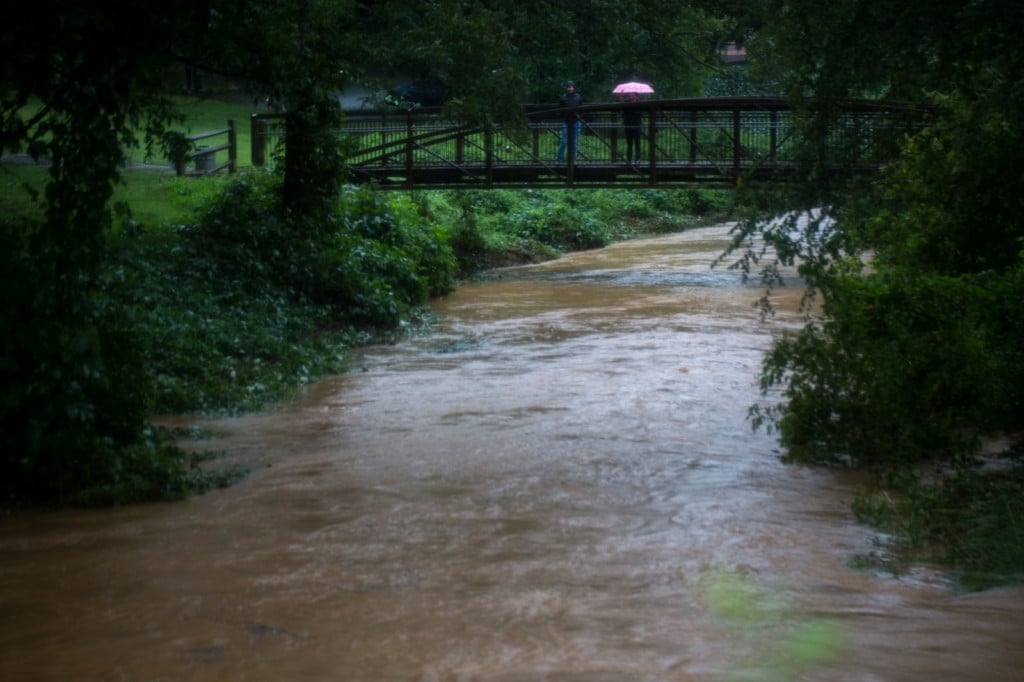 WHAT A WEEKEND, huh, Charlotte?
Many Charlotteans were able to emerge from Hurricane Florence without too much turmoil (see photos of Florence's arrival in Charlotte). However, others had less luck. Specifically, the folks on the coast. Perhaps you have family and friends scattered along the Carolina coast, or endless beloved memories rest on the shores of Wilmington. If these people or places have sentimental meaning to you, or you're simply hoping to spread your good fortune, there are many ways you can help those affected by Hurricane Florence.
In addition to sending your positive thoughts and prayers to those who lost family members, livelihoods, and homes in the storm, see below for some hurricane relief resources to which you can donate your time, money, or items. Show your Southern charm and reach out a hand to your neighbors on the coast—they need you right now.
Where to Donate Money for Hurricane Florence
If you want to stick to the large organizations and/or prefer to make a financial donation, below is a list of local and national tax-exempt charities that are accepting donations specific to Hurricane Florence.
American Red Cross. To make a financial donation, visit their website or call 1.800.RED CROSS.
Diaper Bank of North Carolina. You may purchase toiletry items that families in shelters need at the Diaper Bank's Amazon Wishlist.
Donors Choose. Support teachers and education with Donors Choose, which partners with communities around the country to help repair damaged schools. You may make financial donations by visiting their fundraising page here. The organization also asks teachers and the public to report damaged schools.
The North Carolina Disaster Relief Fund. Contributions to the NC Disaster Relief Fund will help with immediate needs of Florence victims. Donate online here, or text Florence to 20222.
Salvation Army. To make a financial donation, visit HelpSalvationArmy.org, text "STORM" to 51555, or call 1-800-SAL-ARMY. For those who live in a smart home, you may also ask Alexa to "make a donation to the Salvation Army."
Save the Children. Protect vulnerable children and provide relief to families by donating to Save the Children. Visit their website to make a difference.
World Hope International. Based in Virginia, World Hope International is on the ground providing relief throughout their network of churches, providing food, water, high-quality tarps, filters, and anything else to those who lost it all. Visit their website to make a donation.
(Please note that these lists do not imply endorsements of specific charities over others.)
How to Give Food for Hurricane Florence
Here are a few regional charities that will accept your food items or financial donations for their food distribution services.
Second Harvest Food Bank of Metrolina
Second Harvest Metrolina is always collecting rations for hurricane season. Their site says, "We will be prepared to assist our partner agencies in the 19 counties we serve including emergency pantries, shelters, disaster relief organizations like the Red Cross, and our animal rescues and shelters."
To help via Second Harvest Food Bank of Metrolina, you can donate money, food, or time. However, the best ways to directly aid those affected by Florence would be to donate money or select food items. The organization accepts donations from individuals, groups, and food and retail industry partners to fuel their community food banks. Some of the most-needed food items are as follows:
Water
Cereal bars
Fruit cups
Peanut butter
Pop-top cans such as soups and ravioli
Tuna
You can donate new and unopened shelf-stable food and household items to a Second Harvest warehouse for
Food Bank of Central & Eastern Carolina
The Food Bank of Central and Eastern Carolina serves a network of more than 800 partner agencies that include soup kitchens, food pantries, shelters, and programs for children and adults. The Food Bank helps residents throughout Durham, Greenville, New Bern, Raleigh, the Sandhills, and Wilmington via their warehouses. However, as of Monday, September 17, the Wilmington, New Bern, and Sandhills branches are still closed from Florence damage in the areas. If you would like to donate to the Food Bank of Central & Eastern NC for the Florence victims, you can donate money here.
Food donations are accepted at the Food Bank distribution centers in Durham, Raleigh, and Greenville currently, or online using the Virtual Food Drive. The most-needed items are:
High-protein canned meals with pop-top cans
Paper goods and products
Diapers
Hygiene products
Single-serve, ready-to-eat meals that do not require refrigeration or cooking
Single serving snacks such as raisins or granola bars
Peanut butter
Cleaning supplies and disinfectant wipes
Harvest Hope Food Bank
Harvest Hope Food Bank is designated as the lead food bank in South Carolina for disaster response, thus the organization has been preparing for Hurricane Florence's effects. Preparation, however, doesn't mean an automatic solution. Harvest Hope Food Bank still needs donations.
The regional distribution program collects, stores and distributes food and related items to more than 450 qualified agencies that feed needy, elderly, and ill families and children throughout central South Carolina. Harvest Hope is a member of Feeding America, the national network of over 200 food banks, distributing, on average, more than 27 million pounds of food per year.
Donate money to Harvest Hope Food Bank, or drop off the below food and related items to one of the locations in Greenville, Columbia, or Florence.
Freezer bags
Meat in pouches
Salt & pepper packets
Garbage bags
Snack bars
Hand sanitizer
Bottled water
Cereal
Batteries/flashlights
Diapers
Pop-Tarts
Grocery store gift cards
Individual-sized fruit cups, potato chips, crackers