How to Pick the Perfect N.C. Christmas Tree
See which locally grown Christmas tree is best for your home.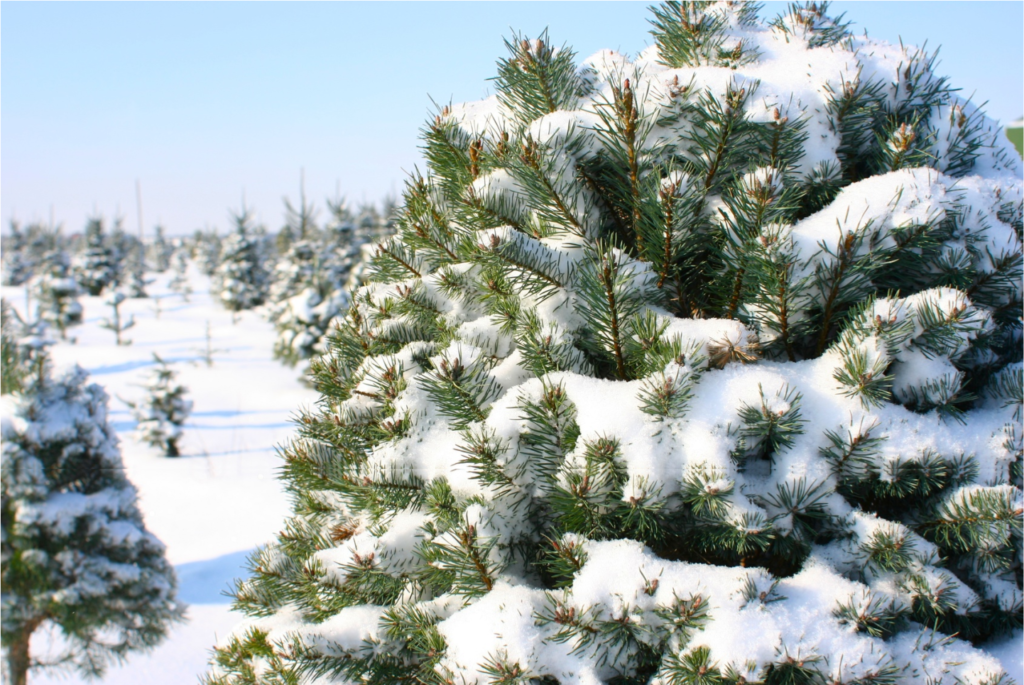 Put those Thanksgiving leftovers away and start hanging the stockings. It's about that time to start gearing up for the big kahuna of holidays—Christmas. And the best way to do that? Get your Christmas tree, of course.
Luckily for Charlotteans, North Carolina is kind of a big deal when it comes to trees. Ranking second in the nation for the number of trees harvested each year, N.C. produces 19 percent of the U.S.'s real Christmas trees. You'll find a handful of Christmas tree types as you begin your shopping—firs, Scot, Eastern White Pine, Colorado Spruce, and Douglas Fir—and each one has its own traits you should be aware of before you buy.
According to Ray Betz, certified ISA and seasoned arborist with Davey Tree company, here's what you should know about each of these trees.
North Carolina Christmas Tree Types
Firs: The most popular type of Christmas trees, firs include Balsam, Canaan, and Fraser varieties, with the North Carolina Fraser Fir being continuously judged as the nation's best Christmas tree. It should also be noted that the Fraser Fir is best for needle retention and is also the tree species most often used in the White House. Firs feature stiff branches perfect for holding heavy ornaments and give off that "Christmas tree smell" known to aromatize the entire home. Balsam Firs is great for tree toppers, and Frasers are more compact.
Scot: Looking for that long-lasting fragrance? Scots will provide a seasonal smell. You can spot these trees by their needles. They have stiff needles in bunches of two; just make sure you water this type well, and you won't have to worry about losing many needles.
Eastern White Pine: In contrast to Scots, an Eastern White Pine instead has soft needles in bunches of three and features no smell. A White Pine would be a great choice for those who are sensitive to aromas. However, White Pines have more flexible branches, making it difficult to hold ornaments with too much weight.
Colorado Spruce: For a stately appearance, the perfectly symmetrical Colorado Spruce is a great choice. Known for their distinct silvery-blue color, these trees have the ideal shape of a full bottom stretching up to a slender top. It is also one of the best trees for needle retention as long as you keep it well-watered.
Douglas Fir: Douglas Firs are not true firs, but you'll find these popular trees on just about any tree farm. These trees are common favorites thanks to their blue-green needles and sweet scent. Proceed with caution, though: their needles will drop quickly if they are not given enough water.
Choosing and caring for your Christmas tree
Once you've chosen your tree, make sure you take proper care of it to ensure it stays healthy for the whole holiday season. Nobody likes a needle-dropping tree before Christmas arrives! Betz recommends that you fully inspect pre-cut trees before you purchase. Run your fingers through the needles and grab the branches to test the freshness, and bounce the tree on the ground. Only a few needles should fall off if it's fresh. After you select a tree, make a new cut off the trunk's base to help water absorption.
Christmas trees can drink up to several quarts of water per day, so it's imperative you check the water levels multiple times a day. If a tree is under-watered, the needles will dry up and fall off, and the tree will begin to lose its fragrance. The key to a healthy tree is to simply keep it hydrated.