How to Spot a Tinder Date in Charlotte
Servers all over town see them every night, and those servers play an important role in making sure the dates go well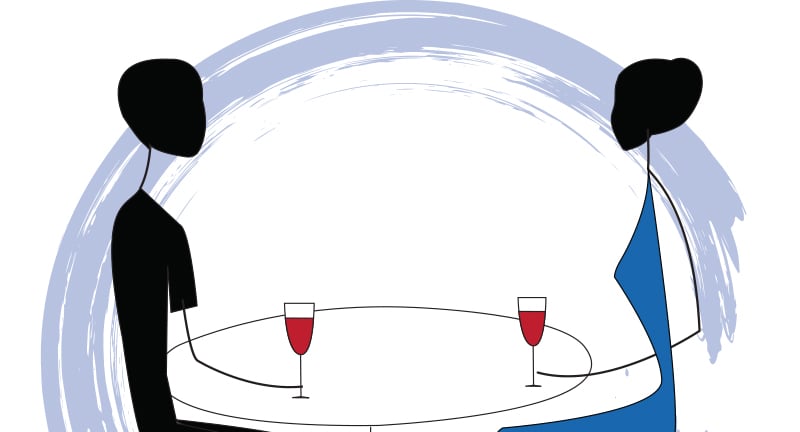 THE LIGHTS ARE DIM, the bass is thumping, and the bar at 5Church is packed when Justin Hazelton leans over, nods his head toward the couches near the front door and murmurs conspiratorially, "Over there. That might be one."
Hazelton has been a bartender at the trendy uptown restaurant for two and a half years, and by now, he knows how to spot a Tinder date. The well-dressed couple leaning over a cheese plate might be one, for all the reasons Hazelton has seen a zillion times at 5Church.
The man and woman arrive separately, of course. And the woman almost always arrives first.
"Punctuality," fellow 5Church bartender T.J. Altamura says, laughing. "Girls are more punctual, I guess."
Usually, she'll order a stiff drink to calm her nerves. She'll look nervously around, smiling tentatively each time a man enters the restaurant.
A few minutes later, the man will arrive. He'll typically be overdressed. He'll overspend on drinks and food to impress, which is something he's already trying to do by taking his date to 5Church, considered one of the hippest restaurants in Charlotte since it opened in 2012.
They might order a cheese plate to share. A couple more drinks. Conversation typically is awkward and stilted. Except when it isn't, and one of the two dominates the air with boastful anecdotes meant to highlight a resume more than win affection. More often than not, there is simply a cordial goodbye and the two head separate ways.
Dating in 2016 is magical, isn't it?
Whether you're on Tinder, Bumble, Coffee Meets Bagel, Hinge, Happn, Grindr, or early classics such as OKCupid and Match, you've experienced the joys of something so many can relate to: The awkward first date.
In the era of online and app dating, it's essentially a blind date that has had a little bit of getting-to-know-you conversation beforehand.
"You can definitely spot them," says Greg McEachern, a server at 5Church. "The comfort level is at zero."
5Church has the kind of atmosphere that can make an impression on a first date. It's trendy and almost always crowded; a constant, low murmur of conversation makes it feel alive. Lights in the shape of white angel's wings dangle over the bar. Chandeliers hovering over nearby high-top tables look like starbursts of light. It has such appeal that sometimes, Hazelton admits, he has seen a single person bring different dates during the same week.
And Hazelton will be your best friend if he recognizes it's a Tinder date. A good bartender interjects stories and one-liners into the conversation to add comfort. Often, Hazelton will whisper to the woman—just loudly enough for both parties to hear—"Wink twice if you need me to get you out of here."
At RuRu's Tacos + Tequila, an upscale tacos and tequila restaurant off Providence Road, Erin Bowman has been a bartender only since February, but she already chuckles at all the online and app dates she's witnessed. With a big patio and a constant crowd, RuRu's is another classic first-date place.
On a recent night, Bowman overheard one woman's clear disappointment that her date in real life did not match his picture on the app. They didn't stay long, and left separately.
With another couple, Bowman noticed a woman becoming progressively more agitated with her date until she suddenly stood and, before walking away, announced, "He'll take care of my drinks."
But there are the sweet tales, too. One couple comes into RuRu's every Thursday for the Mexican restaurant's half-priced tequila night. They had their first date at the restaurant, and have been returning weekly for months.
Hazelton has seen a similar couple at 5Church, coming in regularly after he saw them first meet awkwardly at the bar.
When he first started working at 5Church and Tinder was just becoming a popular dating app, Hazelton didn't know the reach of the newest way to find love. He remembers one story from back then: He spotted a couple that was spinning in an uncomfortable and stilted conversation, so he decided to try to liven it up.
"Oh, I guess you're on a Tinder date," Hazelton joked.
The woman's face turned bright red. They were. And Hazelton learned a valuable lesson.
"Everyone is doing it," he says. "Every night."
JODIE VALADE is a freelance journalist based in Charlotte. Reach her at jovalade@gmail.com or on Twitter: @JodieValade.
---
This article appears in the November 2016 issue of Charlotte Magazine
Did you like what you read here? Subscribe to Charlotte Magazine »
---