How Well Can We Predict Charlotte's Transit Future?
Driverless cars? Flying taxis? Doglike robots? Buses, still?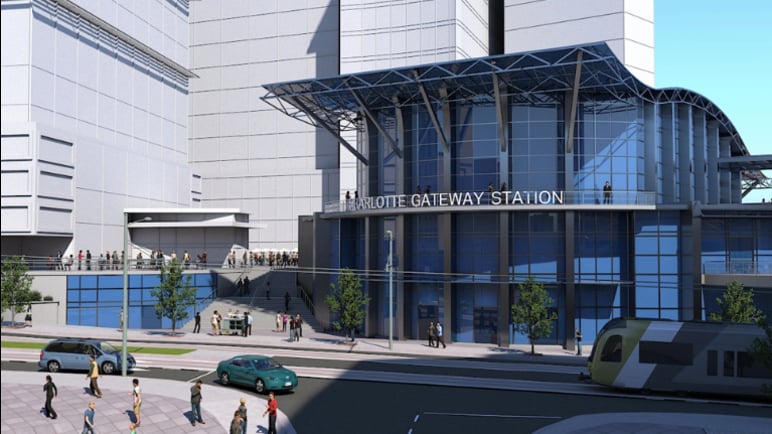 North Carolina Transportation Secretary James Trogdon is asking the same question we all are: "How will transportation change?"
Trogdon poses the question, rhetorically, to Andy Smith in the latest #discussCLT podcast. Andy recorded him during the groundbreaking last month of the first phase of the Gateway Station, an ambitious, $100 million-plus effort to route as many modes of transportation as possible—Amtrak, light and commuter rail, inter-city and local buses, streetcar—through a central station in uptown Charlotte. The city expects to finish the first phase by summer 2022. The overall project is the cornerstone of the city's 2030 Transit Vision, a document intended to guide the development of Charlotte's transit system for decades to come.
Our next #discussCLT event August 15 will center on that development and the inevitable complications therein. Charlotte isn't just planning on its own version of Grand Central Station. It's outlined plans for an expanded east-west Gold Line (commonly referred to as "the streetcar project") and three light and commuter rail lines to complement the Blue Line that already links Interstate 485 to the south and University City to the north.
How realistic is that, given that it took more than 10 years to complete the second half of the Blue Line, and the General Assembly cut transit funding by nearly 30 percent in this year's budget? Will people who need buses to get around have them? Will Uber and Lyft survive the changes or continue to contribute to congestion? How much will dockless bicycles and scooters affect the system? Will we really see automated cars and trucks on the road by 2030? Will we ever zoom past the dominance of the private automobile and the internal combustion engine?
Transportation futurists—speculative transportation visionaries, the folks who do now what Fritz Lang did in Metropolis in the 1920s—seem to think so. A quick survey of their educated guesses reveals a gallery of whimsical ways to get from here to there. You could have not just driverless cars and trains that operate on "magnetic levitation" (already in use in China!) but preprogrammed, driverless pods ordered online and available to whisk you to a dinner date; flying taxis (finally, flying cars!); closet-sized smart cars; and automated robots that haul our stuff, groceries or synthetic unitards or whatever, and follow us home like cocker spaniels. Sky's the limit.
Or, more accurately, data plans. "What's stopping us from having a massive autonomous transportation system right now this minute? Old systems," Alex Moura of TED wrote last year:
Not just old streets, but weak data networks. Right now there's a handful of self-driving cars and thousands of drones in use, but in the near future there will be millions of each, along with other new technologies, and they'll all be able to communicate with each other and with our handheld and home devices. Superfast, reliable, omnipresent data networks like 5G and Super WiFi with large-scale antenna networks and millimeter wave technology must be built to accommodate the vast amount of data needed. Currently, no country in the world has the infrastructure to accommodate such a flow. Advanced networks are in development, with companies like Qualcomm, Nokia and Samsung field-testing and striving to make them available before 2030. When ready, they will truly turbocharge how we live and commute.
And that may finally provide the answer to another question, one that Charlotte already is beginning to address: What would uptown look like without cars, and would that be better than uptown with them? In a recent story for the urban affairs nonprofit Next City, Daniel J. McGraw examines the North Tryon Vision Plan, the effort that began in 2015 to reshape the areas on either side of North Tryon uptown. It's currently a hodgepodge of parking lots, government buildings, and cultural institutions such as the McColl Center and Discovery Place. The partners behind the plan envision a district for expanded cultural opportunities, retail, and tech-based small businesses.
Progress, as the participants know, has been slow and uneven. Yet the plan, McGraw writes, "is among the more ambitious long-term urban planning projects in American cities … (T)his is not 'replace surface parking lots with high-rises.' In this urban plan, they build grocery stores, landscape pocket parks, refine the transit plan to make automobile travel less essential. And housing must be affordable to multiple income levels, to develop Charlotte's central city into a place where a wide range of city residents can live and work and play."
In other words, the 180-degree opposite of the route Charlotte and other American cities took as they grew and rippled into the suburbs in the 1950s, '60s, and '70s. So much of urban planning in the 21st century, from the resurrection of streetcars to the re-establishment of street-level retail for pedestrians, amounts to an effort to reverse the mistakes of that era. With that in mind, you have to wonder if fully integrated and computerized transportation networks are sound ideas in an increasingly hacked and hackable world. Maybe in another 50 years, as we push our The Road-inspired shopping carts through the post-nuclear winterscape, we'll look back on this time as an epoch of silly ideas we should have rejected from the start. Until then, in Charlotte, we can hop aboard on at least one light rail line, and look ahead just a few years to when we'll all see each other at the Gateway Station.