Hungover? This Clinic Says It Can Help
We stayed out too late and put hydration treatment to the test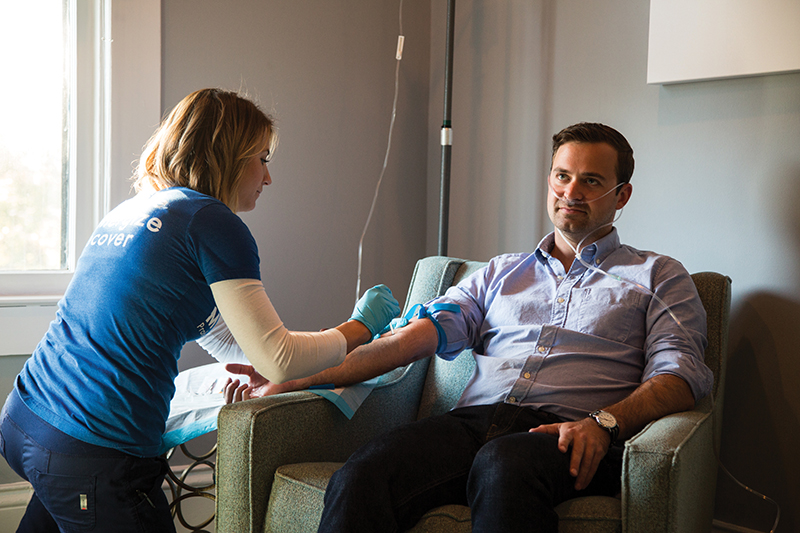 IF, IN THESE divided times, we can agree on certain things, surely one of them is this: Wine hangovers are the worst.
I reach this conclusion around sunrise on a Friday in November, as the whirring blades of my bedroom ceiling fan match the beat of the pounding at my temples. I roll over and hold a cool glass to my flushed cheeks. I contemplate breakfast, but I am not there yet.
Before you feel sorry for me, I should say that my state is self-inflicted and intentional.
Last night—first at a philanthropic benefit with red wine and later at uptown bars with prosecco and bourbon—I intentionally tried to incite this awful hangover. The plan was to test the services at Dilworth's Hydrate Medical, a company that promises to treat symptoms such as mine with IV fluids and vitamins.
I'd heard of similar hydration clinics in Las Vegas and knew of a few friends who had to duck into one to recover from a bachelorette party. Since I turned 30, my recovery time from a night on the town has, shall we say, been a little sluggish. My normal hangover cure—a fried chicken biscuit, hash browns, ibuprofen, Gatorade, and a hot shower, in that order—doesn't cut it anymore.
So, I scheduled a hangover and made an appointment for 10 a.m., which is … Oh my goodness, that's two-and-a-half hours from now. Why the hell did I volunteer to write this story? How will I make it till then?
Wine hangovers are the worst.
My mouth is sticky and I prop myself up in bed for a sip of water.
***
HANGOVERS, AS I LEARNED from Hydrate Medical co-founder Dr. Jonathan Leake, are a function of dehydration and the body's response to toxins in booze. "Alcohol blocks your body's ability to store water," he says. "That's why you get dehydrated. You just start wasting fluid."
Leake went to medical school at Emory and did his residency at Carolinas Medical Center. He still works emergency room shifts at a hospital in Shelby. He and his business partner started Hydrate Medical in 2014 after noticing how many ER patients showed up to be treated for simple dehydration. "We realized we could do this in a clinic setting, and it would be less expensive and obviously more comfortable," he says. The owners added locations at Lake Norman and in Miami and plan to start a mobile treatment unit in 2017. They want to expand to south Charlotte after that.
Everyone who works at Hydrate, Leake tells me, has emergency room experience and is comfortable starting IVs. The company's treatments work on hangovers, but also for jet lag, on weakened immune systems, and for athletes recovering from exhaustion after a race.
The clinic seems to promise the hydration therapy will, to borrow a phrase, Make Adam Great Again.
***
I'M OUTSIDE Hydrate Medical's bungalow, sunglasses on, when the clinic opens at 10.
This isn't the worst I've felt after a late night. (That was, for the record, after an Ugly Christmas Sweater party in 2012, and it involved a fleece onesie and green Jell-O shots.)
I am, however, sufficiently hungover and ready for Hydrate Epic Hangover, my $159 hydration package that should take less than an hour. To keep things interesting, I've also agreed to cover President Obama's last preelection visit to Charlotte tonight, meaning I've signed up for roughly a 14-hour workday. I really need this thing to work.
I expect to be led to a motorized hospital bed, but the facility feels more like a spa, with wood floors and light gray walls. Instead, I sit in a mint green armchair across from a large, wall-mounted TV. My nurse, Brittainy, threads the plastic tubes of an oxygen unit around my ears and into my nose. The flow of air tickles the inside of my nostrils.
I've taken a shower and put on a button-down shirt to combat my moral hangover, but Brittainy doesn't seem to judge me. She's warm and friendly while she ties a blue strip of rubber around my right arm, just above the elbow, and starts the IV of saline solution. I look away. I dislike needles, but this morning, I dislike hangovers more. She pushes a series of elixirs through the IV: vitamins B, B12, and C; antioxidants; and glutathione, which binds to all those toxins Leake told me about and helps my body eliminate them faster. I sip from a bottle of water, chat with the staff, and stare absentmindedly out a window.
By the time my body has taken all of the saline, the hangover seems to be fading. My cheeks aren't hot. I don't need my sunglasses anymore. Ninety minutes later, I feel surprisingly normal. I went into the clinic hopeful, but mostly skeptical. After lunch, I show no signs of a hangover. There's a small bruise where the IV needle entered my arm, but otherwise, I feel great.
It's dark and chilly by the time the president bounds onto the stage at PNC Music Pavilion. He asks the crowd members how they're doing. And from behind my laptop in the media work space, I almost yell out, "You should've seen me this morning."
Adam Rhew is the associate editor of this magazine. Reach him via email at adam.rhew@charlottemagazine.com or on Twitter: @AdamRhew.