I Ate My Feelings
Bradshaw Social House provided a delicious meal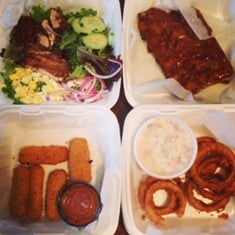 If you follow me on Instagram, you knew that Friday I was feeling very hungry after a lunch of jelly beans. After scrolling through several menus as the minutes ticked down to quittin' time, I settled on Bradshaw Social House for dinner, which sits right behind my apartment. I couldn't really decide on what I wanted, other than the fact that I wanted to eat a lot of food that I'm not supposed to eat in celebration of myself. Because I deserved it.
So, after much deliberation, I ordered the Fried Chipotle Gouda, the Fried Cobb, the Social House Ribs (a half rack; I am a lady after all), and I went with Onion Rings as my side order. When I went to pick it up, I definitely lied to the waitress that my order (which was stuffed into two very large bags) was going to feed myself and my hungry boyfriend. Nope, it was all for me (he wasn't around, it wasn't like I didn't feed him/neglected his hunger). All of the food was good, but let's break down the dishes so you know what to order when you head over to BSH:
Fried Chipotle Gouda — I order these every time I go to BSH. The smoky chipotle with the crispy breading, the melty gouda, and the sweet marinara sauce are amazing together. If you're craving mozzarella sticks but also want something a little out of the box, get these.
Fried Cobb — Really amazing fried chicken (go with the fried chicken entree if you really want a good taste of this), fresh greens, bacon, and hard-boiled chopped eggs. Only complaints: A bit heavy on the red onions and a few pieces of bacon were burnt (NOOOOOOOOOOO) but, otherwise, yummy, although not exactly a "light" salad.
Onion Rings — Crispy and a little greasy, but the coating was awesome. I wish they'd come with sauce, though.
Ribs — The red sauce wasn't quite a BBQ sauce, and I was cool with that. These were falling off the bone, tender, and delicious. Purists may be picky, but for those of us who just needed a good taste of ribs, these hit the spot.
I should mention that the only thing I finished was the salad, two ribs, one onion ring and one gouda thingy. Then I put on sweatpants. The leftovers were devoured over the weekend.