I Can't Believe It's Butter—Closed
Charlotte's most exclusive nightclub has closed its doors, but is it for long?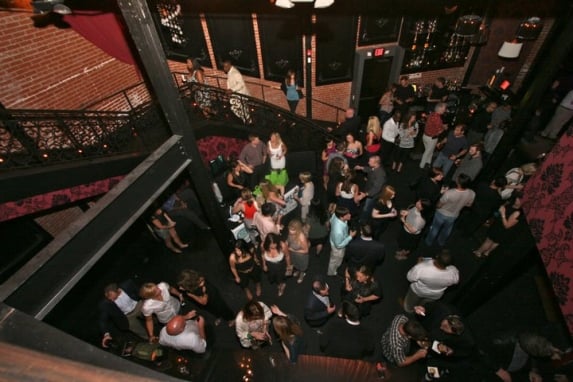 Once Charlotte's most exclusive and highly touted nightclub, Butter NC's fancy chandeliers have gone dark.
Butter apparently closed two weeks ago, and I've been hearing various reasons as to why. I can't confirm them so I won't report it, but I will say that Charlotte's nightlife scene has become increasingly competitive over the last couple of years. At NC Music Factory alone, the sprawling Uptown entertainment complex where Butter has been a signature venue since February 2010, we've seen the opening of Osso Restaurant & Lounge a year ago, and Label nightclub debuted two months ago, each going after much of the same elite crowd.
Swanky VIP sections and high-priced bottle service have dominated the layouts and offerings at new Charlotte nightclubs, and I've often questioned whether we can support that many venues that are seeking clientele who's willing to spend hundreds if not thousands of dollars in a single night at a club.
Since I wrote about Butter for the first time in the May 2010 issue of this magazine, its ownership, The Butter Group, which already owned the original Butter in New York as well as 1 OAK there, has gone on to open The Darby in New York and a huge 1 OAK location in Las Vegas (and has plans to open one in Mexico City soon). But like all politics, all nightlife is local.
Some of Butter NC's key management staff departed over the past year, which is usually not a good sign. Meanwhile, the once-packed-out Friday and Saturday night crowds were getting smaller, and those nights were always a source of contention for many would-be patrons who complained about being denied entry by Butter's selective doormen as they waited outside the velvet ropes. Tuesday and Thursday night crowds seemed to have been getting larger, but those drew mostly college-aged and early twenty-somethings—not the kind of people who are signing $600 receipts in VIP, which is important to the bottom line for a business with high overhead.


VIP bottle service was the name of the game at Butter NC.

I don't think we've heard the last of Butter in Charlotte, however. Too much money has been invested in this venue for it to sputter out after less than three years. And its prime location at the Music Factory, at the pinnacle of the courtyard, makes it highly unlikely that the venue will remain dark for long. Butter's social media sites haven't been updated for a couple of weeks, and its website still displays a flyer for the White & Gold Gala, a December 14 fundraiser for Levine Children's Hospital, so it remains to be seen if that event will take place. This would be Butter's third year hosting the event.
UPDATE: Today (December 2) around 2 p.m., I received this direct message on Twitter from @ButterNC, the nightclub's official account: "The Levine Children's Hospital White & Gold [Gala] has been moved to Volume Lounge in the Plaza Midwood area along with all other events." I visited Volume Lounge briefly in October right before its grand opening weekend, which is another example of the many new nightspots that have opened in Charlotte.
Are you sad to see Butter go? Can Charlotte support the growing number of bars and nightclubs that have opened over the last couple of years? Sound off in the comments section below.

Be sure to bookmark www.charlottemagazine.com/Blogs/Dusk-Till-Dawn to stay plugged into Charlotte nightlife. Follow me on Twitter @HollidayInk; email me at jarvish@grownpeopletalking.com.