I Dream of Cheese
Papi Queso offers up gourmet grilled cheese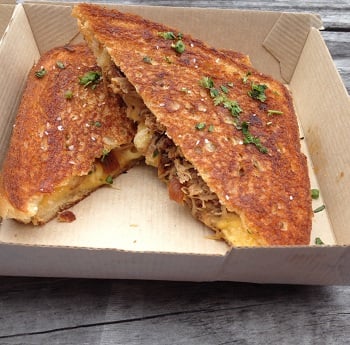 Although I've called Charlotte home for nearly two years, I had yet to indulge in the offerings of Papi Queso until this Saturday. This is surprising, considering the amount of trips I've taken to Sleepy Poet Antique Mall, where the grilled cheese purveyor sets up camp on Saturdays — ready to serve up sandwiches to shopped-out diners.
Finally, I have seen the cheesy light. After trekking around the antique store for a solid two hours, my companion and I decided to indulge. He went for the classic – the big cheesy ($5). This traditional take on grilled cheese pairs cheddar, provolone, and American with herbs and a sprinkling of sea salt. He also added in smoked tomatoes for $1. I went for Papi Queso's most popular sandwich (the one with a cult following here in the Queen City): the pig mac ($8). This caloric powerhouse squishes creamy mac n' cheese, Carolina pulled pork, and bourbon onions between unassuming toast.
Let's break this down: When our names were called to pick up our lunch, we sat at a picnic table in the parking lot, ready to dive in. The bread on each sandwich was that perfect golden brown — the kind that seems elusive because of it's buttery, salty, and crisp balance. Inside the big cheesy, all three of the cheeses were perfectly blended, resulting in a mellow, creamy, yet distinct flavor. Oh, and the cheese had that perfectly long-stringy pull when you took a bite.
My pig mac was a beautiful marriage of the creamy macaroni and cheese and the tartness of barbecue. The bourbon onions seemed more like a sweet butter leaving soft notes throughout the sandwich. Overall, we were impressed with this new knowledge of what grilled cheese could truly be.
Real Talk: We all love cheese. You can grab one of Papi's delicious sandwiches on Saturdays outside Sleepy Poet. To find this food truck during the week, follow Papi Queso on Twitter.