IKEA Home Tour Comes to Matthews
Watch the video of one family's living room makeover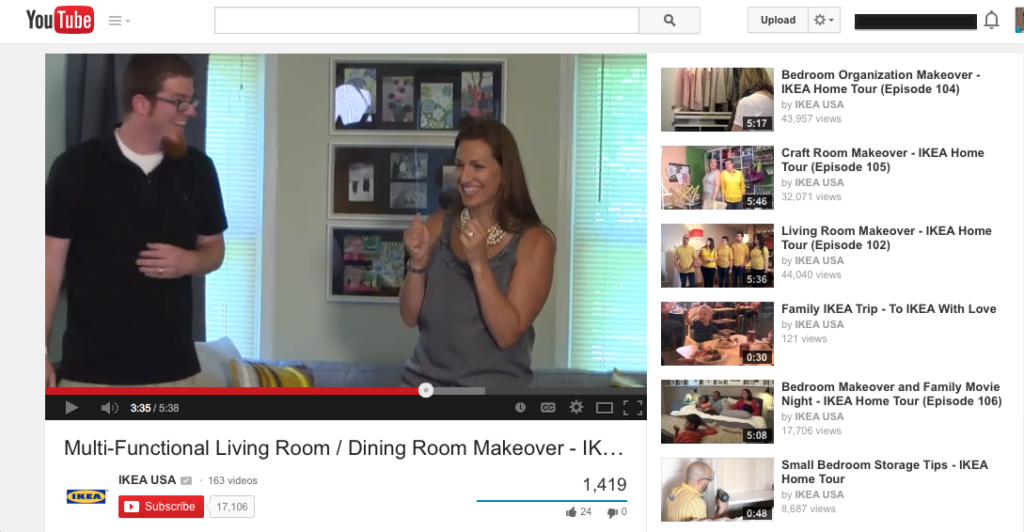 Last week, we met the Fair family in Matthews. They applied for and won a living room makeover from the IKEA Home Tour Squad. Today the video of the big reveal goes live on the IKEA USA YouTube site. (Click the image to the left to watch!)
The IKEA Home Tour Squad is a group of five IKEA employees who gave up a year of working in their stores to tour the country and redesign rooms for families. In each city they visit, residents apply for a makeover by filming a video of their family, home, and room that needs help. The squad watches the video finalists and helps choose the home. The Fair family—including Chad, Emily, Sophia (8), Piper (6), and Mac (4)—stood out to them because their daily routine depends upon the functionality of the L-shaped living-and-dining-room space.
The squad divided the room into three different areas, not with physical dividers, but with strategic furniture placement. They also took into account that Emily classifies her design style as "washable."
The living area has two couches (with removable, washable covers), oversized pillows for floor lounging, and a TV cabinet with storage for DVDs and Wii games. A puzzle table with casters rolls out from under one couch, so the kids have a work surface on the floor for puzzles, art projects, or board games. The squad incorporated personal touches, such as a collage of family photos on the wall above the couch.
Behind the living room, the squad created a homework station. A white desk borders the wall, with three chairs, three desk lamps, three stacks of drawers, and three sets of plastic hanging bins. Overhead cabinets provide extra storage, and a large roll of drawing paper on one end can be stretched across the entire surface.
Those two areas pleased Chad and Emily, but the dining-room space excited them most. A birch table easily seats six, with chairs on one side and a bench on the other. (The chairs have washable covers.) An additional leaf stowed underneath makes the table expandable for special events. Suspended, white lights and a sleek, silver mirror on the wall add trendy appeal. Table accents, such as a bonsai ginseng tree and lazy Susan, bring the space to life.
When Chad and Emily entered their front door for the reveal, Emily squeezed Chad's hand so hard he told her she was cutting off his circulation. "I feel like I'm in a model home," she said.