Il Bosco Ristorante Brings Al Dente to Davidson
A small Davidson restaurant is serving traditional Italian fare in a stylish side-street spot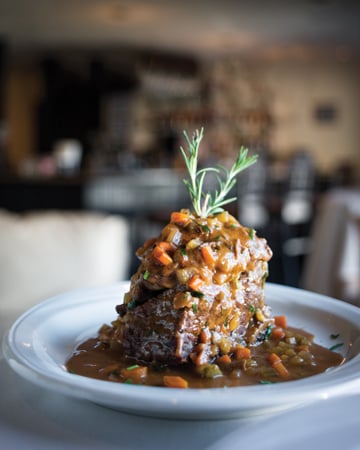 Since it opened in February, Lake Norman residents have flocked to Il Bosco Ristorante and Bar in Davidson. With its bright interior and welcoming patio, the new Italian restaurant has quickly become a favorite for locals looking for an elegant but unpretentious lunch or dinner.
The space, which was previously Bucci's, has been given a fresh coat of paint and chic additions like sleek white-leather couches in the bar that are a stylish spot to enjoy a glass of Italian wine as you wait for a table. The menu features five courses, including antipasto, insalata, pasta, entrée, and dolce. For appetizers, the Misto Di Formaggi ($12) offers a gourmet selection of Italian cheeses, while the fried rice ball, Aranchini ($7), is a savory accompaniment to cocktails before your meal.
Entrées are priced from $16 to $21 and include Italian favorites like veal in a marsala wine sauce ($19) and a tender chicken breast stuffed with fontina cheese and prosciutto ($18). But the expertly prepared pastas are what really shine here. Most are made in-house, but it's the preparation—cooking to the precise moment, then retrieved from the boiling water—that signals Il Bosco's pasta expertise. Tossed with savory options like a mushroom cream sauce or traditional bolognese, the pastas feature locally grown vegetables and herbs.
Make reservations because Il Bosco bustles, even midweek, which would be surprising for a small-town restaurant but makes sense as soon as you've tasted the pastas.