Imabee Aims to Get Charlotte Partiers Buzzing
Local entrepreneurs developed app that connects users to where friends are going in the city's nightlife scene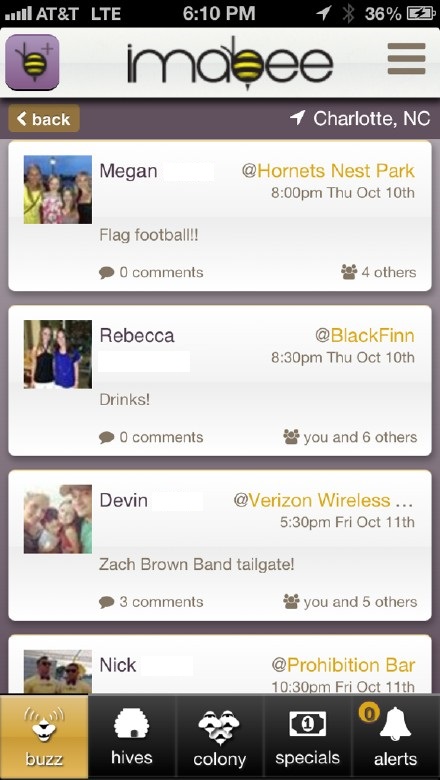 You know you want to go out tonight (or tomorrow night), so now you just need to hit up your friends to see who's down and where you all should go. That's often easier said than done.
Two Charlotte entrepreneurs want to make that process simpler for you, while simultaneously exposing you to what the city's nightlife scene has to offer. Steven Dehlin and Zach Venturella officially released the
Imabee
app yesterday for your smartphones, currently available for the iPhone and Android devices.
"The inspiration came from the fact that we were tired of being home after work and getting group text [messages] like, 'What are you doing tonight?' says Venturella. "The conversation would be so long and never-ending. We'd already be at a bar and people would still be responding."
The way Imabee works is you download the free app (from either the
iTunes
or
Google Play
stores); then you log in with your Facebook account (the developers assure that they "won't post anything without your permission"). You invite your friends to download the app and log in, and that's how you begin to build your "colony."
Imabee uses a lot of "buzz" words, which is even more fitting considering Charlotte is the land of the Hornets. Each of the terms and corresponding sections on the app allows you to see what your friends' plans and interests are, making it easy for you all to coordinate a night out.
Imabee terminology:
-Imabee: "I'm going to be" at a specific venue
-Colony: Your friends
-Hives: Restaurants, bars, nightclubs, and other venues
-Buzzing Hives: Current venues with planned attendance
-Buzz: Newsfeed
-My Buzz: Only the plans you're involved in
-Imabee too: You weren't part of the plan, but you're also going
While the app clearly utilizes social media and technology (the venue locations are derived from Google Maps), one thing I like about it in particular is that you'll be making plans with people you actually hang out with. Raise your hand if you're "Facebook friends" with a lot of people who aren't actually your friends (you know them—sometimes vaguely—but they're not a part of your crew). Far too often I see people coordinating their night-out plans on their Facebook or Twitter timelines for all to see (stalkers, anyone?). With Imabee, your plans will be on your app, only seen by friends in your colony, and you can even make your plans private so that only specific friends can see (we don't want Tony to come to the party Saturday night because he's obnoxious).
The app also helps you stay abreast of what food/drink specials or entertainment are being offered at bars on certain nights, which should aid in your decision-making. As the developers continue to add more venue info, and as you build your colony of friends, you'll begin to see how useful and fun the app can be. (I was given early access to test it out.)
Imabee has partnered with
RockHouse Events
, one of the city's leading party promoters and nightlife event planners. RockHouse is most known for putting on huge annual events like Charlotte Bartender's Ball and Rich & Bennett's St. Patrick's Day Pub Crawl, as well as numerous other events throughout the year. Venturella says they plan to utilize the relationships RockHouse has with local bar and club owners, among other things.
There are also plans to eventually establish Imabee in other cities. The app will next be made available in Pittsburgh, Venturella's hometown.
Be sure to bookmark www.charlottemagazine.com/Blogs/Dusk-Till-Dawn to stay plugged into Charlotte nightlife. Follow me on Twitter @HollidayInk; email me at jarvish@grownpeopletalking.com.