In Charlotte Restaurants, the Struggle to Find Good Help
Shortage of bodies or work ethic?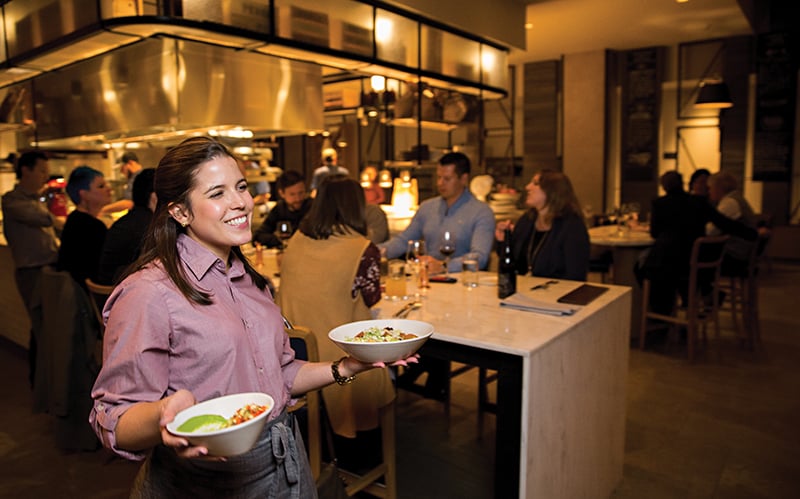 For our first 2017 #discussCLT event next month, we'll assemble a group of knowledgeable and talented people to talk about food: where to eat it, what goes into preparing food for people to eat, how to treat the people who make the food you eat, how Charlotte's reputation as a place where people can go eat is booming just like the city itself, etc. Our folks are still putting together the event details. It'll be fun.
Until then, we're giving you some things to think about. (I went out of my way just then to avoid saying "something to chew on" or, heaven forbid, "food for thought," because I am not a complete failure as a person.) This month's issue of the magazine has our 25 Best New Restaurants in Charlotte list. The latest #discussCLT podcast, embedded below, had as guests one of the city's most prominent chefs, Nicholas Tarnate of Aix en Provence (number one on the list), and restaurateur Frank Scibelli of Midwood Smokehouse and Yafo Kitchen (number two). Scibelli opened his first Charlotte restaurant, Mama Ricotta's, in 1992, so he's seen and experienced the city's transformation from burger to buffet, if you will.
But part of the discussion centered not on the blossoming of Queen City restaurant options and refinement of dishes in a former meat-and-three town but the more prosaic push-pull of labor and wages. Even in a town with four culinary schools, restaurants are having trouble finding good help. One explanation is simple supply-and-demand: The more restaurants open, the thinner the available labor pool to fill the jobs. (Our Cat Carter explores this in the January issue.)
But there's another reason. The latest crop of culinary school graduates, and employees in general, lack a certain work ethic. "They just don't have it," Tarnate said. People balk at working 40 hours per week, much less the 60 to 65 that's sometimes necessary, especially when there are too many jobs and not enough people. Turnover is high, which can make for inconsistency in food quality—poison for a new restaurant.
This is worth exploring more—and, if you have any related stories to tell, by all means, comment below. But if I might play front-line cook's advocate for a second, there might be a few other factors at play here.
The Charlotte region's unemployment rate as of November was 4.5 percent, low by anyone's standard. Restaurant work is hard, long, hectic, stressful, and notoriously low-paying. The minimum wage in North Carolina is the federal rate of $7.25 per hour, but state law allows employers of "tipped employees," such as servers, to pay as little as $2.13 per hour in wages as long as tips make up the difference. (As Cat reports, cooks have seen their wages rise in the past year or two, a natural reaction to a labor shortage.)
Point being, even if younger people are lazier and more entitled than their forebears—and there's some evidence of that, for sure—you probably have to look at their "work ethic" in the context of their options. Simply, who'd want to work that hard for 60 hours a week for 10 bucks an hour if they could do something less stressful for equal or better pay?
Passion is the one ingredient you can't have shipped in, and nothing kills it in a work environment like too many hours and not enough money. Then again, I've seen restaurant employees take some awfully long bathroom breaks. Charlotte's food scene, like everything else in this town lately, is a complicated puzzle. We'll be talking about it more in the weeks to come.