In Memoriam: Deborah Triplett, 1949-2023
The longtime photographer and arts advocate saw beauty in whatever she encountered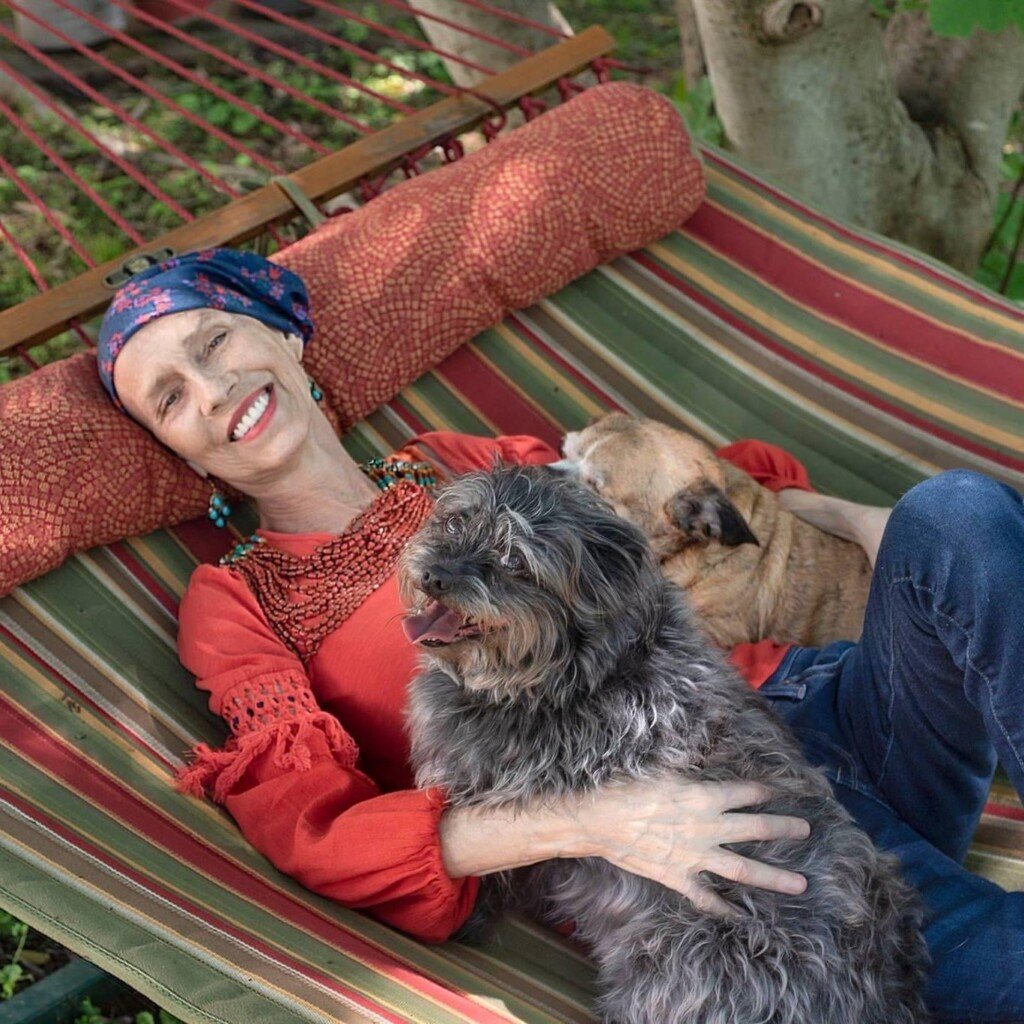 Deborah Triplett was at one point in her life a New York City-based flight attendant, then a professional photographer in Charlotte, a creator and supporter of art, and a survivor—"ass-kicker," she'd likely say—of cancer. She was an unforgettable friend, too, the kind of person who folded you into her life at first meeting and kept you there.
She was diagnosed with Stage 3 lung cancer in 2019 and seemed to have sent it into remission after radiation and chemotherapy treatments. But early Tuesday morning, Jan. 31, a family member posted to Triplett's Facebook page: "I am sad to tell you that Deborah peacefully passed away last night. For those she touched with her warm heart and artistic talents—she will forever be an inspiration to the Charlotte community." The Elkin native was 73.
We asked a couple of friends of hers to share their thoughts: Our digital content coordinator, Amanda Pagliarini Howard; and Candice Langston, a native Charlottean and Plaza Midwood resident who's been involved in many projects and community issues as a volunteer and advocate. Candice and Deborah collaborated professionally but were mainly neighbors and close friends.
We extend our condolences to Deborah's family and many friends. This city is a little less colorful, less beautiful, without her. —Greg Lacour
Amanda Pagliarini Howard:
I was 29, newly hired as editor of NFocus Magazine, in charge of my first cover for the first issue of a new publication. I was in over my head, learning as I went along, but I knew one thing for certain: Deborah Triplett had to be the photographer for this cover and feature.
The feature was "New Faces in Philanthropy," about the emerging, young givers and do-gooders in Charlotte. We needed portrait shots, and no one captured faces like Deborah. It was my first time managing a publication's budget, and Deborah's rate was not within my constraints. But we were friendly acquaintances, with fondness for one another. Surely she could wiggle for me.
Nope. In complete kindness, she let me know she was as committed to her rate as she was to delivering on its worth. She wanted me to knock this first issue out of the park and knew she could do that for me. She also knew that I was good enough to find a way. And I did.
Deborah taught me many things in our work together. One, that she was as good as I thought. She also taught me, by example, not to undervalue myself and my work. As women, we're conditioned to be agreeable, to acquiesce. When we work as freelancers and artists, those who hire us often expect that we live in a desperate gratitude for any client that comes along. Deborah knew her worth and expected those who hired her to know the same.
She also showed me that if you have the wisdom to know what you want, you'll find a way to get it. Her life was a testament to that.
Deborah lived what seemed like 10 lives, with incredible stories of world travels, modeling, and rock star lovers. No, really, literal rock stars. Mark Peres was wise to capture some of those when he interviewed her on his On Life and Meaning Podcast in 2018. In that episode, appropriately titled "Whimsical and Wild," she expounds on her life and legacy as an artist.
"If there's one thing that I would want people to know about me, I don't have children," she says. "So when I leave this earth, or even now, if a photograph I take of you, or anyone, makes you feel good about who you are … then I have done my job, and I have done what I wanted to do, which is make you feel good about who you are. It means the world to me."
As a transplant to this southern town, Deborah quenched my thirst for directness, truth-telling and authentic, who-gives-a-damn-what-they-think living. My favorite work of hers was a piece of performance art she displayed for Yard Art Day, a grassroots community exhibition she started that encouraged people to playfully display art on their front lawns every Labor Day. On Yard Art Day 2016, Deborah gathered some friends and fashioned them as the title figures from The Handmaid's Tale. It was a protest that reflected her indignation and alarm at what she saw as our country's regression in its treatment of women. The group of two dozen or so women unrolled a sign: "Nolite te bastardes carborundorum."
Those are the words that will ring in my ear, in her voice, whenever I need her. "Don't let the bastards grind you down." And she'll say it with that big, infectious smile.
Candice Langston:
A force of nature. Creative. Fierce. Compassionate. A fighter. Inspiring. Beautiful. Vibrant. Unforgettable. A genius.
Deborah Triplett was all these things and much more to those who knew and loved her. Even loose acquaintances couldn't help but feel her chasmic passion for art and life. The impact she had on people throughout her life was immediate and unforgettable, a hallmark of the Deborah Triplett Experience.
Each of us has a fascinating, funny Deborah story. All are unique, because that was her style and because in the moment it was just you, with her. As the memories from people all over Charlotte and elsewhere flood in following her recent passing, I've noticed a common thread –humor punctuated by compassion and rooted in her love for her art form and for humanity as a whole. Deeply passionate, she never approached with less than her whole heart.
Many memories involve her love for animals and advocacy for those who could not help themselves. As long as I have known her, (since the '90s), she had mutts she treated like gold—dogs she rescued and neighborhood cats fortunate enough to meander into Flowerhead Farm, her backyard oasis in Plaza Midwood: Deborah and her beloved four-legged menagerie. One anecdote I read has her rescuing a baby bird while simultaneously engaged in a deep conversation about creativity and reinvention. That was Deborah. What tethered her to this earth was her passion, her imagination, her love for all creatures, and her ability to connect with everyone.
Her impact—through her art, Yard Art Day, her advocacy for the causes she cared about—is the legacy she left Charlotte. For those of us fortunate enough to know her as a friend, her legacy is her warmth and the love she gave us every day and in many ways, even in the throes of her illness. Her passing has left a huge hole in my heart and in the heart of our city.