Inside a Dilworth Townhome for a Blended Family of Seven
How newlyweds Erin Santos-Primis and Blair Primis transformed the space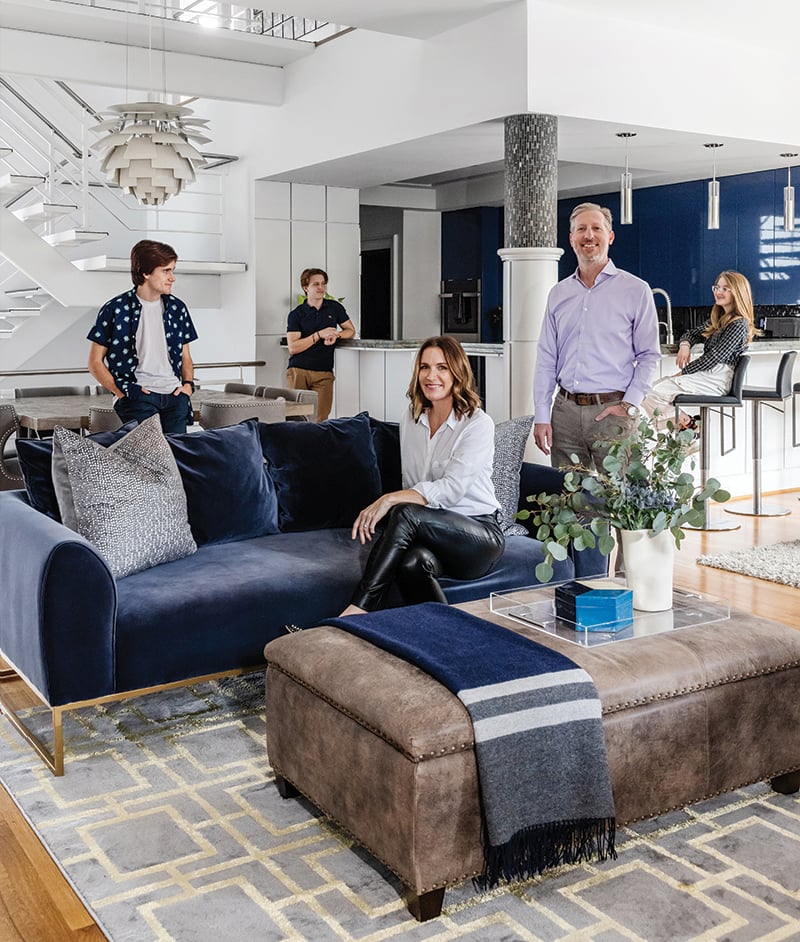 You might recognize them from the philanthropic work they do in and around Charlotte. Erin is co-founder and executive director of the Isabella Santos Foundation (ISF), which has funded close to $7 million toward research, treatments, and clinical trials for rare pediatric cancer. Blair is the former senior vice president of marketing and talent management at OrthoCarolina and the current vice president of marketing, communications, creative, and events at SCA Health. Last July, the two married in a small ceremony on a beach in Hawaii.
The couple has five children between them, ranging in age from 13 to 22. (Erin's daughter Isabella lost her battle with stage 4 neuroblastoma in 2012.) Blair had a condo in uptown, and Erin owned a home in Cherry, but they wanted a place that could accommodate their blended family. "Us getting together wasn't the kids decision, so we didn't want living together to be uncomfortable," Erin says. "We wanted lots of communal areas since our families needed to get to know each other."
They also wanted some outdoor space and room to host events. "Location was important, too," Erin says. "We have motorized scooters, and we wanted everything to be at their fingertips, so we could walk to Panthers games or South End. We don't have the kids very long, so we want them to be close while we have them."
In late 2020, Eric Norman from The McDevitt Agency found a 4,000-square-foot, four-story Dilworth townhome that checked most of the boxes on their wish list. "He'd sold me homes before, so he knew my style," Erin says. "This was the first house he sent us. We were sitting at lunch, and we took the kids over that day and made an offer. The kids were running through the house screaming. That was it."
The couple was happy with the footprint, and the sleek interior appealed to Blair, who likes clean lines and minimal clutter. "My style was pretty minimalist, too," Erin laughs, "but Blair is off the charts. This home is super modern, like, over-the-top modern—you can't figure out how to open the cabinets."
It had some retro features, too, like a floating staircase and glass block walls in the primary bathroom. They painted the brown walls in the common areas white and removed a wall between the dining and living rooms that had functioned as a display for the previous owner's Chihuly vases. But they kept the industrial flooring and see-through refrigerator in the kitchen, and the whole family agreed the cobalt blue cabinets had to stay.
Erin and Blair turned the downstairs office into a speakeasy and designed it around an artichoke pendant light Erin almost got rid of. "When we moved in, I was going to take it down and sell it on Facebook Marketplace," she says. "But then I had a friend come in, and she said it was worth like $18,000. She said, 'Please God don't sell this.' So we kept it in the dining room and bought a second one for the speakeasy at Circa Lighting."
They installed floor-to-ceiling shelving to display cocktail glasses and liquor bottles and dressed up the space with a bar cart and a vintage wall phone with a crank handle. They even gave the room its own Instagram account, @crescentsocialclub. When guests use the powder room beside the speakeasy, Erin loves to register their reactions to the padded alligator wallpaper. "We hear people go in and say, 'Stop it!'"
The previous owner put textured wallpaper in multiple bathrooms and on accent walls throughout the home, which Erin and Blair decided to work with rather than remove. At the base of the stairs on the ground floor is a metallic and flocked pattern that guests like to use as an Instagram backdrop. When they host events, Erin puts twinkle lights on the stair railings that stretch up to the fourth floor.
In late 2022, the family completed another big item on their wish list: the home theater. When their oldest daughter left for college, they transformed her basement bedroom into a space for movie nights. They painted the white walls a deep navy and wallpapered the ceiling in a navy pattern with silver stars. Blair found the light-up theater chairs at Furnitureland South, and even though the house had Sonos speakers throughout, they added a sound bar beneath the screen for good measure. "When you close the door in here, it's no joke," Erin says.
On the wall opposite the staircase on the second floor is a photo gallery with shots of the Santos-Primis family. They change out the photos every January, which can be a big undertaking, but it's become a focal point in a home full of different personalities and tastes. It's also a reminder of how far they've come—and how well their lives have merged. "Both of our sons are 16, and they never had a brother, so they're like best friends now," Erin says. "Blair's daughter is 18, and my daughter (Isabella) would have been 18 this year, so it's like seeing what she might have been."