Inside a Stunning Lakefront Home in Mooresville
Designer Brenna Morgan updates the place for a couple of Texas transplants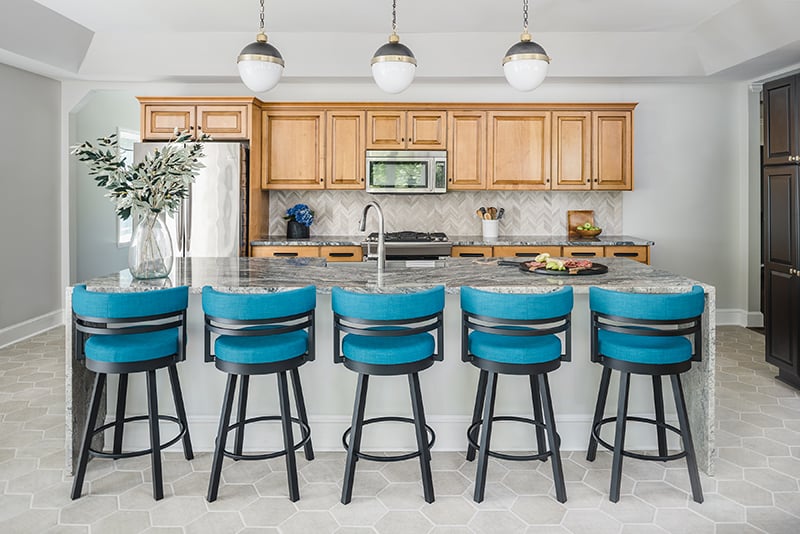 Designer Brenna Morgan worked in real estate for 10 years before she transitioned to interior design full-time in 2016. She transformed clients' homes throughout the Charlotte area, but after a few years the bulk of her jobs were in Mooresville, Davidson, and Cornelius. Waterfront homes became her sweet spot; she understood the Lake Norman aesthetic and how to merge light, water, and outdoor living.
In October 2019, she took on a lakefront home in Mooresville. The homeowners had just relocated from Texas, and they bought the property for its proximity to the Lowe's campus, where the husband works. It had stunning lake views and a dock for their boat, but the home itself, built in the early '90s, needed updates. The previous owners had put on an addition that made it feel like "a bit of a hodgepodge, with a disjointed floor plan," Morgan says. "We removed so many can lights. There had to be a can light every two feet in this house."
Morgan worked alongside contractor Paul Pelis of Denver-based Perfect Choice Renovations to make the home function for the couple and their college-aged daughter, who would live with them while she took classes virtually. And because the husband worked for Lowe's, Morgan had to use their products anywhere she could.
She gave the entire first floor a refresh, which included the kitchen, bathroom, and a dining area she turned into a workspace. Once COVID hit, it was clear the couple would need a work zone that functioned for both, so Morgan designed a built-in workstation with Lowe's cabinetry and a walnut desktop they stained to match the floor.
Next, they ripped out the bathtub in the downstairs bathroom and replaced it with a standalone shower. "It needed to be more functional for lake life," Morgan says. "When you've been out on the water or have sandy feet, you need a shower where you can rinse off." In the living room, where French doors had opened to the front deck, they widened the opening by four feet and added collapsible doors to expand their view of the lake: "Now the light floods in, so it has an indoor-outdoor feel."
In the kitchen, they kept all the appliances except the sink. Since there was no pantry, they installed tall black cabinets for added storage. But the homeowners didn't want to rip out or repaint the existing gold cabinets, so Morgan worked them into a palette she built around the couple's teal barstools. "I struggled with this," she says. "It's not a color palette most people would gravitate toward. It would have been easier to rip the cabinets out and start over."
To tie the warm and cool tones together, she installed a custom waterfall edge countertop from Elements Stone. "Since they didn't want to change the perimeter cabinets, that island needed to be a showstopper," she says. "We found some cool granite slabs and created a focal point. They liked the movement in the veining and wanted something more organic." Above the island, she hung three frosted-glass pendant lights from Regina Andrew.
Morgan carried that mix of cool neutrals and warm accents into the breakfast nook, which she furnished with a one-of-a-kind table from an Amish manufacturer in Hickory and dining chairs from Fairfield Chair Company. An aged brass chandelier from Crystorama and blue and gray rug from Surya tie her palette together. Down the hall, she converted a laundry closet, which already had a water line, into a wet bar and found a remnant piece of granite for the countertop. "The wet bar is just another way of making your home more of a destination instead of just where you live," she says. "They've grown so popular, especially in the last year."
Upstairs, she revamped the loft with a coffee bar for the same reason. "It was born out of convenience," she says with a laugh. "You stumble out of bed in the morning, and you're working from home, so you just want to walk down the hall and grab your coffee before you jump on Zoom."
With the eight-month renovation behind them, the homeowners have a bright, functional space where the view never gets old. "A lot of clients don't want drapery because they think it takes away from the view, but it actually highlights it because it draws your attention to the windows," Morgan says. "And if you're going to spend all that money to live on the lake, you want to maximize the view."