Inside an Eye-Popping Kitchen Renovation in Matthews
Interior designer Melissa Lee of New South Home renovated her kitchen to work for her family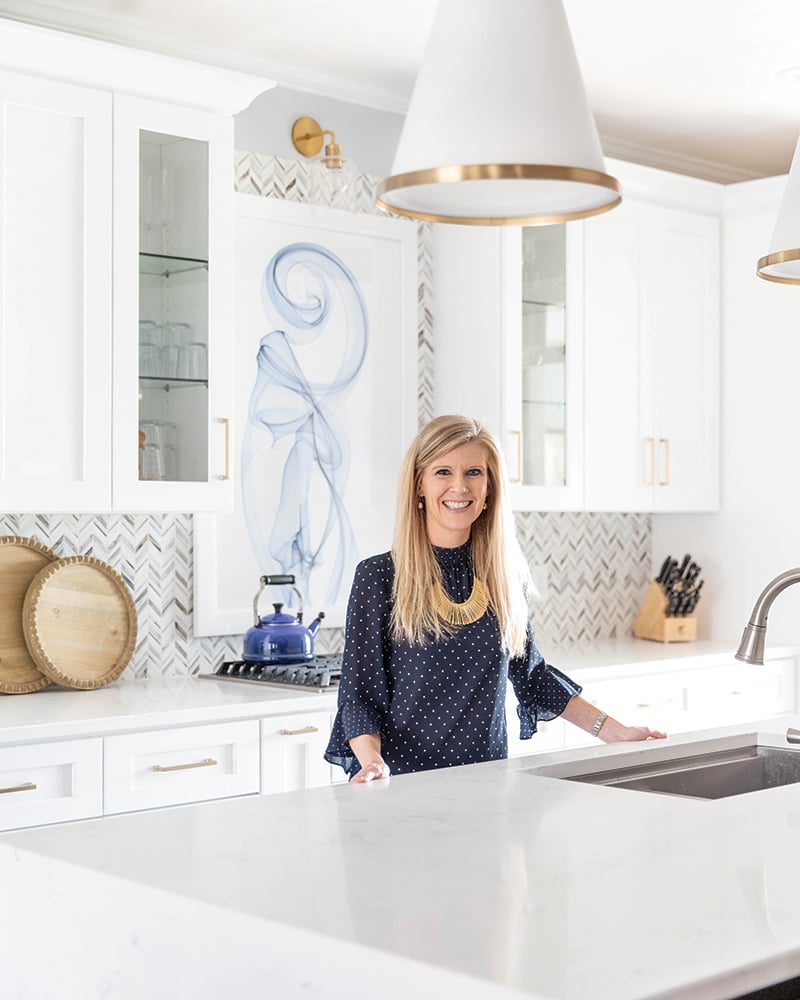 Melissa Lee's light-filled, quartz-clad kitchen wasn't always this catalog-worthy. When the interior designer bought her Matthews home in 2006, the room was dark and closed off. Without a sight line to the living room, she says, it was difficult to keep an eye on her growing children while she cooked.
She craved a new kitchen for five years before completing a two-month renovation in 2018, which increased the kitchen's functionality and incorporated Lee's love for Southern style.
As owner of the Matthews-based interior design company New South Home, Lee works with clients to create stylish yet comfortable spaces. Transforming a room in her own home, however, proved more difficult. "It's harder to make decisions for myself because I am very aware that I will not be able to change it," Lee says, noting that she looked at "a thousand" light fixtures before she chose the trio of gold pendants that hang above the island.
One design element that did come easily was the color scheme. Lee says she has always been drawn to navy and white, and loves the idea of warming these cooler shades with brass accents.
Classic white kitchens, she says, dominate Pinterest boards and design catalogs for a reason. "I always tell my clients, 'Martha Stewart had a white kitchen 20 years ago, and it's still in style because it is timeless.'"
In contrast with her pristine white cabinets and countertop, Lee integrated pops of cobalt blue throughout the kitchen—like her beloved KitchenAid stand mixer, which she received for her wedding and still uses to bake pies for the holidays.
Southern design is unique in that way—it preserves traditional style while showcasing sentimental pieces. In the adjacent dining room, 16 china plates adorn the walls—the same plates that hung in Lee's childhood home. (Originally, there were 28, one for each year her parents were married.) "It's those details and special touches that define Southern homes," she says. "They are never stark, and that's what draws me to them."
The focal point of the kitchen is a painting titled "Up in Smoke," which hangs above the stove top in place of a range hood. Though the piece is intended to hang horizontally, Lee chose to display it on its side to mimic smoke rising from the stove. She also installed a sconce above to act as a range hood light. The painting is one of Lee's favorite parts of her new kitchen, along with the chevron backsplash, which, she says, reminds her of iridescent beach glass with its shades of taupe and blue.
Now that the renovation is complete, the home suits Lee's aesthetic and lifestyle. The quartz waterfall island gives her ample prep space, and the large pantry cabinets maximize storage. The space looks sophisticated but not too formal for her active family.
Most importantly, it's a place where Lee can spend time with her children, six-year-old Sienna and nine-year-old Miles, who have begun taking cooking classes so they can help in the kitchen. Now they use that KitchenAid stand mixer to bake cookies with their mother—and pies for the holidays.