Inside Baku's Growing Sake Program
Restaurateur Birdie Yang on Japanese cuisine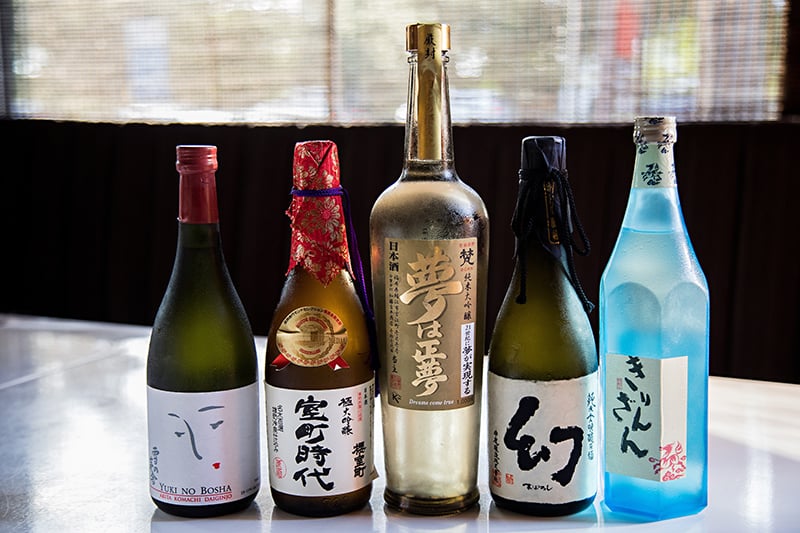 THE WATARI BUNE JUNMAI GINJO 55 sake shares a page on Baku's menu with airily-named selections such as Moon on the Water and Bride of the Fox. Described as "exceptionally balanced and complex, with aromatic fruit, hints of black tea, and bold umami," it is one of more than 70 sakes hand-selected by owner Birdie Yang.
Yang spies the bottle, which comes resting in a wooden box lightly packed with crushed ice, as it is laid in front of me at the bar and walks over. It's story time.
The rice used to make this sake was once highly regarded by brewers, he explains. Growers abandoned it starting in the 1930s for heartier varieties, and it went nearly extinct. In the late '80s, Takaaki Yamauchi, a seventh-generation brewer, got permission to take a small handful of the Watari Bune seedlings that had been preserved by the government. It took Yamauchi several years to cultivate enough rice to make a first batch, and a few more to perfect the brew, but his patience paid off. The sake in a bottle of Watari Bune, Yang says, is made from one of four rices that are considered "legendary" in traditional sake brewing.
Details such as these come easily to Yang, who is an Advanced Sake Professional. Only 19 people are selected globally each year to take the course required for this certification, and only about 200 people total hold it. But even before receiving this fairly uncommon title, he was already an ardent student of the storied Japanese beverage.
Yang grew up around sushi and sake. His father was a sushi chef at one of the first Japanese sushi restaurants in New York City, Hatsuhana, which opened in the 1970s. The family moved to Charleston and opened its own restaurant in 1999. Yang worked there, and at a few other restaurants in the city, until moving to Charlotte in 2007 to open his own restaurant, Yama Asian Fusion.
While in Charleston, Yang traveled throughout Asia whenever possible to learn more. "I wanted to find out what was considered tops in the sushi world," he says. He became a student of Japanese cuisine and culture. An appreciation for sake also grew from these travels, as he sampled sake after sake, along with his sushi.
As Yang continued to travel and to swap tasting notes with elite professionals around the globe, his affinity for sake turned into a passion. He now seeks out rare finds for himself and for his restaurants, a pursuit which takes a fair amount of patience. Tracking down his current favorite, Myoka Rangyoku, or "Heavenly Flower," took him years of patience and scouring the internet.
"It was the first sake that required some work to get to," says Yang. "It took me three years to get two bottles."
Yang, originally a wine lover, has come to prefer sake. The list of affordable options is long, and the lower end of the market generally offers a better quality drink than does the cheap wine segment. It pairs well with food, as its delicate flavors avoid overtaking the flavors on the plate.
Finding all this out for oneself, however, is like most things in life to Yang. "Here's the biggest thing with sake: It's not about reading; it's about experiencing," he says. "You have to try it for yourself, spend your own money on it. It's just like food."
At Baku, guests can get a good start on that journey. Bottles of sake here range from an approachable $15 all the way up to $1,500 for the rare drink that somehow captures history, geography, tradition, and maybe a little bit of clever storytelling in a bottle.
Yang, who opened Yama Izakaya in Plaza Midwood in 2014 and purchased Baku in 2016, hopes he can help Charlotte residents have more of these affecting culinary experiences. Although he considers himself a purist when it comes to sushi, he also understands the market he's working in. When I ask what he wishes for the Charlotte restaurant scene right now, his response is quick: "Take out all of the rolls. Every restaurant."
His wish may sound harsh—and slightly confusing, since his restaurants serve rolls—but it is born of a desire to share a more traditional sushi experience with diners. In Japan, sushi is not an everyday meal; it is a luxury that is usually enjoyed in a small space at an unhurried pace.
I try a few slices of raw scallop, served unadorned, save for thin slices of lemon. The slightly floral and bright notes of the citrus enhance the natural sweetness of the scallop, which falls apart like a pat of softened butter in my mouth. It is one of the single best pieces of sushi I have ever tried.
Yang, who moves around the bar area serving guests while I sample other slices of sashimi, is all about the tuna. "I love fatty tuna. I love toro. It's like the Kobe beef of fish," he says.
Despite his traditional sensibilities, Yang appreciates that those maki rolls (and the competitors who feature them on their menus) are doing their part to open up the customer's mind. Eventually, he reasons, some diners will grow curious enough to want to understand sushi better, and what they learn will in turn drive them to want better value for their money.
In other words, Yang takes the long view. Changes at Baku, for instance, have been slow and subtle, but intentional. Yang shrank the food menu, grew the sake menu, and put an intense focus on the quality of the products used by the kitchen. The seafood is shipped fresh every day and comes from the same vendors used by the top Japanese restaurants in New York.
He also introduced the omakase option, a meal served at the sushi bar in which the sushi chef presents about 15 to 20 selections, one at a time. This experience requires a call-ahead request and starts at $100, but can go well north of that depending on how much the guest wants to splurge; diners may enjoy delicacies such as imperial prawns from Japan or fresh uni from California.
When Yang opened Yama, Charlotte was home to only a handful of restaurants serving sushi. Now, he says, the count is somewhere around 46. He takes pride in the fact that the dining experience he offers comes with an education, and is hopeful that the changes he is introducing will give his customers a greater appreciation for the rich traditions that both sushi and sake offer.
"I think sooner or later in Charlotte we will be able to have a small, high-end style sushi place with only about 10 seats," he says. "That's one of my goals."
CAT CARTER writes frequently about food and travel. You can reach her at catyicarter@gmail.com.