Inside Charlotte's First 'Circular Economy' Project at Innovation Barn
It took small steps in its first year—and seeks the resources to take bigger ones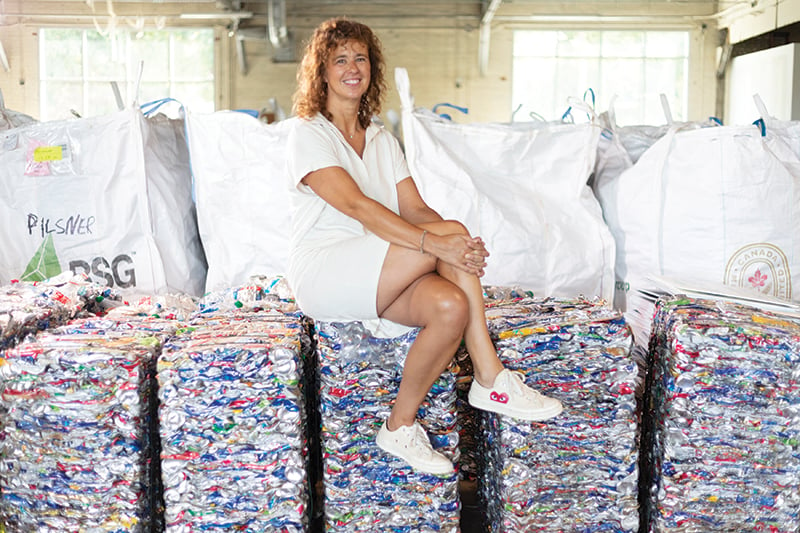 As I approach the corner of Seigle Avenue and Otts Street in Charlotte's Belmont neighborhood, I see a long, white, low-slung industrial building. Inside, a man in goggles plays with brick-sized plastic blocks that look like giant Legos. Down a hall, a school of tilapia swim in a gold-colored tank that, with its porthole, looks like a cylindrical bathysphere. Elsewhere on the site of the 36,000-square-foot former horse barn are a small room that buzzes with black flies, a mushroom garden inside a shipping container, and—because it's Charlotte—a taproom that serves local craft beer.
For the past year, a nonprofit called Envision Charlotte has used the city-owned property as a kind of laboratory to experiment with an idea that's taken hold in small ways around the world: a "circular economy," which aims to recycle materials—including organic and industrial waste, plastics, and textiles—as thoroughly and often as possible. The goal of a circular economy is zero waste—materials recycled again and again, not just once.
That feels impossible. But projects like Innovation Barn, which opened in September 2021, are committed to trying. Test sites for circular economy projects are not uncommon in Europe, but Innovation Barn is the only one of its kind in the nation, says Amy Aussieker, Envision Charlotte's executive director. Aussieker says she gets calls "all the time" from national and international sustainability leaders who've heard about the project and want to create something similar.
I visited the site in June to see what Aussieker and her two staff members had accomplished in Innovation Barn's first 10 months. The team has welcomed eight tenants, created nine jobs, hosted 1,000 tours and 7,000 visitors, and arranged 2,000 volunteer hours. They've hosted events like "Trash Talk," a monthly series about recycling, and "Circle Up," networking sessions for people interested in sustainable business.
Encouraging, yes—but not extensive enough to transform a city. "I think what we missed a little this year is, 'How do we engage people daily?'" Aussieker says as we talk near the front doors, 30 feet from a sign that spells "Innovation Barn" in scrap-metal letters. A few seconds later, she clarifies: "Actually, it's not that it was a miss; we just need more bandwidth."
A team of three can tackle only so much. So raising money for staff, resources, and programming is Aussieker's priority for Innovation Barn's second year. She wants to build an education center "where we take everything inside but make it more like Discovery Place," she says, with interactive exhibits for kids and adults.
As of June, Innovation Barn was more like a business incubator for sustainability enthusiasts. The first thing I see when I enter is a row of 20 aeroponic towers of lettuces and herbs. Eric Kirsch, owner of Chi Catering, grows them to practice "on-demand catering"; he harvests only the exact amount of produce he needs each day.
Through a door to the left is the lab of Casey Annis—the Barn's "mad scientist," as Aussieker jokingly calls him. He's the one with the goggles and plastic blocks. The Duke Energy software engineer experiments with reuse of plastic takeout containers and beer can carriers, which he pulverizes and molds into "Lego bricks," each about 10 by 6 inches. Annis excitedly explains how he thinks builders could use them in construction.
Across the hall: the showroom of Damon Barron, owner of Carolina Urban Lumber, which starts the kind of sustainability cycle that Envision Charlotte champions. Urban Lumber harvests lumber from downed trees in yards and construction sites. The company's sawdust is combined with compost, and Envision Charlotte uses the mix as a bed to grow mushrooms in a shipping container out front. Yet another tenant, the nonprofit 100 Gardens, uses the mushrooms in waste-reduction cooking classes.
Any food waste after the classes goes to a team of soldier flies in the small back room. They help break down compost and produce larvae used to feed the tilapia in the tank. Wastewater from the tank nourishes aquaponic lettuce that grows on nearby shelves. The lettuce filters the water, which goes back to the tank, which sits about 25 feet from the taproom. (None of the tank water goes into the beer.)
The city began its circular economy efforts in 2018, after China stopped importing certain recyclables, including plastic and mixed paper. Cities like Charlotte had to pay higher rates for recycling or stop altogether. Charlotte decided to follow the example of the circular economy action plan that the European Union adopted in 2015. Innovation Barn was the first step.
Envision Charlotte wants to renovate the other half of the building, which it now uses for storage, but awaits a cost estimate and approval from the city. Envision Charlotte's staff and volunteers also develop business plans to recruit local entrepreneurs and partner with local corporations to help them meet their sustainability goals. Aussieker hopes Innovation Barn can serve not just as a model for local business but as a guide for other cities: "Soon, we're going to be able to pull everything together and really forge forward."
Tess Allen is the associate editor.