Inside Charlotte's Reimagining of What a Library Is Supposed to Be
Public libraries have been centers of learning and community in the United States for more than a century. In the internet age, they've turned into all-purpose civic assets and among the few places where people can spend time without having to spend money. Now, as Charlotte prepares to construct a new, $100 million Main Library uptown, its leaders reassess and reinforce just what—and for whom—a library is supposed to be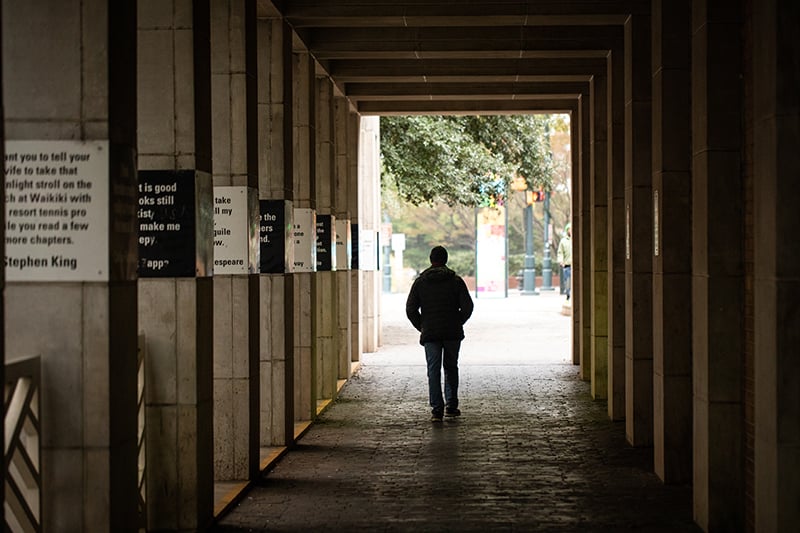 EACH MORNING, a group waits for these doors to open. About 10 to 15 people, sometimes more, assemble on 6th Street in front of Main Library until a security guard opens the doors promptly at 9:00 a.m. The bags they carry—and how much they carry—offer insight into each life.
A leather briefcase, just big enough for a laptop and notebooks. A purse that dangles from the crook of an elbow, a book peering from the top. Plastic Harris Teeter grocery bags, packed neatly with folded clothes. A faded duffel bag and large backpacks, bearing loads that test their zippers. Some bags come from home and carry just enough for a morning of work or reading. Most carry everything and are, for now, the closest thing to home itself.
We talk a lot about lines and openings in Charlotte. Typically, the lines fill with people who enjoy the thrill of being first—first to ride the new light rail extension, first to score a Shake Shack burger. Within days, these lines shrink until daily openings go unnoticed. It's different here. A library has stood on this land for 117 years, and people still anticipate its opening each morning.
When the doors open, some people head left to the Job Help Center, perhaps to see the new postings on the bulletin board. Some head upstairs to claim a coveted seat near an electrical outlet to charge a phone or tablet. Some find tables in the quiet study area and settle in with a pile of books or lay their heads down for a nap. Others walk straight toward the bathrooms.
On Thursday mornings at 10:00 a.m., about a dozen people veer right into the Dalton Room. Inside, coffee brews, snacks await, and a table fills for Write Like You Mean It. The mood of this writing group is comfortable yet serious in purpose. Conversations and greetings blend accents from New York, Tennessee, India, and Eritrea. Under the table, by attendees' feet, sit the bags they carried in: purses, backpacks, grocery bags, duffels. The type of bag (and whether the person spent the previous night sleeping on the street, in a shelter, or in a home) and the type of accent (and whether the person was born in this county or on another continent) is irrelevant. Diversity isn't this group's goal; creativity is. Yet somehow a diversity that eludes so much of our city simply happens here each Thursday morning.
In spring 2021, this library will close. The building will be razed, and a new five-story, $100 million replacement will rise from this spot and open in early 2024, updating a building that was last renovated more than three decades ago. For three years, no line will form out front each morning, no coffee will brew in the Dalton Room on Thursdays. But the spirit of Write Like You Mean It—one of casual, close-knit community—inspires the vision of what this library may become.
The mission for the new Main Library is ambitious. It won't be merely a building for books, its leaders contend, but a public commons. It'll be where people come to learn a new skill, find a new job, or meet a new friend. It'll be where people gather, whether they want to read, take a class, find a job, or simply people-watch. It'll attract uptown professionals on coffee breaks, homeless individuals who need daytime shelter, families in search of free weekend fun, and tourists out to explore.
The idea feels unrealistic for our city, one that segments so neatly and allocates opportunities so unevenly. Can this concept become a reality? Can our city create one place that encourages all types of people to gather on equal footing, both the people who carry their clothes in grocery bags and those who tote their laptops in leather bags? Can we share common space, regardless of difference?
To be in the Dalton Room on a Thurs­day morning inspires idealism. This just might work.
***
THIS TIME WILL BE KNOWN as a renaissance for libraries, believes Lee Keesler, CEO of Charlotte-Mecklenburg Library. The old reputation of libraries—as vaults of books presided over by stern librarians ready to hush—is giving way to a new vision for what libraries can be. Welcome to the age of the public library as a vibrant community hub. Books, yes, but also people, computers, and equipment. Quiet spaces, sure, but also gathering areas.
This renaissance comes with a hint of defiance. The turn of the 21st century brought predictions of doom for public libraries. How would they survive in a digital world? Should they? A now-infamous 2018 Forbes column argued that public libraries don't play a role in modern American culture. The piece, "Amazon Should Replace Local Libraries to Save Taxpayers Money," argued that libraries serve no function that can't be replicated (and improved upon) by Amazon or Starbucks. Eliminating public libraries would reduce taxes and increase stock values, argued its author, economics professor Panos Mourdoukoutas.
The library crowd doesn't rile easily, but Mourdoukoutas hit a nerve. Twitter exploded. "I'm a librarian and this is actually the worst fucking idea ever. Libraries by Amazon would eliminate the most important function libraries have—as a socialized daytime service to cash-poor and working class people left behind by digital advances," tweeted @cyreejarelle. "Libraries are not simply book repositories they are a place where communities can come together, exchange ideas and tackle local issues. A Starbucks or an Amazon store do none of these things," wrote @KZwaaf. Even the San Francisco Public Library got feisty: "Maybe @Forbes doesn't like that you can download their magazine free with your #SF library card." After the backlash, Forbes removed the column from its site.
Statistics support the library crowd. Nearly half of American adults have visited a library in the past year. Americans go to public libraries more frequently than they go to the movies. More people attend library programs than go to NFL, MLB, and NBA games—combined. And make way, Boomers and Gen Xers: The adult population with the highest rate of public library visits is the Millennial generation. Libraries aren't going anywhere.
Instead, libraries grow more innovative, more purposeful, more beautiful. Architectural Digest listed the renovated Calgary Central Library—an oval building with a central atrium that opens to a large skylight and invites daylight to stream in—among the world's 12 most anticipated buildings of 2018. The building straddles the city's light rail track, and patrons can cozy up on lounge chairs to read while they watch trains pass underneath.
In some cities, libraries become tourist attractions. Helsinki's Oodi Library promotes itself as a "living room for residents," but it's gorgeous enough to warrant an entry in the city's Lonely Planet guide. Only a third of this building holds books. In other areas, Oodi offers a playground, movie theater, and equipment like sewing machines, laser cutters, and 3D printers. Entrepreneurs have spaces to host pop-up markets and meet with clients. Its top-floor "book heaven" is brightly lit, with comfortable furniture and a serene, undulating white ceiling.
Now, Charlotte's Main Library prepares for its reimagining. Parts of the current building date back to 1956, others from a 1989 renovation. All of it recalls a time when people built libraries for books. To research ideas for the new library, Keesler visited more than 25 community spaces in five countries, and aspects of his favorites inspired what Main will become: the glass-paneled walls, natural light, and warm woods of the Calgary Central Library; the café in the Boston Public Library; the outdoor spaces of the Austin Public Library; the interactive app of the Cleveland Museum of Art; and the engaging speaker series of New York's 92nd Street YMCA. Taking a little from here and a little from there, Keesler worked with architecture firms Snøhetta and Clark Nexsen to fulfill his vision for Charlotte's new public commons.
The new Main Library will return its front entrance to Tryon, as it was in the original 1903 building. Instead of entering and facing a large desk, visitors will walk into an open space and gaze up at a five-story lobby that opens to a large skylight. Two outdoor terraces will invite visitors to enjoy al fresco reading with an uptown view. A full-service café will offer food, coffee, beer, and wine. Fifteen rooms will offer meeting space to community groups, and an immersive theater will host everything from film screenings to interactive presentations. A makerspace lab will offer free equipment use, from 3D printers to wood cutters to whatever technology pops up between now and then.
The new library will cost $100 million, half from the county's general fund, the other half from private investors. Keesler believes it will be one of the most visually stunning, technologically advanced, and practical libraries in the country. He foresees the building at the intersection of Tryon and 6th becoming one that's at the intersection of Charlotteans' lives, wherever they come from or wherever they're headed.
***
"NUMBER ONE, everyone has a strong, unique voice." Any time someone new comes to Write Like You Mean It, leader Pam Turner begins the session with the Five Essential Affirmations, written by Pat Schneider.
"Number two, everyone is born with creative genius. Number three, writing as an art form belongs to all people, regardless of class or educational level. Number four, the teaching of craft can be done without damage to a writer's original voice or artistic self-esteem."
As Turner talks, participants listen while pulling out tablets of paper and pens, as others fill cups of coffee at the counter or choose from packets of fudge-stripe cookies and peanut-butter crackers.
"Number five, a writer is someone who writes."
That last one is tough for several people here who believe the title of writer is beyond their capabilities. Turner emphasizes those words to make the point: Everyone at this table has earned the title of "writer" simply by writing. This is a group of mutual respect, between professional writers and others who write creatively for the first time.
This is not a class, Turner stresses. The goal is for participants to support each other while they discover their individual sources of inspiration. Turner offers two writing prompts per session, giving creativity a nudge, but she encourages participants to write whatever they feel called to write that day. After 10 to 20 minutes of writing that follows each prompt, participants can volunteer to read their pieces aloud to the class. Almost all do.
Today's prompt: Write about a thing you've always held onto and why it's got a hold on you. One woman shares an essay about holding onto the stories her grandmother told her as a child. One woman reads a free-verse poem about a chair she's carried from home to home. One man reads about the music lyrics he holds onto and the feelings they sparked when he first heard them. One woman reads a fictional scene about a woman holding onto a romantic relationship, perhaps for too long.
Despite differences in income, ethnicity, gender, and occupation, the knowing nods that greet each reading prove the depth of shared human experience. Attendees offer praise; some quote their favorite lines, and others share why the pieces resonated with them. Turner offers specific compliments, down to word choice, along with big-picture suggestions—perhaps she encourages the writer to grow the piece into a short story or recommends an author the writer may enjoy. It's a soft, safe space to launch a life of writing. And it's changing lives.
For several months, Deborah has been a regular at Write Like You Mean It. She shares her work as generously as she praises others'. But today, she doesn't share her writing from the first prompt. She stays unusually quiet. Later, Deborah reveals her secret to the group: She's so happy that she hasn't been able to concentrate. Today is her last day in a homeless shelter. Back in her room, all of her belongings are packed, ready to travel to her new home. She might not be able to return to Write Like You Mean It for a while—new job, new neighborhood, no car—but she wanted to thank the group before she leaves.
"This has been a wonderful learning ground for me. I could open up and learn my own voice for the first time in years," Deborah says. "The accolades I get here have made me whole. I listen, and I think, 'Yeah, I do like me!'"
Deborah emanates happiness. Smiles and congratulations surround her. Turner's eyes fill with tears.
***
THE FIRST KNOWN library was established in the 7th century B.C., but public libraries around the world were anomalies until two centuries ago. The idea of an egalitarian, tax-supported library took off in the United States at the turn of the 20th century, largely due to Andrew Carnegie.
Before then, many libraries were private or subscription-based, restricted to those who could afford fees or meet membership requirements. When Carnegie was young, his family couldn't afford the library's $2 fee. He never forgot that. After he made his fortune in steel, Carnegie funded the construction of nearly 1,700 public libraries across the country, including Charlotte's Main Library in 1903. He stipulated that the libraries remain public, supported by tax dollars, and serve everyone. He wrote, "There is not such a cradle of democracy upon the earth as the Free Public Library, this republic of letters, where neither rank, office, nor wealth receives the slightest consideration."
Baked into Main's founding and continual mission is the idea that a library welcomes and serves all. For Charlotte—well known for its dismal 50th-of-50 ranking in upward social mobility—it means serving those whom services don't often reach. Some of the needs Main offers are practical: WiFi, job skills, daytime shelter. Some needs are social: friendship, networking, personal development.
Main's Job Help Center fulfills both. About 80 people come here each day with a wide array of goals. Some want to finesse a résumé (volunteers offer help), find a new job (staff updates a bulletin board daily), or borrow interview clothes (the desk has business attire available for checkout). The center sets aside about 30 computers for job searches and applications, including some with braille and large-text capacity. About 20 percent of Charlotte residents lack broadband internet, which makes these computers an essential employment tool for a fifth of the population. At the desk, two to three librarians stand ready to offer individual assistance.
"Community must be built one person at a time," says Turner, who works in the Job Help Center in addition to her role at Write Like You Mean It. "You can't just say, 'Let there be community!'"
Trust the data, and you might think just about everyone who wants a job in Charlotte has one. The city's unemployment rate is 3.7 percent, down from nearly 13 percent a decade ago. But the numbers don't reflect the reality, says David Sniffin, the library system's Leading on Opportunity Leader, who helps the library's work align with the city's social-mobility goals.
"All you hear is that unemployment is at its lowest ever, and everybody's got a job," Sniffin says. "But there are 25 people in (the Job Help Center) now who can tell you that's not necessarily the case. People don't have jobs, or a lot of people are underemployed and working two, three, or four jobs just trying to make it by."
Sniffin recalls a man who came in thrilled to have secured a new job. He asked Sniffin for help completing forms before he started his work in metal recycling. The two men shared a table to complete his paperwork. On the form, the man entered his number of dependents: six. His pay rate: $8 per hour.
"As someone who pays daycare costs and commuting costs, I just can't imagine being in that kind of situation," Sniffin says. "Everything else is going up, but the salaries aren't."
The center doesn't only help patrons find jobs based on skills they have, but to build skills for better-paying jobs. Individual tech tutoring, career development courses, and small business advising fill the event calendar. All are free. Why do people pay for professional development services when the library gives them away? Sniffin shrugs. "There's still a skepticism of 'free,'" he says. "It's always been that way."
Main's Job Help Center hosts events beyond the library, too. Each month, librarian De'Trice Fox hosts Career Talk Over Coffee at 7th Street Public Market. On an October morning, a diverse group meets at a table at the uptown food hall: a banker who'd like to network with writers as he completes his first novel; a nurse from Myanmar who seeks a health care position; and a volunteer crisis counselor trying to pivot to a paid position.
Conversation veers from interview tactics to area employers to job-searching tools. Fox guides the conversation but allows attendees to help each other, too. The banker receives flyers about local writing groups and events. The nurse gets a tip about an upcoming health care career fair and advice about local hospitals. The counselor, Cheryl Nelson, reveals that the advice she took from the last meeting gave her the experience she needed to step from a volunteer role to a paid staffer. That'll be the second job this group has given the Nelson family: Last year, her 21-year-old son found an IT job from a tip at Career Talk Over Coffee.
"This group helped me, and it helped my son," says Cheryl Nelson. "Out of conversation can come something good."
Library officials want to do more of this in the new building. It won't just be a place for people to use resources. With jobs and technology growing increasingly specialized, librarians can no longer serve as experts in everything. But librarians like Fox have learned that patrons can serve as experts for each other once the library grants them the space and introduction.
***
MARY SUBACH fell in love with libraries early. When she arrived to the United States from Poland as a young girl, she couldn't speak English. Subach visited her public library and checked out the maximum load each time—six books—and between her perseverance and The Little House on the Prairie series, Subach taught herself English.
Subach has lived many lives in just her one. She can tell you about 31 years of corporate life in Connecticut, where she worked as an IT senior administrator, and the process changes that led to her layoff. She can tell you about moving to Charlotte, endless job applications, and how hard it is for seniors to find work. She can tell you how the hours of her part-time grocery store job were cut to just eight a week, and how she maneuvered through the homelessness that followed: finding the best stall in the transit center bathroom for uninterrupted sleep and an underpass with pretty views of the city. And she can tell you about the relief of finding an affordable apartment, then learning that a rent hike may leave her homeless again later this year.
What Subach won't tell you, though, is a sad story.
"Hey, shit happens," she says. "You don't think you're going to survive, but you do."
During all of Subach's lives—as a young immigrant, as a corporate IT employee, as a woman experiencing homelessness, and as a senior with limited income—she's found refuge in libraries. She's been a regular at Main Library for seven years, attending Write Like You Mean It, the Turning Pages book club, and reading about four books a week (even more if they're by her favorite author, James Patterson). She found temp work at a Main job fair last year, and she receives free help with her taxes here each spring. This is where she learned to crochet and where she's met many friends.
"A roof over my head doesn't buy me happiness," Subach says. "Instead of staying in the house doing nothing at home and getting depressed, I come here. It makes me a better person. I don't get depressed if I open my mind. It's part of my growth."
Turning Pages has played a big part of that growth. The book club, led by Erin Yager and now in its 10th year, invites the homeless and those in housing transition to discuss books on Tuesday mornings while they share coffee and snacks. What Subach didn't like about the book club at first became the reason she enjoys it so much now: that the books are chosen by a group, and they're not always her first choice in reading material.
"I'm 64. I get set in my ways. But (at Turning Pages), I think, 'Mary, keep an open mind. Read it,'" Subach says. "Hamlet was on TV the other day. I watched that whole thing. That's because of this place."
One such book was the club's latest pick, The Glass Castle. The Jeannette Walls memoir recalls an upbringing by an alcoholic father who promises his daughter that they'll escape poverty to move into a beautiful glass castle, where everything will be perfect. As Walls grows older, she accepts that the glass castle is just a pretty dream. The Glass Castle sparked discussions about parenting, addiction, and homelessness. What makes for a good parent? Where's the line between enabling and empathizing with an alcoholic? How much does happiness depend upon having a home? Tough topics, Yager says, yield the most insightful group conversations.
"I was so intimidated when I took on the group because I was afraid that we wouldn't have enough in common, that I wouldn't add to the conversation. Instead, I've realized, nope, we are all a part of this one family and this one community," Yager says. "Now I lean into the difficult conversations, and I encourage asking these questions that could come across as controversial or difficult."
The discussions offer intellectual stimulation and new friendships for Subach, and she says they fill a need in the city. She finds uptown geared toward corporate workers, full of restaurants and bars. It offers little for seniors who want to remain active or for income-strapped residents who want to be in the community without having to buy coffee or lunch.
With the library, however, she's found freedom. And one evening, she enjoyed a little spotlight. In 2018, Turning Pages received an unexpected invitation from Bill Clinton, who read about the group in People magazine. Clinton invited the group to his The President Is Missing speaking event with his co-author—James Patterson, Subach's favorite. He gave the club orchestra-level seats and signed copies of his book. On November 29, 2018, the group sat in Knight Theater and heard Clinton pause the event to thank Turning Pages for being there.
Thanks to this library, a woman who knows what it feels like to sleep on the floor of the transit center bathroom also knows what it feels like to be acknowledged in an elegant theater by a U.S. president. Subach tells no story as animatedly as this one. "The highlight for me of Charlotte!" Subach exclaims, tossing her hands in the air. Her signed book sits on a special shelf at home.
"I'm going to be very sad when this place closes for a while," she says, this time more softly.
***
SERVING THE HOMELESS has become a vital mission at Main, as with public libraries in cities throughout the country. It creates a barrier, too. The entrance to the library on 6th Street—covered by an overhang that extends nearly the length of the building—has the effect of a tunnel that offers shelter to those sleeping on the streets. It also intimidates visitors, who have to walk past people sleeping and congregating next to the building and, often, the smell of urine.
"I like working with that population and making sure they feel heard," Yager says. "I feel like a lot of bankers working uptown don't necessarily offer them that same amount of respect. They need family, a community, a place to be. I always try to make sure that this building is that place."
This uneasiness means that, at any given time at Main Library, the homeless and people in housing transition can outnumber those who aren't. Many shelters require residents to leave early each morning, and they have few options for free, daytime shelter. Here is a world of books, classes, computers, and job resources—not to mention a temperature-controlled environment and bathrooms—to spend a day.
Keesler says the new library will continue its commitment to the homeless and those in housing transition. Additional writing and reading groups will join Write Like You Mean It and Turning Pages, film screenings will offer daytime entertainment, and new classes will offer personal and professional enrichment. A social worker, and possibly a health professional, will work in the new library to offer help. "We care about these folks a lot," Keesler says. "(Main Library is) an important part of the homeless ecosystem."
The new library hopes to do a better job welcoming those who aren't homeless, too. Leaders hope changes in architecture will spur changes in attitudes. A bright, open entrance on Tryon will replace the dark tunnel on 6th Street. Glass-paneled walls will allow passersby to look inside the library and, Keesler hopes, lure them in. The library plans to break up blocks of computer labs into individual workstations and spread them throughout the library to keep patrons integrated rather than separated.
Turner believes that the people who avoid the library due to the homeless don't realize that the person they see sleeping outside is valuable. "They miss a chance to realize that those voices are people who are interesting, who are adding to the conversation," she says. "I love sitting in a room of people who all have vastly different experiences and valuing them equally and seeing what happens with that. To me, that is how community happens."
The hope is that the mood of Turning Pages and Write Like You Mean It can permeate the new library, introducing all kinds of people to each other, seeing what results from those conversations and relationships. The hope recalls Carnegie's words, that it become a place "where neither rank, office, nor wealth receives the slightest consideration." It's a stretch for our city, famous for its crescent-and-wedge segregation pattern, in which people of color and areas of poverty are scattered throughout the crescent and wealthier, white residents are concentrated in the wedge. Can a building, at one point in the middle of it all, blur the lines that separate us?
The next Main Library will be beautiful, no question. The renderings and plans show why Keesler believes it'll be a gem not only for Charlotte but for the nation. But the success of its mission as a public space and asset for all will rely upon the people who wait outside its doors to enter in spring 2024. Will people who work uptown in tall buildings mingle with people who sleep on uptown benches? Will transient populations continue to feel comfortable spending days here? Or will one group enjoy the building to the discomfort and exclusion of the other? In four years, we'll begin to learn if the people of Charlotte, all of them, will make real the dream of a public commons filled with light, or if these are plans for a glass castle.
JEN TOTA McGIVNEY is a writer in Charlotte. Reach her at jennifer.mcgivney@gmail.com or on Twitter, @jen_mcgivney.