Inside Charming Chantilly
Between Plaza Midwood and Elizabeth, a little suburb in the city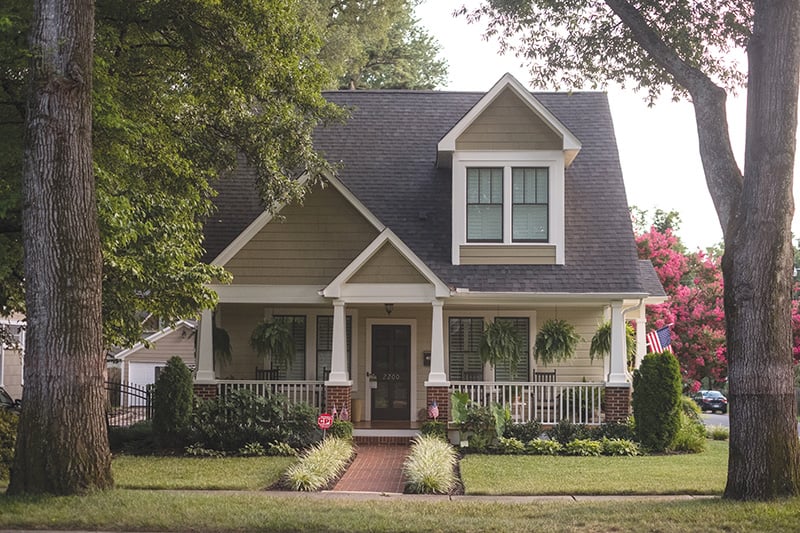 GENEVIEVE WILLIAMS creeps along in her Audi SUV, westbound on Bay Street, her street—wide, devoid of traffic, dappled with the mottled pattern of sunlight through the oak limbs above. It's a hot afternoon in early July, which may explain the quiet of the streets, unusual for a neighborhood so close to uptown. Then again, she says, it's usually like this.
For 10 years, the 35-year-old realtor has lived in Chantilly with her husband and two young sons. Chantilly is a neighborhood where the homeowners who aren't renovating, as the Williamses just did, are razing and rebuilding. "This one just got torn down," Williams says, pointing left to a vacant lot cordoned off by orange safety fencing. "This one next door, they moved in a month ago. They were clients of mine." It's a two-story, four-bedroom, Craftsman-style home with a pair of crape myrtles in front.
"These houses would sell for about 800," she says— as in thousand. That kind of price was unheard of five years ago. "There'll be million-dollar houses in Chantilly in the next five years," she says with astonishment. "Literally every year, prices jump $100,000. It's crazy."
Chantilly is one of Charlotte's most desirable neighborhoods, though even longtime Charlotteans have trouble pinpointing where it is. It looks like the head of an arrow shot northwest, jammed between Plaza Midwood and Commonwealth to the north and Elizabeth to the south and west— bound by railroad tracks, Independence Boulevard, and Briar Creek, the base of the triangle. Those barriers have effectively cut off the neighborhood from its counterparts near the city center.
It consists of 691 single-family homes and a small park—no stores, bars, or commercial corridors. You can enter or exit the neighborhood via only four streets, none with a sign or marker that lets you know you're in Chantilly. That keeps the traffic down. But its proximity to Plaza Midwood and Elizabeth means plenty of shopping and nightlife just a few blocks away.
Seven of every 10 residents here own their homes, and those homes are exclusively single-family; its isolation and high rate of homeownership has meant an absence of apartment complexes. It's home to seven builders, all specializing in singlefamily construction. The neighborhood swells with young married couples and their children, along with DINKs (doubleincome, no-kids households).
In short, it's a near-ideal spot for the young and affluent, and an anomaly, too. "I don't think you can find this kind of intimate neighborhood this close to uptown," Williams says. But it's not that the rest of Charlotte is encroaching on Chantilly; Chantilly is transforming itself. People who own smaller, postwar homes here often sell and arrange with a builder/ neighbor to build bigger houses on other Chantilly lots.
Jonathan Story calls this "the Chantilly shuffle." Originally from New Jersey, he moved to Charlotte a decade ago and spent seven years uptown before he discovered Chantilly. After three years in a 2,600-square-foot house on Chesterfield Avenue, he bought a small house on Bay, one block over, and had it leveled. A builder constructed a new, 4,600-square-foot house in its place.
"My wife and I are anti-suburb people," says Story, 37, who has a two-year-old daughter. He explains that he loves the idea of an urban neighborhood, with restaurants, nightlife, and shopping close enough to walk to. "We looked in Plaza Midwood and Dilworth, but they were just too expensive."
Then, during their search, they somehow turned into Chantilly, noticed the trees and wide streets and neighbors with strollers, and shifted their focus. Now, good luck getting them out of there. "This neighborhood doesn't have the brand recognition of Plaza Midwood," Story says, "but it has everything we're looking for."
Rick Winiker, president of the Chantilly Neighborhood Association, moved into a house on Chesterfield two years ago after 10 years in Elizabeth. A Charlotte native, he immediately joined the lagging association and roped Story, a neighbor, into joining as well (Story's the association treasurer). Since moving, Winiker has compiled historic maps and other neighborhood information on a rejuvenated website, ichantilly.org.
The 49-year-old attorney remembers growing up in the Charlotte of the 1960s and '70s, when urban planners foresaw a future of multi-lane expressways connecting vast shopping centers, everyone driving everywhere, and walking from place to place as a quaint anachronism. "Now," he says, "it's all bikes and proximity."
Chantilly, an old neighborhood, turned out to be a tree-lined slice of the future. "I'm surrounded by neighbors who don't want to move," Winiker says. "There's absolutely no incentive to move. Where would you go that'd be any better than where we are right now?"
GREG LACOUR is a contributing editor for this magazine. Read his political coverage and other commentary in "The Buzz" section of www.charlottemagazine.com.
---
This article appears in the September 2016 issue of Charlotte Magazine
Did you like what you read here? Subscribe to Charlotte Magazine »
---