Inside 'Glamohemian Girl' Shawna Freeman's Eclectic Living Space
She brings soulful vibe, big deck energy to home and Instagram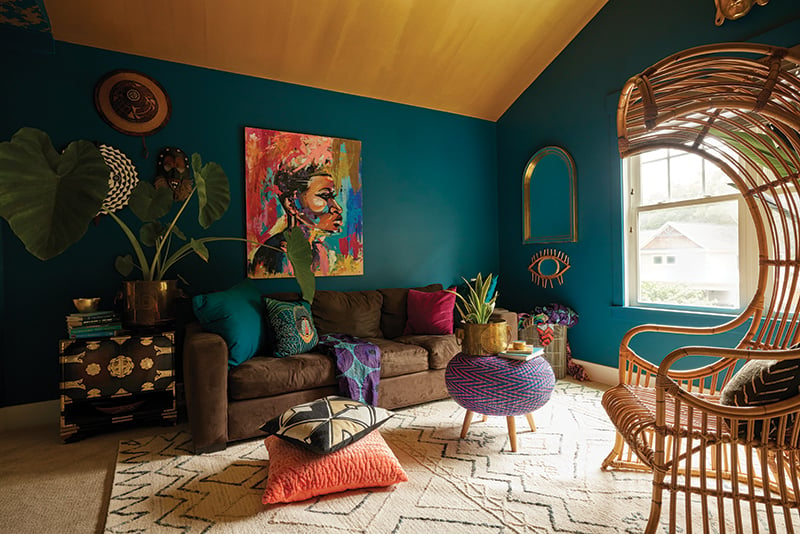 Shawna Freeman was riding out season one of the pandemic when she decided to reupholster an old Baker sofa she scored on Facebook Marketplace for $150. "It looked like hell when I got it," she says. "It wasn't even a 'grandma' sofa, because Grandma wouldn't have kept this thing. But I could see the shape of it, and it had that channel tufting I'd seen in magazines."
Freeman wanted a bright, happy color to stave off the pandemic blues, so she covered the antique sofa in yellow velvet. It was a bold choice, even in a home with animal print chairs, cowhide rugs, bamboo shelves, and electric pink throws. "It's become the sofa of many nicknames," she says. "Le Croissant, Twinkie, Banana Seat …" It even got its own hashtag, #operationsunshine.
Freeman's 25,000 Instagram followers know her as the "Glamohemian Girl" and scroll her page for inspiration on everything from wallpapered ceilings to holiday decor. The Virginia Beach native has used the platform to chronicle the ongoing transformation of her Chantilly home for the last six years. But the 42-year-old isn't an interior designer, and until she purchased the four-bedroom craftsman in 2016, she'd never owned a home.
Freeman, who works in finance, spent 15 years in New York before she moved to Charlotte. "I work in a very conservative industry," she says. "In my day job, I don't have a lot of opportunities to be creative or even dress the way I want to dress, so my house became my outlet. I'm like someone who started to paint late in life. My home is my canvas."
The self-described clotheshorse has been shopping thrift stores since she was 16 but says she had no sense of what was collectible or vintage. "I just like finding funky, cool stuff for cheap," she says. "I always liked nice things, but didn't always have a 'nice things' budget, so I learned how to create a 'nice things' look with a moderate budget."
After 12 years in the same cramped New York apartment, Freeman wanted a "soulful glam vibe" in her new home. "Not all sparkly and light pink," she says, "but a traveled, urban, soulful glam." She turned to social media to connect with other first-time homebuyers and find design inspiration. "I didn't get on there with any intention of growing a following," she says. "I started becoming friends with people in the design world who had bigger followings, and when they share you, you get bigger. But it took five years to get 25,000 followers."
Her choices grew bolder, too. She painted her home office magenta and her bedroom emerald green. Her peacock-blue meditation room has a gold ceiling and gold snake-shaped door handles from India. Each space is dotted with Indian and African artifacts and treasures she brings back from Louisiana, where her family is from.
When her neighbors had to take down a big oak tree between their two yards, Freeman decided to redesign her deck to give herself some privacy. She dubbed the project #bigdEckenergy ("I'm the queen of innuendo," she says) and shared her progress as she stained the wood and installed a screen and a ledge. To punch up the color, she added a red-and-purple patterned rug, dark wicker furniture, and a mix of outdoor pillows in a variety of colors and prints.
Freeman still frequents Salvation Army and Goodwill stores for vintage treasures to paint or repurpose, but she'll splurge on items like the midcentury burlwood nightstands from Slate Interiors. "I've never had a #onenightstand," she quipped on Instagram. "I've always had a matching pair of 'em!"
She's done a few small design projects for clients when her schedule allows but says she has no plans to pursue it full time. "I love my career. If I had to make money through design, that would change everything," she says. "Right now, it's my passion and my hobby, so it's fun."
It's that confident yet unpretentious attitude and fearless approach to design that keeps her followers engaged. "We think neutral is tasteful, but that's a uniquely American thing," she says. "Color can also be very tasteful and opulent. My house mirrors my fashion choices. Why not have a green sundress you love in your house? Bring that energy you love into your home."
TAYLOR BOWLER is the lifestyle editor.