Inside Goodyear Arts' Open Gallery Hours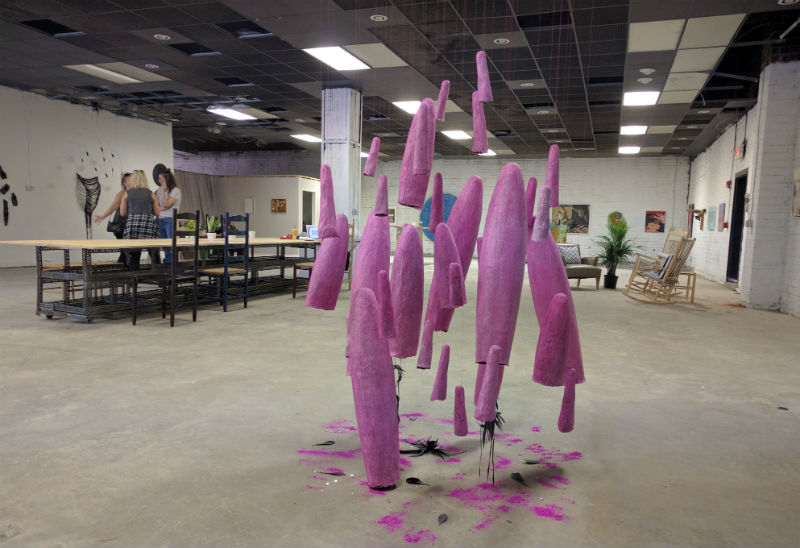 THERE ARE A FEW differences between the first incarnation of Goodyear Arts and its current location at 516 N College St. The residency program, run by a trio of local artists, won't have artists poking through walls or making any other permanent alterations to the one-time nightclub. Yet, with this new space comes a new opportunity: open gallery hours, from Wednesday through Saturday each week (9 a.m.-6 p.m.).
The space is open for anyone who needs a change of scenery during the workday, offering a gallery of works from past, present, and future residents—and free Wi-Fi. A different kind of resident occupies the front entrance of Goodyear Arts, though: Hyde Brewing, the future restaurant/brewery/coffee bar that'll hit South End early next year. Lindsey Pitman, owner of the former The Daily Press at NoDa's The Evening Muse, heads Hyde's coffee program. Below, we speak with her about this new venture, splitting time between Charlotte and Asheville, and what it's like to make coffee among art.
---
Charlotte magazine: Are you happier when you can work among art?
Lindsey Pitman: Absolutely. That was the biggest thing with The Daily Press, and that's been the biggest thing with all of my projects. I'm not necessarily the most social person, but I like to be around people who inspire me to excel and to create beautiful things, whether, it's coffee or art. I love being in spaces like this; this environment is just enriching.
There are a lot of places that you can make coffee that have the tendency to be streamlined and sterile, and this is not that at all. It's so culturally driven and unique.
CM: You guys opened Wednesday, and I've already noticed changes to your space. Is evolution important to your businesses?
LP: Oh, it's like that at home, too, and at Trade and Lore in Asheville. (Pittman co-owns the Asheville coffee shop and divides her time between the cities.) Everywhere I go, I never think about something as completed. With my coffee career, like everything in life, it should be evolving. Because there is no standing still, you're either moving forward or not making progress. So a space that stays the same kills my inspiration.
CM: I noticed that people on Instagram have been asking you about the next step for The Daily Press for months now. And now we're here. How does it feel to attract that kind of attention?
LP: I haven't stopped smiling since we opened. To have people care about what you do is the greatest sign you're doing something right.
CM: Splitting time between Asheville and Charlotte, which one do you call home? And how do these two cultural scenes compare?
LP: They're both my home. And you know, it's funny. They are incredibly different. I think because I have such a good friend base here and have been embraced by the community, I don't see Charlotte as lacking an arts scene. Because my friends are artists.
I'm in love with both cities. And they've morphed in my mind to be one. The commute is a lot. But North Carolina itself just feels like my home. It's just going to work at either point A or point B.
---
This Friday, the preview party for the Goodyear Arts at 516 N College St. has work from past, current, and future artists in the residency program. Two performances are offered during the event: one with "noise, drums, and televisions" by Clint Sleeper and Huw Webb and another from musician Dylan Gilbert, an incoming resident. More info here.